Instagram says Bella Hadid's post on Palestinian father 'shouldn't have been removed'
An Instagram story supermodel Bella Hadid had posted of her father's American passport with Palestine listed as his birthplace "shouldn't have been removed," a spokesperson from Facebook told Al Arabiya English.
"To protect the privacy of our community, we don't allow people to post personal information, such as passport numbers, on Instagram. In this case the passport number was blurred out, so this content shouldn't have been removed. We've restored the content and apologize to Bella for the mistake," the spokesperson said.
For all the latest headlines follow our Google News channel online or via the app.
Instagram took down her story because it violated their community guidelines, according to a screengrab shared by Hadid on Wednesday.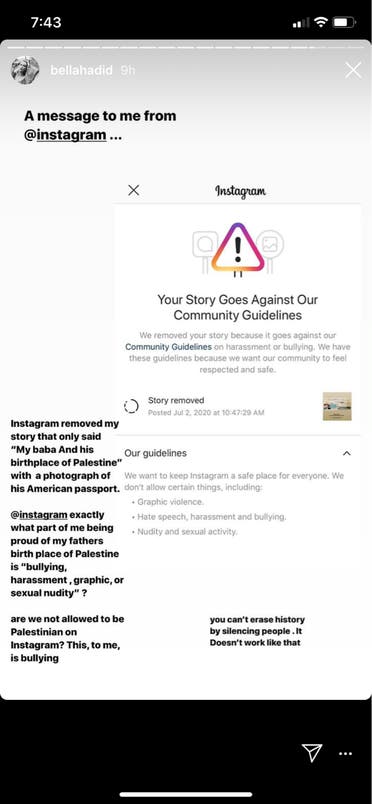 The Palestinian-American model had criticized the platform for "not allow[ing her] to be Palestinian."
"Instagram removed my story that only said 'My baba and his birthplace of Palestine' with a photograph of his American passport," the model said.
"Instagram exactly what part of me being proud of my father's birthplace of Palestine is 'bullying, harassment, graphic, or sexual nudity?' Are we not allowed to be Palestinian on Instagram? This, to me, is bullying."
Read more:
'Are we not allowed to be Palestinian:' Bella Hadid after Instagram deletes story
Arab supermodel Gigi Hadid expecting first child with One Direction's Zayn Malik
10 world-famous celebs you didn't know were of Arab origin
Bella Hadid named as face of Dior makeup
The supermodel's father, Mohammed Hadid, is a Palestinian-American real estate developer known for building luxury hotels and mansions in California.
The Hadid family are quite vocal about their Palestinian heritage, with the patriarch sharing pictures of his trips to the country, recipes, and old documents and maps.
Mohammed has also criticized Israel's plans to annex nearly a third of the West Bank.