Saudi, regional cuisine take center stage in first-ever 'Flavors of AlUla' food event
'Flavors of AlUla' is offering food lovers an exclusive chance to go on an immersive culinary journey in the AlUla Oasis from December 29 to January 14 as part of the 'Winter at Tantora' Festival.
The event will showcase traditional local and regional dishes and ingredients through a range of experiential masterclasses led by renowned chefs, food stalls around AlUla, and dozens of fun activations around town.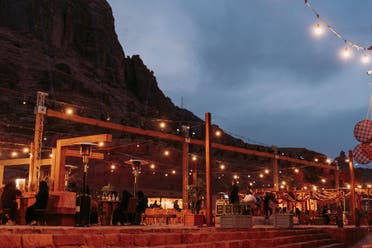 For the latest headlines, follow our Google News channel online or via the app.
Aspiring chefs and foodies alike will be able to learn a range of new skills in the Master Arena – an area specially designed for knowledge sharing – with workshops ranging from how to cook on sand to using the local organic superfood in the "Benefits of Moringa" sessions.
Other classes feature sushi rolling, edible pottery, fruit decoration, and food as art. The lessons cater to people of all ages.
Some of the celebrated chefs and personalities who will lead the classes include Karim Bourgi, Omar al-watban, Areej al-Shareef, Samira Sadiq, Ghofran al-Romaihy, and Arwa Ali.
Other activities at Flavors of AlUla include a Black Box experience; a blindfold test sure to challenge perceptions of food, and a tour of mystery boxes which will put the sense of smell to the test.
A special recreational area also features a legacy tree that allows visitors the chance to share and exchange their recipes.
AlUla's rich and diverse produce will also be showcased in different ways, with ingredients being used at stalls that offer everything from Arabic and Asian-inspired dumplings, to bubble tea, organic bowls, and veggie rolls.
The food event is part of the 'Winter at Tantora' Festival, which runs from December 22, 2022, to January 21, 2023.
Read more:
Traveling to Saudi Arabia: Your guide to visiting the stunning ancient city of AlUla
Saudi Arabia's AlUla launches Winter at Tantora with thrilling activities, events
Saudi Arabia's Heritage Commission registers 67 new archaeological sites