Shahid on Thursday announced one of its largest productions of the year with the debut of its new period drama "Slave Market" that features an international cast from across the Middle East, Africa, Asia, and Europe.
The nine-episode show – written by Kuwait's Heba Mashari Hamada and directed by award-winning Tunisian director Lassaad Oueslati – is set in the 1900s and follows the journey of five main characters from around the world who fall into slavery.
For all the latest headlines follow our Google News channel online or via the app.
It stars Fayez Bin Jurays, Apeksha Porwal, Al Anoud Saud, Hashim Najdi, Haneen Turkistany, Nawaf al-Dhufairi, Nagham al-Malki, Marzouk al-Ghamdy, Saeed al-Qahtani, Shyam Kishore, Janique Charles, Chris J Gordon, Avant Strangel, Justina Biosah, Genlee Motlana, Paballo Owami Landu, Shannon Gaskin, Nick Cornwall, Natasha Choufani, Lauren Elise Thomas, Nizar Alsulaimani, and Sumaiah Abdulwahab.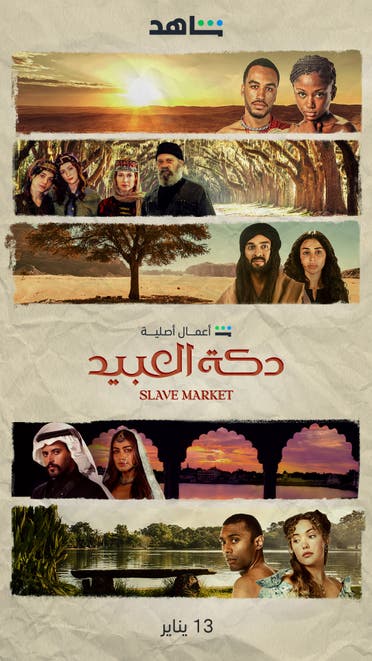 "Slave Market" was filmed across 104 locations that depict various parts of the Middle East, Africa, Asia, and Europe. The series features 70 main cast members, as well as 150 supporting actors, and over 17,000 extras.
To accommodate scenes at sea, more than 35 interior and exterior designs, depicting ships from that period, were built exclusively for the series. A total of 4,700 costumes were also specially created for the series, with wardrobe designs led by Yasmine el-Kadi.
Shahid is the Arab world's first and leading VOD and SVOD streaming platform. By MBC GROUP, the platform offers premium content, including exclusive Shahid Originals; Shahid Premieres; Arabic movies fresh off the box-office; live TV channels in true HD quality; as well as international offerings, sports, kids offering, and more than 30 FAST channels. MBC GROUP is the largest media company in the Middle East and North Africa.
Read more:
Renowned TV show 'The Office' gets Arabic remake in partnership between MBC and BBC
MBC Media Solutions, Saudi Sports Company renew partnership for three years