R'Bonney Gabriel, a fashion designer, model and sewing instructor from Texas who competition officials said is the first Filipino American to win Miss USA, was crowned Miss Universe on Saturday night.

Gabriel closed her eyes and clasped hands with runner-up Miss Venezuela, Amanda Dudamel, at the moment of the dramatic reveal of the winner, then beamed after her name was announced.

For the latest headlines, follow our Google News channel online or via the app.

Thumping music rang out, and she was handed a bouquet of flowers, draped in the winner's sash and crowned with a tiara onstage at the 71st Miss Universe Competition, held in New Orleans.

The second runner-up was Miss Dominican Republic, Andreina Martinez.

In the Q&A at the last stage of the competition for the three finalists, Gabriel was asked how she would work to demonstrate Miss Universe is "an empowering and progressive organization" if she were to win.

"I would use it to be a transformational leader," she responded, citing her work using recycled materials in her fashion design and teaching sewing to survivors of human trafficking and domestic violence.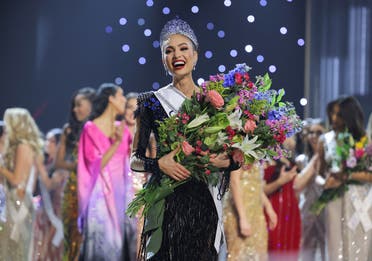 "It is so important to invest in others, invest in our community and use your unique talent to make a difference," Gabriel continued. "We all have something special, and when we plant those seeds to other people in our life, we transform them and we use that as a vehicle for change."

According to Miss Universe, Gabriel is a former high school volleyball player and graduate of the University of North Texas. A short bio posted on the organization's website said she is also CEO of her own sustainable clothing line.

Nearly 90 contestants from around the world took part in the competition, organizers said, involving "personal statements, in depth interviews and various categories including evening gown & swimwear."

Miss Curacao, Gabriela Dos Santos, and Miss Puerto Rico, Ashley Carino, rounded out the top five finalists.
Last year's winner was Harnaaz Sandhu of India.

Read more:

Former Miss USA jumps to her death from New York building: Reports

India's Harnaaz Sandhu becomes Miss Universe 70th winner

Dior showcases 2023 fall men's collection in fashion show at Egypt's pyramids