Beyonce performs with Lebanese dance troupe Mayyas at opening of Atlantis The Royal
Global superstar Beyonce performed alongside Lebanese dance troupe Mayyas at the opening of Atlantis The Royal in Dubai on Saturday night.
Taking to the stage for her first full-length concert in four years, Beyonce performed an hour-long set for the grand opening of the new hotel which included VIP guests from across the region and the world.
For the latest headlines, follow our Google News channel online or via the app.
The superstar performed a set list of fan favorite hits while the Lebanese dance troupe, who recently won America's Got Talent and won over the hearts of millions around the world, created a series of stunning visuals.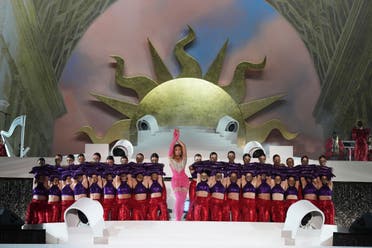 The much-anticipated arrival of Atlantis The Royal was marked by a spectacular show as the skies lit up with a vibrant display. Headlining the event was none other than Beyonce, who made a grand entrance in a stunning yellow feathered dress. She began her performance with a rendition of the iconic song "At Last," which she had famously performed for President Barack Obama during his inauguration.
The stage was filled with over 100 band members and dancers, who delivered a flawlessly choreographed performance, highlighting Beyonce's reputation as a master of her craft. The crowd was mesmerized by the energy and precision of the production, making it an unforgettable experience for all in attendance.
The ultra-luxury hotel's opening night was an exclusive invite-only event, arguably one of the biggest hotel events of the decade. It also featured a performance by world-famous DJ trio Swedish House Mafia and a stunning firework display.
The new luxury destination is set to raise the bar for ultra-luxurious hotel stays in the city of gold. Boasting 795 rooms, 17 restaurants and offering picturesque views of the Arabian Sea and the Jumeirah Palm Island.
The official grand opening for the public will take place on February 10.
Read more:
Buzz Aldrin, second man on moon, marries long-time girlfriend on 93rd birthday
Investment interest in second passports surges as many seek to escape visa woes
From Times Square to Riyadh Boulevard: Live screening of PSG, Saudi teams' match