Turkish authorities rescue cow trapped in sewage pit in two-hour operation
A Turkish rescue team saved a cow that fell in a sewage pit in an operation that took two-hours, according to local media reports.

The owner of the cow appealed for the local authorities' help after the cow fell in a pit in the Turkish town of Serik in the Antalya province.

For all the latest headlines follow our Google News channel online or via the app.

The cow was fortunately unhurt but had some difficulty walking after it was rescued, its owner said.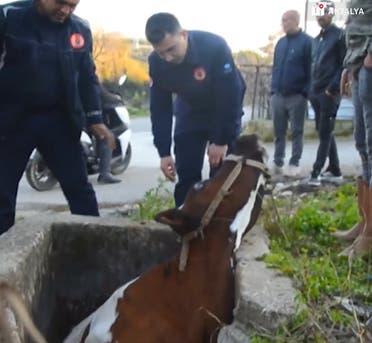 A video on social media showed the cow in the tight pit as the rescue team and members from the local community worked to rescue it using a long rope that was attached to an excavator.

Read more:

UFO-like orb spotted flying over Iraq's Mosul in 2016 image released by US officials

World's oldest living dog: 23-year-old US Chihuahua claims Guinness World Record

Health practitioner in Saudi sentenced to five years in prison for assaulting infants