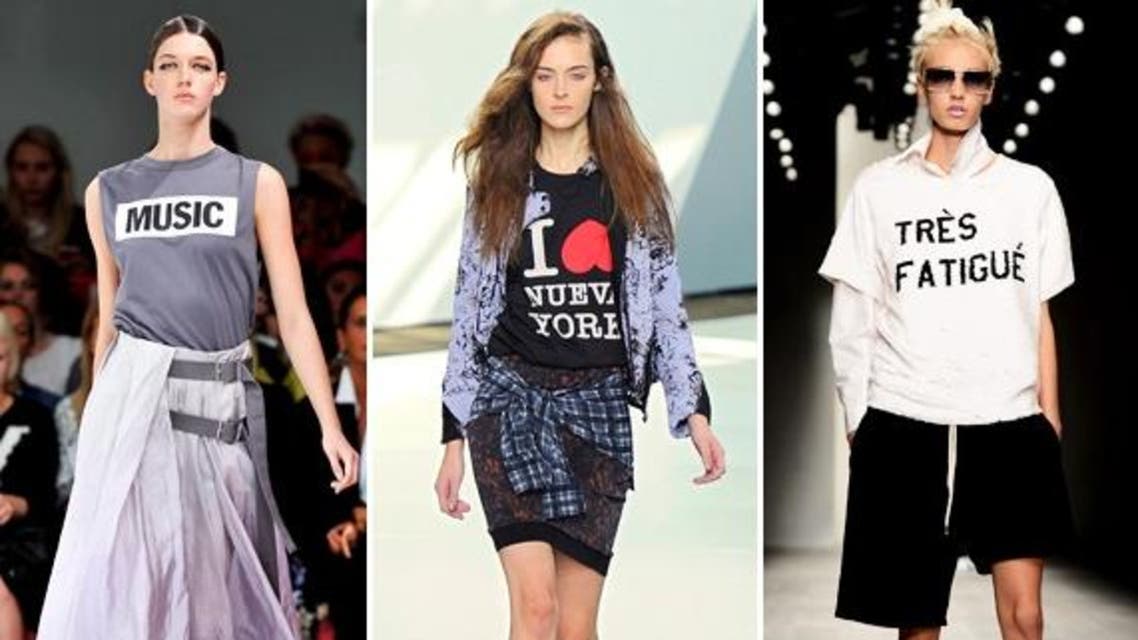 Dress à la mode: The irreplaceable tee-shirt
You need the plain simple one with round and V neck in white, black and grey; not too tight and not too large
I have dozens of them. Loose cuts, tight ones. V neck, round neck, U shape...Long sleeves, short sleeves. Cropped or long. In cotton, jersey, leather, silk. Cannot have enough of them. I slip them under a jacket, a tuxedo, a dress, I sleep in them, go to the gym wearing them ...You name it!
But Mother never got it!
I'm talking about the precious tee-shirt. I'm not sure how anyone of us would sartorially survive without this basic item. As you may know by now, layering for me is a key word in styling a look; and layering is impossible without the tee-shirt...
Tee shirts have been present throughout our lives and been there for us for as long as we can remember. We wore it as babies (But that was our mothers job, I have nothing to say about that). We wore it as kids and tore almost one everyday (I know something about that). We wore it as teenagers with rock icons pictures on it or silly sentences or ridiculously funny drawings and of course we wore it completely ripped for fashion statement or teenage reactions to any established rules or diktats (I know something about that too...). We wore it as adults and some of us even paid three digits sums to get this rare and unique tee.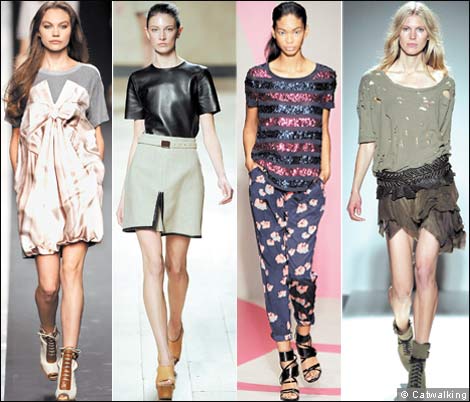 When I see a woman wearing a tee-shirt like it didn't count, makes me sad... She didn't get all those nuances a tee-shirt can have...We agreed that tee-shirt is a basic piece that every woman ought to have in her closet. Yes indeed. But not any tee shirt...
• If you have some extra pounds around the belly opt for a loose cut and not a hugging one.
• If your neck is not on the long side kindly stick to the V neck one.
• Avoid a woven collar, too tight or too frayed.
• A tee-shirt doesn't come with a pocket.
• Tee-shirt sleeves should reach half your bicep and then feel free to fold them as you please.
• You will never go wrong with a long tee that reaches a little lower than the beginning of your thighs; it'll give the impression that your thighs are skinnier.
Now the question to tuck it or not to tuck it...I never put my tee under any garment unless it's a high- waisted skirt or pants. Another option in avoiding the critical question in this case is to pick a cropped tee- shirt (now that it's a fashionable trend let's be adventurous and use it).
No matter how many tee shirts I have in my closet, I'm always looking for that perfect one with the perfect cut, color, print and collar shape. Don't be mistaken, not any tee-shirt fits all styling needs.
You need the plain simple one with round and V neck in white, black and grey; not too tight and not too large.
Another must-have tee-shirt is a white one that goes looser towards the hem and gives a cool flair to your silhouette.
A silk tee -shirt is irreplaceable under your suit for that work meeting or elegant lunch.
A leather tee-shirt sounds so sexy and interesting, but out of experience, it turns out to be problematic: When sitting it bloats and doesn't look as slim and fit as it looked when standing.
The printed tee-shirt has been present on the runways lately and worn under serious and not so serious jackets. But mercy, avoid tee-shirt with a message if you're not in your twenties anymore!
The bejeweled tee-shirt lifts up any boring track pants worn with stilettos and a fitted jacket. I can go on and on...
One last word though, wearing the right tee-shirt with the right outfit is a guaranty to make you look younger. How about that? Take my word for it!
____________
Mimi Raad is currently the Image Consultant for Al Arabiya News channel, part of MBC group as well as all the other MBC channels. Not only does she guides the anchors to polish their image, but trains as well a team of makeup artists, hairdressers and stylists to cater for their needs and television requirements. Mimi has trained number of major companies' employees, helping them to finalize a suitable dress code as well as styled many celebrities in the Arab world. She took part in various shows as an Image Consultant and has a weekly fashion segment on Al Arabiya morning show. She's a blogger and writes features for various media supports. As the founder of the Image department and executive producer at Dubai Media Inc for the past six years, Mimi Raad has played a primary role in the re-launch of DMI's four channels. Mimi created an innovative department in television environment, where along with a specialized team, trained by her, all DMI's presenters are relooked and revamped before going on air. Mimi's responsibilities include conceptualizing every channel's presenters styles. Meanwhile, Mimi was also producing for the past five years, and still, a very successful soft makeover show, Anti Ajmal.