Saudis spend $213 m a year on plastic surgery
The Kingdom last year dropped to 28th place internationally from 22nd about three years ago
Saudis last year spent about $213 million (SR826 m) on plastic surgery, Makkah Daily reported Monday.
They said the Kingdom is second only to Egypt in terms of expenditure on such operations in the Middle East and North Africa region.
Saudi plastic surgeon Dr. Jamal Al-Jumaah claimed the Kingdom last year dropped to 28th place internationally from 22nd about three years ago.
Infographic: Plastic surgery on the rise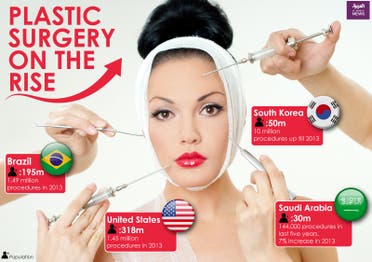 According to the Health Ministry, there are 316 plastic surgeons in the Kingdom who conducted about 144,000 plastic surgeries in five years, of which 59,158 operations (41 percent) were carried out in government hospitals.
Al-Jumaah said there was an increase of about 7 percent in the number of plastic surgeries in the Kingdom last year compared to 2012.
He said operations conducted under complete anesthesia had cost about SR225 million in total, those carried out under partial anesthesia cost around SR100 million and laser operations and Botox injections were worth close to SR500 million.
Al-Jumaah said the average cost of a minor nose job or breast augmentation procedure may cost about SR15,000, excluding the costs of medicines, anesthesia, nursing and bed.
He said medical insurance only covers plastic surgery procedures needed by victims of accidents.
"The regular visits of plastic surgeons to the Kingdom have greatly reduced the need for Saudi women to travel to foreign countries to get procedures done," he said. Dr. Sabah Musharaf, chairwoman of the Saudi Society for Plastic Surgery, advised Saudi women traveling abroad for plastic surgery to carefully choose their surgeons.
She noted plastic surgeries conducted in the Kingdom are less in number compared to countries in Europe or Asian and America.
This week, Brazil has overtaken the United States as the world's capital of cosmetic surgery, according to Agence France Presse.
The South American giant had recorded 1.49 million procedures in 2013, outstripping the United States by more than 40,000.
Liposuction and silicon breast implants were the most popular procedures, although surgeries involving the face and nose were growing in popularity.
Musharaf said people publicizing the plastic surgeries were effectively "spreading corruption and evil".
"Some plastic surgeries may deform rather than enhance," she said.
This article was first published in the Saudi Gazette on Aug. 5, 2014.