Salon inspector: Dirty secrets behind Dubai's beauty business
Government rules state beauty salons must toe the line when it comes to the health code
If you are one of the less fortunate few with almost constantly tattered nails and frazzled hair, you may find yourself wondering how some office-goers look so polished all the time.
For some, a regular trip to the salon is essential, and government regulations on the beauty industry may lead them to believe they are in safe, well-manicured hands.
But is this really the case? The United Arab Emirates' beauty industry is booming, with Euromonitor International predicting that overall spending in the beauty and personal care industry will reach $1.3 billion yearly by 2017.
Infographic: Common health code violations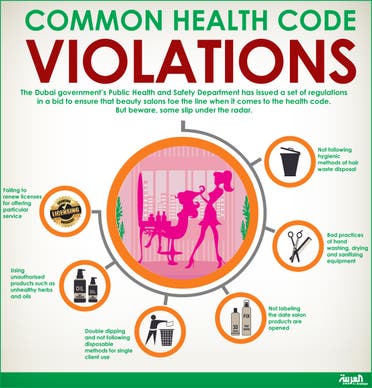 No wonder then that the government is keeping an eye out for salons that slip under the health and safety radar.
The Dubai government's Public Health and Safety Department has issued a set of regulations in a bid to ensure that beauty salons toe the line when it comes to the health code.
Rules include the need for a separate area for manicure, pedicure, hair removal, henna designing and facial services.
Salons must also store disinfectant materials and disinfect all tools before and after their use.
This is to prevent against the spread of infection, one of the main reasons the guidelines are in place, according to Nawal Jarges, operations manager at Tips & Toes, one of the UAE's largest salon chains.
According to government guidelines, salons must be equipped with rubbish bins for "waste collection after each hair cutting or beautician activity."
Also, "a sufficient number of towels [must be stored] to avoid usage of the same towels for more than one time to each customer."
However, some salons take a lax attitude towards cleanliness, Jarges told Al Arabiya News.
Some commonly seen transgressions include "not following hygienic methods of hair waste disposal; some salons simply push hair to a corner to dispose of later," she said.
Some salons bend the rules by using "unauthorized products such as unhealthy herbs and oils, and [following] bad practices of hand-washing, drying and sanitizing equipment."
Unsanitary tools can spread nail infections and diseases to salon-goers.
Not labeling the date salon products are opened, double-dipping waxing tools and failing to renew licenses for offering particular services round out the list of the top violations, according to Jarges.
Cooking and accommodation are strictly forbidden on the premises of Dubai salons.
Government guidelines extend to salon staff, stating they must wear uniforms during work hours, maintain personal hygiene, and disinfect their hands before and after each activity.
Males are prohibited from working or being present in ladies' salons, except those in certain hotels with the necessary permits.
In October last year, 245 Dubai salons for both males and females were fined for health and safety violations, in a widely publicized sting.
According to Jarges, erring salons are caught out by unannounced visits by the municipality.
Inspectors conduct regular surprise walk-throughs, reviewing every area and the products used.
"I think some salons manage to slip under the radar by promising to follow the rules of the inspector during their visit, but often they don't follow procedures and comply after the inspection," said Jarges.
"It could also be that some inspectors may not visit some salons as often as they should. However, more recently there has been an increase in the number of crackdowns for violators."