Scantily clad Haifa Wahbe shocks TV viewers
Wahbe was wearing a black see through and body hugging dress during the 10th prime of Star Academy
Lebanese diva Haifa Wahbe came under fire after she appeared Thursday in a sheer dress during a live show in Lebanon.
The diva, who was wearing a black see through and body hugging dress, was performing during the 10th episode of this season's Star Academy show.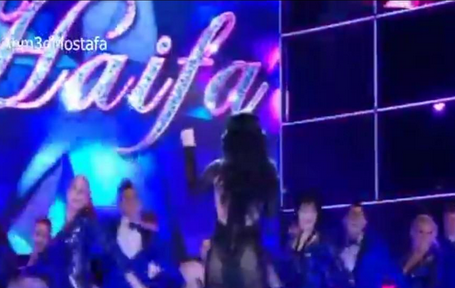 Her appearance sparked controversy on the web with social media users criticizing the outfit.
"What is wrong with that dress Haifa. Are you insane?" @KangTeukute wrote, while another user said: "The dress at least needs an awesome uplifted butt and some strong hamstrings."
Some other users compared the Lebanese diva to Kim Kardashian.
"To #KimKardashian & #haifawahbi ... #Sexy doesn't mean you have to be naked! Leave some things for the imagination #KimK #HaifaInStarac," @Ahmadmahrous wrote.