Turkish designers hail Erdogan as fashion trend setter: report
President Erdoğan is the man who brought the checkered fashion to Turkey, one designer said
Several Turkish Fashion aficionados have praised President Recep Tayyip Erdogan for his taste in suits as well as influencing the fashion scene in the country, Turkey's semi-official news agency reported on Tuesday.

"The "prestogal," which is the jacket model that Erdoğan often wears, has previously not been very popular in Turkey, but recently we see more people wearing such checkered suits," Levon Kordonciyan, a Turkish fashion designer told Anadolu.
"President Erdoğan is the man who brought the checkered fashion to Turkey. Nobody influences our president; he does not follow the world, but rather he creates his own fashion," Kordonciyan added.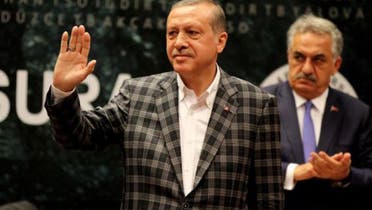 Meanwhile, Süleyman Orakçıoğlu, the chairman of ORKA Holding, which owns several Turkish men's fashion brands said: "Our president uses the timeless colors well. He presents a good harmony between his physical attributes and his style."
"[Erdogan] makes better choices than other world leaders."
On Monday, Turkey's new presidential palace witnessed a "dress show" during a welcoming ceremony for a visiting head of state for the first time.