Turkish leather lures trendsetters at Italian fashion fair
Designed and produced in Turkey, the collection was displayed in one of Florence's iconic cities as part of the ongoing Pitti Uomo fashion event
Turkish leather was highlighted Tuesday at a fashion fair in Florence, where Turkish designers showcased their leather-themed clothes in an exclusive event.
As part of Pitti Uomo, a biannual fashion fair the Tuscan city hosts, eight designers from Turkey put their creations on display in one of the city's iconic palaces.
The clothes are part of a project called "Fashion in Evolution: A Turkish Leather story," a collaboration between L'Uomo Vogue and Turkish leather brands.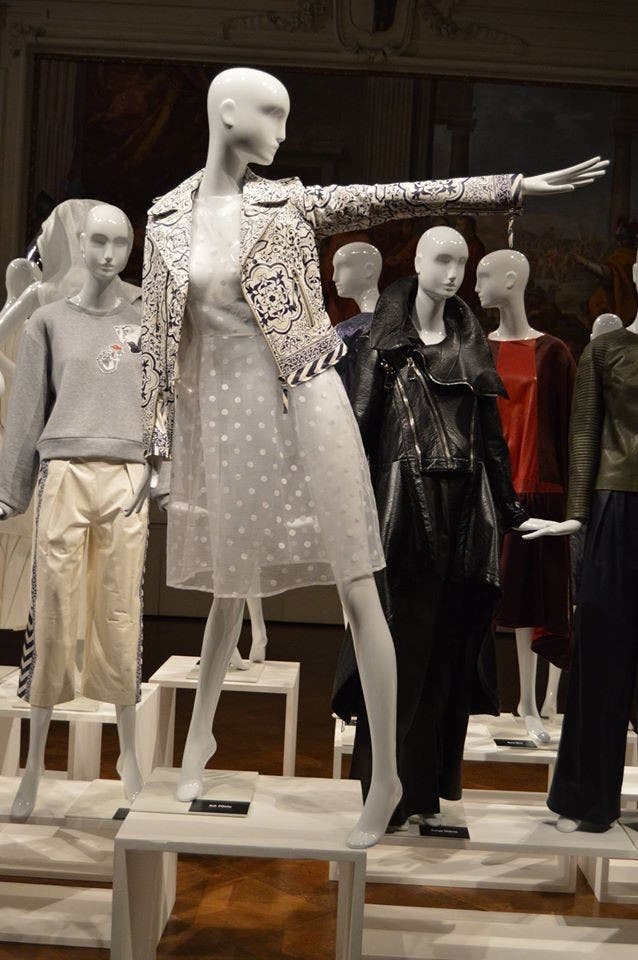 Members of the Turkish and Italian fashion scene flocked to the Palazzo Capponi, one of Florence's many iconic buildings, to inspect the designs and meet the designers.
The designers used locally sourced material and labor for their clothes as they tried to incorporate their Turkish backgrounds into their creations.
"I wanted to give it a little bit my Turkish culture and heritage," Gul Agis, one of the designers, told Al Arabiya News.
A guest speaks to one of the designers (not photographed). Gul Agis designs featured on the two mannequins. (Al Arabiya News/ Salma El Shahed)
"I work with a lot of Arab people," she said, adding that most of her customers are from the region as her clothes are sold in Harvey Nichols in Kuwait.
Standing next to her collection, she explained how she incorporated some of today's trends with her own eye and culture to create big, bold, statement pieces.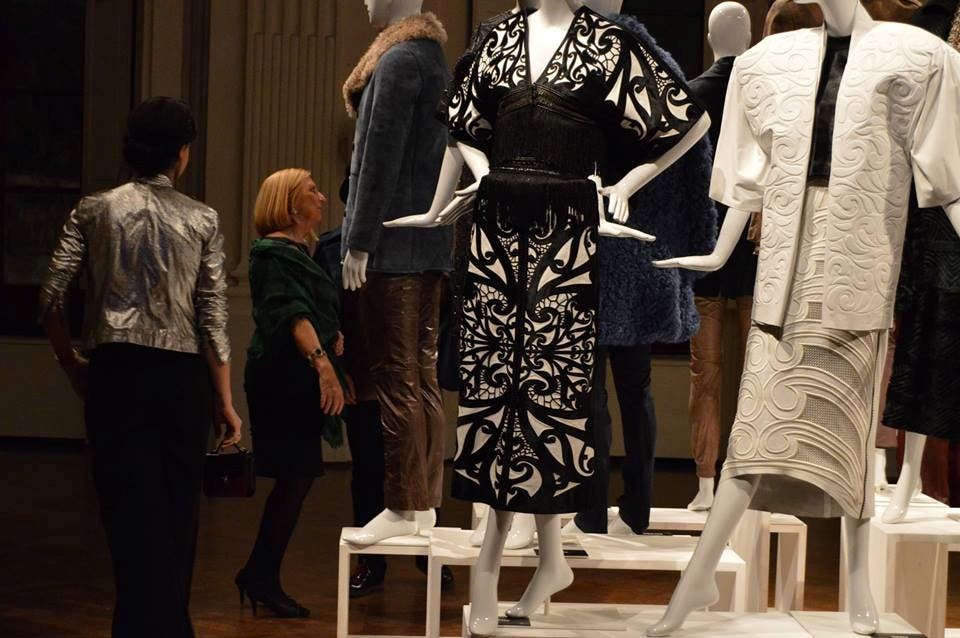 "The new direction is about all this playing with volumes, not anything classical any more, going beyond shapes and colors, as you notice, oversized is coming and I wanted to apply it to leather," she said.
"I thought it would be fabulous to give it a 3D look, like Geisha, kimono or something outrageous with lots of embroidery, trying to do different things rather than stick to classical."
The collection was varied as it featured bold leather shirts and skirts to soft and sheer polka-dotted dresses.
"I want them to feel glamorous in a way, even though if it's a simple dress," Agis said about her clothes.
"My woman is a little bit sophisticated but also with strength and believing in herself is the most important thing, if she wears it, she feels different and strong," the Istanbul-based designer told Al Arabiya News.
Agis has shown her work at the London Fashion Week for three years now and plans on attending Madrid Fashion Week.