All that's weird and wonderful at Florence fashion show Pitti Uomo
To stand out from the crowd, be daring. Pitti Uomo can tell you how…
To stand out from the crowd, be daring. It's easier said than done if humdrum high street shopping is your closet filler, but fashion forward men everywhere are in luck, as Italy's Pitti Uomo menswear trade show is putting on a weird and wonderful show of all that's cutting edge and envelope pushing.
The sprawling fair boasts specialized areas for forward-thinking fashion with Touch!, which presents the most eclectic looks in contemporary men's clothing, Futuro Maschile, classic-contemporary menswear and a concept lab pinpointing the most advanced looks in formal wear, and finally, L'Altro Uomo, the home of avant-garde styling.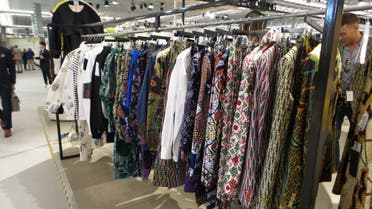 A garden of style
Candy-colored flowers and deep jungle prints are all the rage, with multiple brands offering up linen and polo shirt options as well as pattern-printed trousers for both the office and a night out.
Block-colored jackets in lemon yellow and chameleon green as well as neon camouflage prints - which would not hide anyone in battle - all made appearances.
Knee length jackets with cartoon sketches and futuristic netted offerings were popular with buyers: "this piece is getting particular interest, it's bold and heavy, exactly what a man needs if he wants to make people look twice, hopefully the ladies," a sales representative joked with Al Arabiya News, pointing to a deep red studded jacket in leather.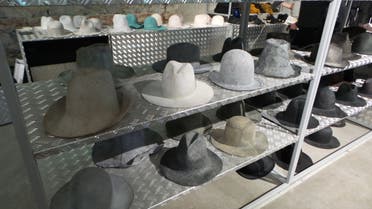 Hats off to a great hat
The world raised a collective eyebrow when singer Pharrel debuted his vintage Vivienne Westwood hat at the 2014 Grammy Awards. But designers on show at Pitti Uomo have taken the trend a step further with netted gray and brown versions of the show stopper by Florentine brand Reinhard Plank.
A few stalls down hats inspired by cinema drew interested onlookers. The cracked leathers and curled up, tatty rims seemed straight out the pages of Oliver Twist - they were "completely handmade in Italy in line with ancient craft traditions," according to the quirkily dressed salesperson at the "Move Officine del Cappello" stall.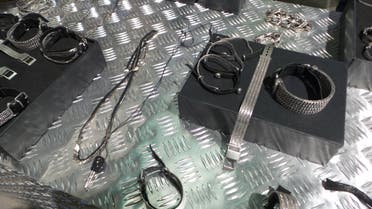 Jewelery, it's not just for women
Heavy chainmail and links so shiny they look like liquid mercury, men's bracelets and neck chains were popular trinkets. From Gothic-inspired delicate chains to canvas, beaded bracelets, jewelry is no longer the domain of women and teenage boys headed to the skate park.
Twice a year, menswear designers, retailers and fashion heavyweights flock to Florence, Italy to get a sneak peek of upcoming collections at the so-called "Olympics of menswear trade shows," Pitti Uomo.
The 88th edition of the event kicked off on June 16, with the catwalks and stalls set to be dismantled on June 19.