From nudity to origami, Paris fashion week has it all
From exposed breasts to Japanese origami to the ration-era Forties, Sunday's installment of VIP-filled Paris Fashion Week had it all
From exposed breasts to Japanese origami to the ration-era Forties, Sunday's installment of VIP-filled Paris Fashion Week had it all. Here are the spring-summer 2016 collection highlights.
Kenzo's delicate precision
Clean white geometric arches that looked almost cut from paper greeted rather fatigued guests in the large auditorium at Kenzo's Sunday morning show in Northern Paris.
The idea of paper was perhaps closely melded to the creative process for Carol Lim and Humberto Leon, who produced a highly creative show with plays on origami cutouts. It was certainly worth the early morning trek.
As ever, for the house founded by Japanese designer Kenzo Takada, styles were Asia-infused.
Celine's ingenious Fourties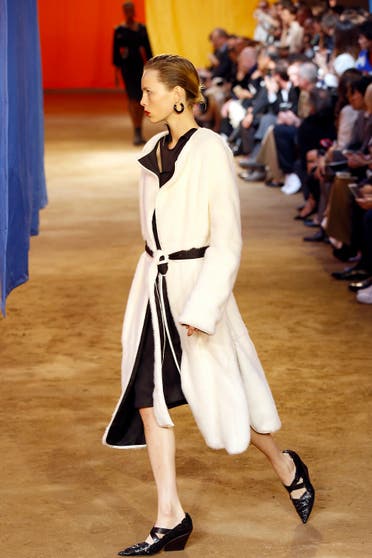 Dior's 1949 New Look — when post-war rationing ended and full length dresses came back — is normally the earlier chronological starting point for the day's diverse catwalk styles.
Celine's designer, the ever-creative Pheobe Philo, bucked this trend.
Philo on Sunday wowed guests by putting surreal, contemporary twists on designs from the ration-era Forties.
A model wears a creation for Celine's Spring-Summer 2016 ready-to-wear fashion collection, prese …
Puffy gathered sleeves, shorter hems to mid-calf, and tight shirts with loose, full-waisted pants were fashioned in pre-World War II hues of dark gray, navy, black and camel.
Nina Ricci's sheer sensuality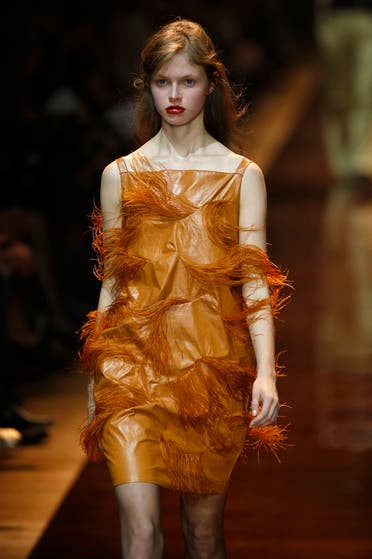 A foxy belted, shiny coat showing décolleté and worn with nothing else underneath was the opening statement at Nina Ricci — a sign that in only his second show for the historic brand, talented designer
Guillaume Henry is steering the boat away from gamine nostalgia.
Exposed nipples and shoulders, glimmering waxed leather and yards of sheer organza spelt full-throttle sensuality in the Saturday night show that was well-received by the audience, which included model and actress Laetitia Casta.
Black aprons and rhinestone-encrusted straps filed by alongside fluttering embroidered feathers, evoking a contradiction of the aggressive versus the soft and feminine.