No Kylie Jenner Lip Kit? Try these alternatives for the winter season
Be bold as it gets cold with these must-try lipstick shades
Winter is officially upon us, and this means catching up with the current beauty trends. Boring nude lips and berry lip stains are making their way out for more daring and bold pouts. Transition your fall look into a perfect winter one with the help of bold purples, reds, and rich, warm rosewood lipstick shades. This season we get to welcome back the 1990s, with brown lips and purple pouts the new "it" trend. A-list celebrities have been rocking these trendy lipstick colors and I've rounded up some the top lipstick shades to wear this winter.
Rosewoods
If you didn't get your hands on the Kylie Jenner Lip Kit, don't worry at all. There are many great dupes of Kylie's lip colors. Depending on the texture and formula you prefer, there is the perfect shade for every skin complexion. Rosewood lips are the beauty style statement of our time. Don't be shy with brown lip liners; they seem to be the perfect combination with rosewood lipsticks. These shades will flatter your skin tone and lighten up your face, which is obviously great for winter.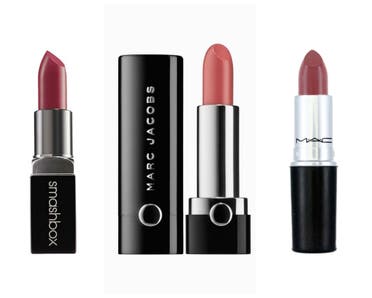 Smashbox "Be Legendary Lipstick" shade # Mulberry
MAC Cosmetics "Satin lipstick" shade # Twig
Marc Jacobs "Lip Creme" shade # 228 Infamous
Chocolate browns
Brown lipstick shades are gaining popularity this winter. The chocolate-brown lips that used to be unwearable since the 90s have made a huge comeback. Thanks to beauty gurus all over the globe (and Kylie Jenner), it has now become one of the hottest make-up trends. You can pair brown lips with a beautiful dewy skin and dramatic lashes or even with a smokey eye look. One of the main reasons why brown pouts are popular is because they are wearable day or night, and are age-friendly. It looks great, especially on girls with a medium to dark skin complexion.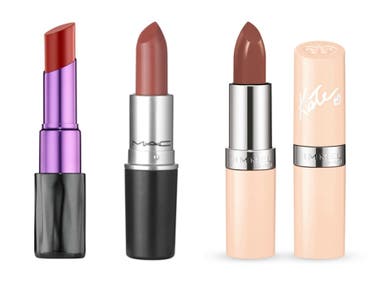 Urban Decay "Matte lipsticks" shade # 1993
MAC Cosmetics "Satin lipstick" shade # Mocha
Rimmel "Lasting Finish by Kate Lipstick" shade # 48
Fire reds
Can you ever go wrong with firey red lipsticks? Who wouldn't want a vibrant red pout? Just in time for the holiday season, these new red lipstick shades will give you the perfect pout for any gathering you'll be attending. From vibrant matt, creamy to sheer textures, these shades will give you a serious shot of color on your lips. They work well for different skin complexions, and as the perfect transition shade from fall to winter. Red lips will instantly transform your look to winter-chic.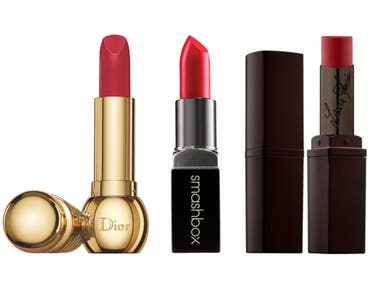 Dior "Diorific Mat" shade # 750
Smashbox "Be Legendary Lipstick" shade # True Red
Laura Mercier "Creamy Colourbalm" shade # Red Velvet
Plums
After seeing so much of the reds, burgundies and nude lips, we can't help but admire the purple lipstick trend. It's a statement look that doesn't require much eye nor face make-up. The bold pouts with deep eggplant shades paired with Twiggy lashes are a hot trend this season. If you're choosing a lipstick that dries into matt, pair it with a dewy skin - any cream blush will do the trick.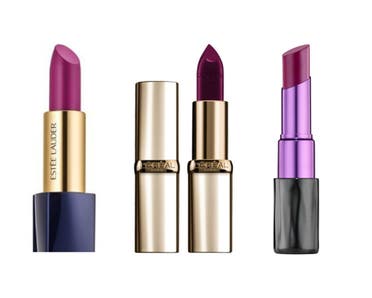 Estee Lauder "Pure Color Envy Matte" shade # 420 Stronger
L'Oreal "Color Riche" shade # 462 Preliminaire
Urban Decay "Matte lipsticks" shade # After Dark