Smokey or smudgy? The best hassle-free drugstore eyeliners
While prestige eyeliners have their benefits, drugstore brands have created some incredible ones too
Figuring out what eye makeup to wear can be one of our biggest morning decisions. Regardless of the look we choose, we need the best eyeliners, from the perfect smudgy kohl to a precise, smudge-proof liquid liner. You can never have only one eyeliner. From the variety in texture, hue and applicators, there are way too many to choose from.
While prestige eyeliners have their benefits, drugstore brands have created some incredible ones too. Here are some of our favorite and most affordable drugstore eyeliners.
L'Oreal Infallible "The Super Slim Liquid Eyeliner" $9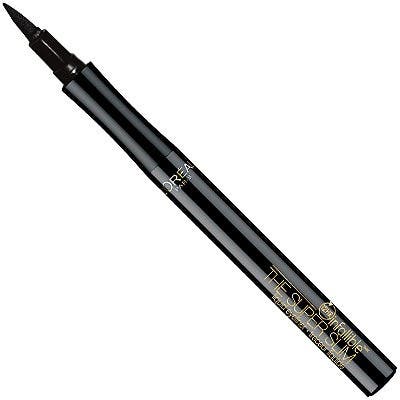 This has been L'Oreal's iconic eyeliner for the past decade, and one of their best sellers to date. I used this in high school, and still do so today. The intensity is unbeatable, delivering opaque super-black lines. The felt-tip applicator is very easy to work with, allowing you to create thin, natural lines to much bolder and sharp wings.
Wet 'N Wild "MegaLiner Liquid Eyeliner" in Black $2.99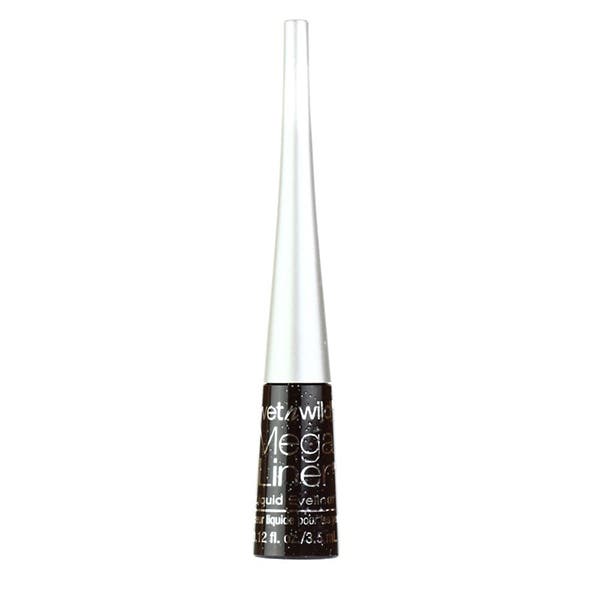 Wet 'N Wild's MegaLiner Liquid Eyeliner comes in six shades, including grey, purple, green and sparkly black. The liquid liner with thin applicator makes it hassle-free to create a cat eye. Not only do you get a near-latex-looking opaque slick black finish, it will last you a full day. However, since it is so powerful, getting it off might be challenging. An oil-based eye-makeup remover should do the trick.
CoverGirl "Line Exact Liquid Pen" in #600 Very Black $7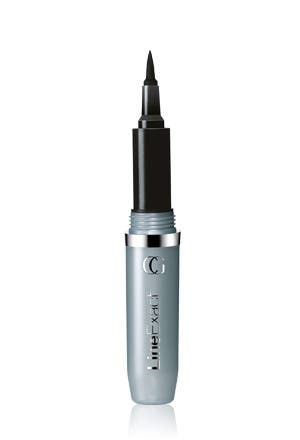 This is such an underrated brand. This product in particular is one of my favorite liquid liners to create a defined eye look. The applicator is short, allowing you to get up into the lash line, and the pigmentation is extremely intense.
NYX Cosmetics "Super Skinny Eye Marker" $9.50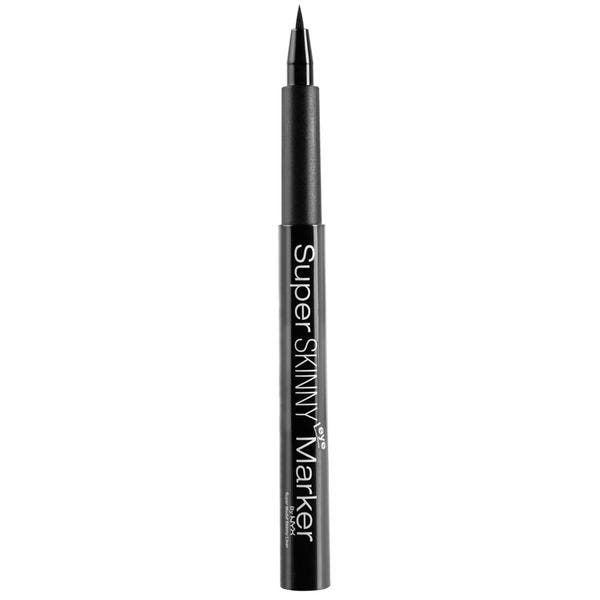 The name speaks for itself. This product almost works like a permanent marker (only sharper). It does not smudge like many other liquid liners do. It has great lasting power and does not dry out or crack throughout the day. The tip is wonderful for a thin or dramatic line. It does not smudge but it is not waterproof, so wear a good eye primer for a waterproof effect.
Revlon "ColorStay Crème Gel Eyeliner" in #Black $10.50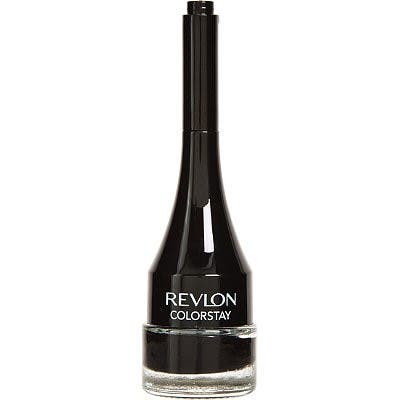 This eyeliner comes in a creamy gel formula along with a brush applicator. Different looks can be created with it. The quality is comparable to the famous "Fluidline" in Blacktrack by MAC Cosmetics. The texture and intensity are great, but I recommend using a sharp eyeliner brush with it. The product also comes in a gorgeous navy blue.
NYX "Glam Aqua Luxe Eyeliner" $5.50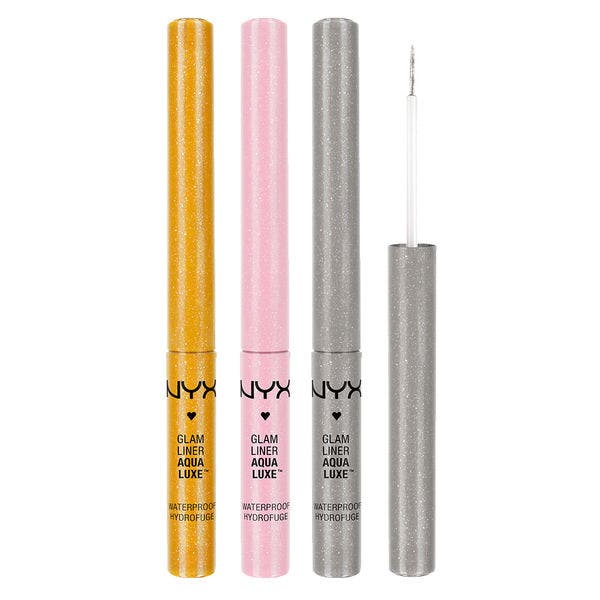 If you want to funk up your eyeliner look, pick up NYX Cosmetics Glam Aqua Luxe Eyeliner. I am addicted to these eyeliners. They create that extra spark to any eye makeup look. The eyeliner comes in nine different shades, including bright blue, purple, black and nudes. My recommended shades are glam nude and glam pink.
NYX Cosmetics "Jumbo Eye Pencil" $4.50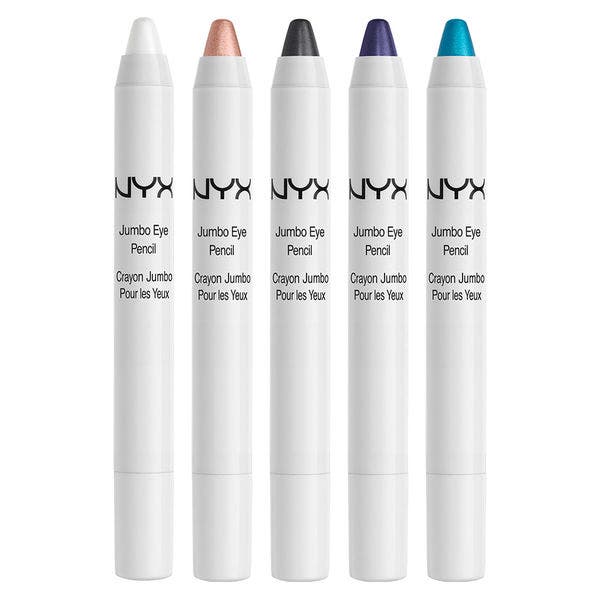 It may not be a precision eyeliner, but these oversized pencils are perfect for mastering serious smoky eyes. They come in a wide range of colors, in every shade imaginable. Vivid colors such as pure gold and gunmetal grey allow you to add shimmer to your look.
The creamy formula glides on smoothly and is easy to work with. I like to use the white shade (yogurt) on my waterline, creating the illusion of bigger eyes. It is one of the best, if not the best white eye pencils on the market. It is a versatile product, and the price is unbeatable.
L'Oréal "Lineur Intense Brush Tip Liquid Eyeliner" $8.50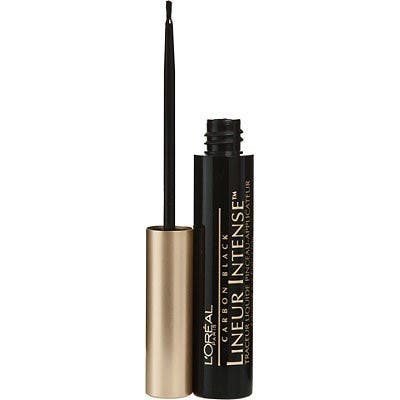 This eyeliner glides on smoothly and is great for creating a sharp winged liner. The longevity is impressive for a drugstore product, lasting up to 16 hours. The tip is quite short, giving you more control, and is nearly as sharp as Kat von D's $19 eyeliner.