Billion-dollar Saudi fragrance market biggest in Arab world
According to analysts Euromonitor International, the Arab world will be second only to Latin America in the global fragrance growth market
Lackluster growth in the West coupled with a slowdown in China and Russia means global fragrance houses are training their sights on the Middle East and Africa, with 12 of the world's top 18 ready to line-up at Beautyworld Middle East 2016.
According to analysts Euromonitor International (EMI), The Middle East and Africa (MEA) will be second only to Latin America in the global fragrance growth market, accounting for 31 percent of the estimated $5.8 billion value increase from 2014-2019.
Led by Saudi Arabia ($1.7 billion) and the UAE ($423 million), the MEA's fragrance market was worth $5.2 billion in 2015, seven percent up on the previous year. Absolute growth for the entire region from 2014-2019 will value$1.8 billion, growing at a compound annual growth rate of 6.5 percent, according to EMI.
Compare that to the tepid prospects in North America and Western Europe – which both have anticipated annual growth rates of 1 percent over 2014-2019 – and it's not surprising the world's premier fragrance-related exhibitors are eagerly awaiting the upcoming Beautyworld Middle East trade show in Dubai.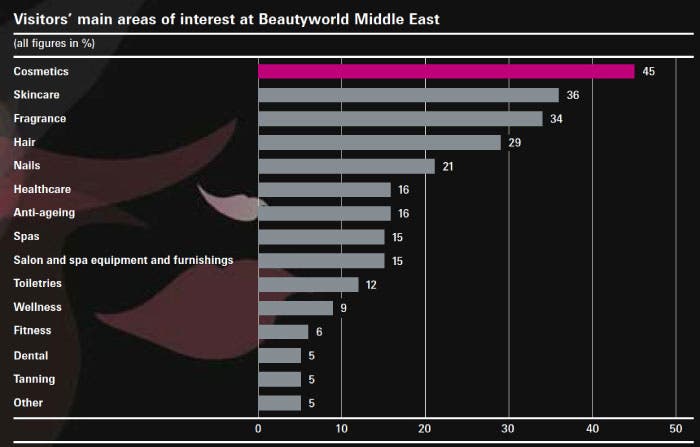 Taking place on May 15-17, 2016 at the Dubai International Convention and Exhibition Centre, the three-day event will host more than 200 companies specializing in the creation, development and production of unique compound fragrances, oils, and perfumes.
That of course includes twelve of the world's top 18 fragrance creation houses: Givaudan, Mane, Robertet, CPL Aromas, Iberchem, Eurofragance, Cosmo International Fragrances, Expressions Parfumees, Fragrance Resources, Parfex, Technico Flor, and LUZI.
Many of these, including French-headquartered perfumeries such as Mane, Robertet, Expressions Parfumees, and Technico Flor, recently set up bases in the UAE to better serve the insatiable Middle East appetite for fragrances used in a variety of beauty and wellness products, from perfumes, soaps and deodorants, to cosmetics, oils, and shampoos.
Others went a step further. Spanish company Eurofragance – which is exhibiting at Beautyworld Middle East for the seventh time – last year established an AED10 million 10,000sqft creative center in Dubai to create fresh fragrances that encapsulate the essence of the Middle East. Earlier this year, the company also invested in an AED3 million automatic fragrance compounder.
This article was first published by the Saudi Gazette on March 6, 2016.