Why 'halal cosmetics' could become beauty's next big thing
With the market for halal beauty expected by forecasters to rise by 15% in the next five years, brands have begun to take notice
While keeping a halal diet is second nature to many Muslim women, how many of us have considered whether foundation, lipstick or even contour powder makes the grade?
According to Claudia Nour, the New York-based founder of halal and natural beauty brand Glow by Claudia, a significant number of Muslim women are shocked to find that the majority of their cosmetic and skincare staples are hiding forbidden ingredients.
Popular beauty counter buys often include pork-derived gelatin, keratin and collagen, and alcohol – all which can absorb into the skin - and waterproofing additives that make effective cleansing before prayers almost impossible.
"A big percentage of Muslim women, especially new converts, are unaware of what's really in their make-up. Others may suspect, but they are a little scared to confirm it – they're willing to stay in denial for a little longer because they think they don't have an alternative," Nour told Al Arabiya English.
"But when they find companies like mine that are safe to use, then they feel comfortable switching. If you give a Muslim woman a choice between halal and non-halal, they would want the halal one every time."
With the market for halal beauty expected by forecasters to rise by 15% in the next five years, brands have begun to take notice of a significantly-sized group that has so far flown under the radar.
Leading the halal beauty brigade are niche and boutique brands like beauty queen-turned-entrepreneur Nour's Glow by Claudia and OnePure, a skincare company founded in Dubai by Layla Mandi.
'How can this be made halal?'
Created to satisfy a personal itch by Muslim women who couldn't find the cosmetics and skincare products to meet their standards, they instead just made their own, and in turn found loyal followings from similarly-minded women.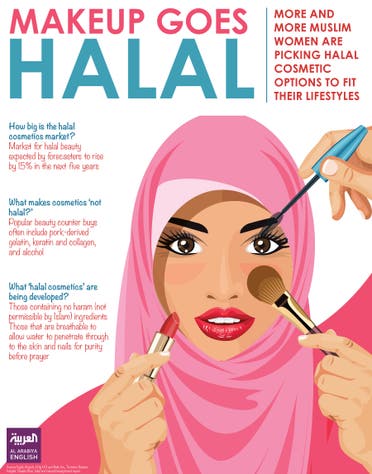 Nour says it's important to her that all products that she sells – and uses herself – contain no haram (not permissible by Islam) ingredients, as well as being breathable and allowing water to penetrate through to the skin for purity before praying.
"Prayer comes first, so when developing my products, I always think 'how can this be made halal?'" she says.
"My brand is especially good for cleansing for prayer, because it does not contain what I call barrier ingredients like silicone and beeswax. But some new products I've been working on, like a make-up setting spray, are reliant on waterproof silicones and parabens, so it's difficult to work around for a halal version."
Arab spending habits
While there isn't a global certification for halal beauty products, some countries have their own systems. For example, in Dubai, OnePure follows a certification similar to food processing, consulting an imam who inspects the production line and ingredients before signing off his approval.
International beauty groups are now taking notice of Arab spending habits. A consumer report published by Thomson Reuters in 2015 places total global spending on cosmetics products by Muslim customers at $2 billion each year, with this figure expected to almost double to $3.7 billion by 2019. With this surge in spending power still to come, it's no wonder beauty brands are beginning to court the Muslim market.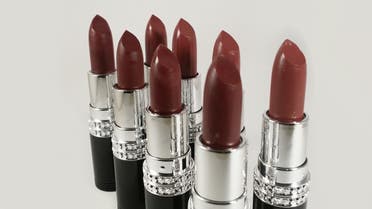 Brands like Inglot, Wojooh, H by BCI and Nails Inc. are testing the halal waters with capsule collections of nail polish. Traditional nail polishes cover the nail bed with a solid coat of colour, not allowing water through to thoroughly cleanse the area. These next generation polishes have updated their formulas to create 'breathable' polishes, which allow water and molecules to reach through the veil of varnish, making them wudu-friendly.
Not only do these new polishes make washing before prayer simpler – no need to reach for the remover – but they encourage healthier, stronger nails thanks to the easy flow of oxygen to the nail bed.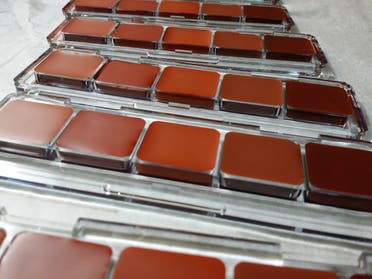 With more options on the market, women are slowly coming around to the benefits of halal cosmetics.
"I used to love make-up, but once I started reading about the ingredients and realised they were not appropriate for an observant Muslim, I had to stop getting my weekly manicure," says Farah Rasheed, a 24-year-old student in Abu Dhabi.
"When one of my friends showed me some of the new polishes that allow me to pray while wearing them and that doesn't suffer in quality, I was so happy to be able to indulge in mani pedis again. I just bring a halal polish with me to the salon to be used."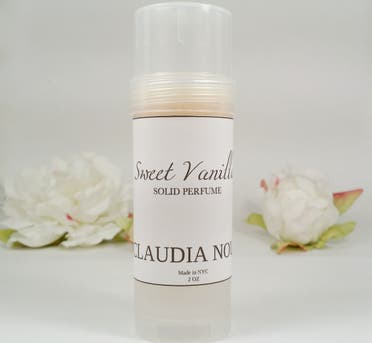 Non-Muslims have also been snapping up halal beauty buys, with Nails Inc citing the popularity of their line of halal nails polishes also due to the more natural ingredients when compared to regular varnishes.
"Our Nailpure colours use a revolutionary oxygen resin complex which makes them halal, but it's also free of phthalates, formaldehyde, animal products and toluene," said head of global wholesale and new business Olivia Watson during the line's Sephora launch.
"We're expecting them to do really well with our Gulf clients."