Top five lip colors you need to start wearing this spring
See the 5 gorgeous shades to stock up on for the spring season ahead
Picking a lipstick color is far from easy, which is probably why there are so many different ways to go about it. You can check online reviews, hit up Sephora to swatch your arm, or look at the shades worn on the runways of the latest fashion week. See the five gorgeous shades to stock up on for the spring season ahead.
1. Rosy pink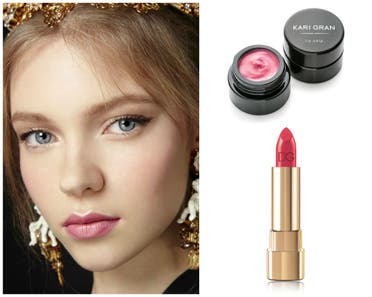 Rosy pink lips, delicate cat eyes and floral prints at the Dolce & Gabbana show have us dreaming of springtime picnics. This shade is a great universal tone; it deposits a nice pop of color while still feeling sheer and moisturizing. A fresh way to rock classic rosy lips is to pair it with dewy eyelids, softly stained cheeks and a hint of highlighter. If you're more into defined eye looks, this lip color also looks great with a sharp winged eyeliner. Even if you're not able to enjoy a sunny Italian holiday, a cheerful swipe of rosy lipstick offers a brief beauty escape.
Kari Gran Color Lip Whip in Radiant Orchid, $20
Dolce & Gabbana Classic Cream Lipstick in Bellisima, $35
2. Deep Berry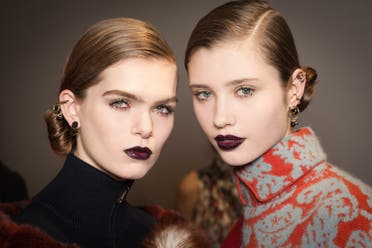 Dark lips might seem out of place in the spring, but if there's one thing we've learned from the Dior show, the look just works. Whether you pair it with a smudged smoky eye to create a rock-n-roll look, bare skin or with clumpy lashes - it's a shade that can shamelessly be worn during the spring season. Moody purples were also seen at shows like Givenchy and Burberry, further proving that super dark lips are a trend this season. If you like to keep your make-up simple but still want to rock a bold lip, this shade would look gorgeous paired with silvery accents on the eye and soft, rosy cheeks.
3. Pastel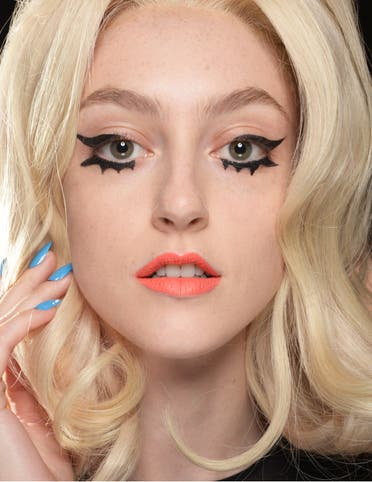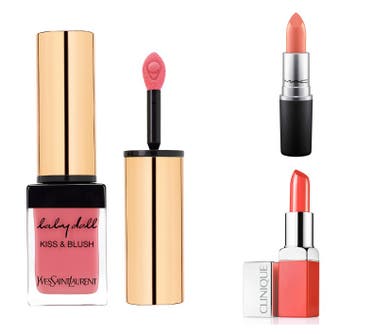 Soft pastel lips are back and we couldn't be more excited about it. Pastel lip colors can be a muted alternative to the in-your-face statement of bold hues. If you love bright, orange lipsticks but prefer a toned down make-up look on you, corals are the best alternative and it's a huge trend this season as seen at the Jeremy Scott show.
Similar lipstick shades are:
YSL Kiss & Blush in Pink Hedoniste, $40
Clinique Pop Lip Color in Melon Pop, $18
M.A.C in A sprinkle of Magic, $17
4. Brown/Chesnut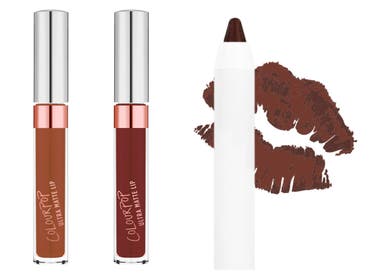 If you love wearing nude lip colors but you don't want to look washed out, try brown lip colors as an alternative. It's a little darker from the usual nudes you're used to, a little warmer, and a little browner - it's described as the new "nude" of this time. Models and celebrities have been rocking this lip trend and it seems like it's going to stay popular for a while. It's quite a versatile shade that's perfect to wear on any occasion whether it's during the day or in the evening. Brands like "ColourPop" are offering lip colors in every hue and textures you could possibly think of. They're ultra-matte, brown lip colors are the most popular ones.
ColourPop Liquid Lipstick in Kae & Rooch, $6
ColourPop Lip Pencil in Rooch, $5

5. Orangy red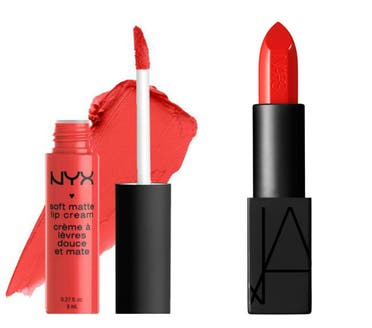 Can't decide between red and orange? You no longer have to. Bright, orange red, seen at the New York fashion week shows is a cult classic that screams spring beauty. This color is set to be big for spring as seen at the Victoria Beckham show. Its brightness works beautifully with many different skin tones, and looks gorgeous blotted down and pressed into the lip as a stain. If you keep the tones of the eyes to neutral undertones, you give the lips center stage. It can also be added to the center of a deeper shade of red for instant dimension and pop.
NYX Soft Matte Lip Cream in Manila, $6
NARS Audacious Lipstick in Lana, $32