UAE designer explains inspiration behind Dubai's 'first 3D printed dress'
Khulood Thani's dress, which is made from 3D printed cubic plastic and camel leather, was inspired by the skyscraper-studded skyline of Dubai
An Emirati fashion designer who teamed up with an architect to create what is believed to be Dubai's first 3D printed dress says the concept shows the country's design capabilities.
Khulood Thani's cream-colored dress, which is made from 3D printed cubic plastic and camel leather, was inspired by the skyscraper-studded skyline of Dubai.
Speaking to Al Arabiya English from her studio in Dubai, Thani said that the dress presents "the contrast of the cultural and modern aspects of Dubai."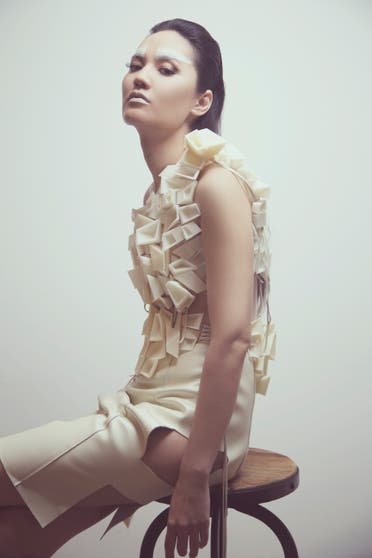 A UAE-based tannery made the camel leather for the skirt that Thani believes is a key element of the dress.
"I think as a designer it's our role to introduce people to certain things that our country can produce," she said, speaking about the tannery. "It's a good eye-opener to show what the UAE has to offer."
Bint Thani: The brand
Launched in 2012, Thani's fashion brand first started with turbans for women.
Thani explained that her brand started with turbans as it was something she wears, but did not find the styles she liked available in the market.
"[Turbans] are something I would wear when I travel, but I didn't see the right designs for the turban, so I saw this as a good opportunity to start," Thani said.
Based in Dubai – a city which has established itself as a hub for fashion in the Middle East and the world –through the years 'Bint Thani' the brand became known in the region for its distinctive designs for women by encompassing feminine styles with architectural elements.
Inspiration in Dubai's 'architectural oasis'
Born and raised in Dubai, Thani described how the evolution of the city influenced her brand. "I was born in the 80s so I've seen a bit of the revolution in Dubai. From the time when Sheikh Zayed Road (one of Dubai's main highways) only had the World Trade Center to now, where we are living in a modern architectural oasis."
"Whenever I drove inside the city I would observe the buildings. I think this contributed a lot to my personality as a Dubaian and I like to present that in my collections," she said.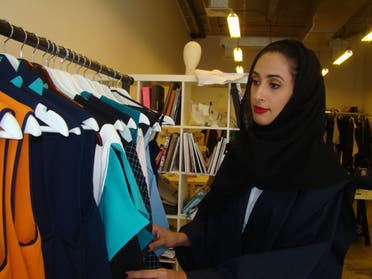 Recently taking part in the International Fashion Showcase - an annual initiative organized by the British Council during London Fashion Week - and Fashion Forward in Dubai, the Emirati designer says reflecting her roots and background in the brand is important. She explained that every collection reflects a story that traces back to the UAE.
"The Middle East has various kinds of styles, but we are all different," she said.
"Being a Dubaian, I'm trying to push across my collections as being a contemporary Emirati brand having our own stories that are purely inspired by our city.
"It's good to be global, but it's also good to have your own fashion identity," she added.