A fashionista's digital dream: How to start your online business
Fashion blogger Chloe Grace Allen explains how she dreamt of being her own boss
The fashion industry is tough. It's cutthroat, hard work and hosts ruthless competition – and you have to really love it to be in it. I definitely do, I always knew being in fashion was my 'thing to do' in life. At 16, I decided to not follow the crowd with A Level exams and university dorms and pursue my dream of becoming a fashion designer. Three years later I left with a degree, the award for "Designer of the Year" and an overwhelming feeling, a question that hung heavily over my head… what now?
Internship after internship, being assistant to the editor, and coffee run after coffee run honestly takes its toll. It's kind of drummed into aspiring designers or anyone that wants to be in fashion that years of having to work for free is the only way up. Yes, you learn, you grow and you become a little tougher, but at the end of the 6 months – is that full time job actually secured? I decided to take matters into my own hands and start a blog, thegirlhatlivesinthedesert.com.
There wasn't a lot of us around five years ago in Dubai but while interning, freelancing and working I had somewhere to sit, relax and inspire myself and my followers with my own vision and opinions. All of a sudden, it took off and brands and magazines wanted to work with me.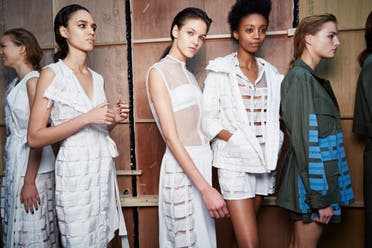 It's an overwhelming feeling; the thing you studied so hard to do is left behind when a blog becomes a full time job. But, I always wanted to learn from people that inspired me. Sitting at home writing behind a laptop everyday becomes a little lonely, yet it scored me almost every job I've had and worked as an incredible stepping stone, and a tool to securing those future job roles.
Five years later, I've worked in luxury fashion PR, been an online stylist, an editorial assistant and a fashion and beauty editor – there's been highs, lows, long hours, horrible bosses and a few tear shedding moments but growing a thick skin comes with the industry. Losing my recent job, which I loved, after just six months to redundancy issues is a tricky one. Do you let it take over, knock you down and forget everything you've worked so hard for? Or do you pick yourself up, remember why you love what you do and let it guide you into a new path? Introducing, The Digital Dose, my new online hotspot for all things fashion, beauty and lifestyle.
I've always dreamt of being my own boss and having somewhere to work where having fun with fashion is key. Sometimes things get so serious and The Digital Dose is designed to excite and inspire people like myself who want to have somewhere to visit and leave with a little inspiration, learn something new or see something beautiful. It's quite simple really.
Top tips to starting out on your own:
1. Find out what it is you really love to do, what drives you, motivates you, excites you and find your voice. If you believe in something 100% then other people will.
2. Go online. Start your business, your blog or your shop online. There are so many amazing sites these days to help your business grow; Wordpress, Wix etc. The world has transformed into a digitally-influenced generation, use it positively and as a tool to get your name out there faster and to a wider audience.
3. Learn every little detail and do it yourself. Don't be afraid to ask for help, speak to your peers, family, friends, ex co-workers, visit online forums and watch YouTube videos. There is so much out there to seek advice and learn from. Knowing how to do fix a problem without relying on someone or something else is a big business owner benefit.
4. Be confident, positive and have a strong backbone. Believe in what you're doing and own it! Sometimes in life you just have to go for it and see what happens.
5. Good things take time! Be patient, things don't happen overnight. Work hard, work smart and remember quality over quantity is always key.