Gosha Rubchinskiy stays true to his Soviet DNA, Visvim wows crowd
Fashion connoisseurs, designers and buyers were dazzled and intrigued by this season's annual menswear event the Pitti Uomo fashion show
Fashion connoisseurs, designers and buyers were dazzled and intrigued by this season's annual menswear event the Pitti Uomo fashion show, at the richly cultured Italian city of Florence.
Russia's star fashion designer, Gosha Rubchinskiy stayed true to his post-Soviet take on streetwear which he exhibit on Tuesday at his fashion show in an abandoned Tobago factory dating back to Italy's dark fascist-era.
Rubchinskiy, who was successful in promoting his country's post-Soviet streetwear to the international market, catered mainly for young people, with easy tracksuits and comfy sporty tops for his new menswear collection.
The designer also shocked attendees with a 17-minute black and white movie: "The Day of My Death." While the film was as abstract as a painting with black and white scribbles, it further accentuated Rubchinskiy's stuck-in-Soviet Union mindset.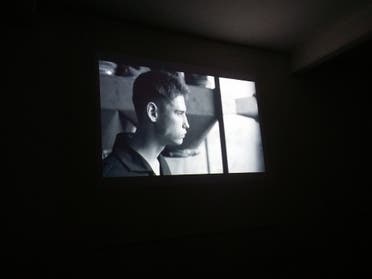 With some erotic tension, some nudity, an actor starring as a soldier appeared in a military uniform and Soviet-style side cap and ends up dying after two half-naked men throw him from the roof of a building, which appears to be the abandoned Tobago factory itself, possibly symbolizing the death of the Soviet rule in Russia.
But Thursday morning saw a whole new contrast with Visvim, a Japanese men's apparel brand founded by Hiroki Nakamura in 2001.
Unlike Rubchinskiy, Nakamura has moved on in history and made a creative fashion by combining American and Japanese cultures.
Nakamura entertained his audience with performers - strikingly senior in age - eloquently tapping and performing American dance on country music.
The enthralled audience applauded Nakamura's positivity while donning colorful modern Japanese kimonos offered by the designer.
Last but not least, Belgium's Raf Simons on Thursday offered his audience an edgy apparel for menswear in a huge abandoned train station, which is now used for fashion shows and other events.
Before his much anticipated show, onlookers snapped pictures of mannequins donned with winter wear and sophisticated coats - largely aimed at the female market.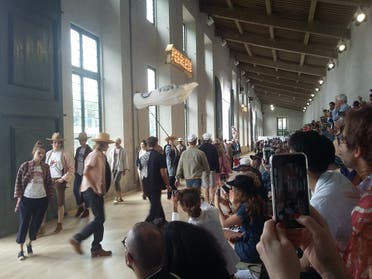 After the show male models were seen in oversized, unbuttoned shirts and tops some with elaborate tank tops underneath, coupled with black pants.
Simons' shirts were not all plain at all, he also used some pictures by legendary photographer Robert Mapplethorpe on multiple silhouettes. His style was edgy, modern and not for shy fashion connoisseurs.