Oh boy, you're beautiful: The truth behind the male grooming industry
More and more men are paying attention to their looks – and social media could be the main motivation
Settling down in front of the mirror, the morning routine commences.
Cleansing and toning is just the beginning. This is followed by the application of two separate moisturisers and a touch of concealer under the eyes. After tweezing a few stray hairs from the brows, a quick curl of the lashes and some expensive products on the hair, it's time to hit the road.
After all, George likes to look his best for the office.
It's no secret that more and more men are taking care of their appearance.
Indeed, one Dubai clinic has noticed a 40 percent increase in men having Botox since this time last year.
August 19 was International Male Grooming Day and we decided to catch up with a couple of Dubai clinics about the rise in boy beauty.
As the director of The Private Clinic in Dubai, Michael Mitry meets many men who are concerned about their looks.
He explains: "Men are increasingly asking for all kinds of facials and slimming treatments. Since August last year we have seen an increase of around 40 percent in male Botox bookings. In general there seems to be this sudden surge of willingness on the part of male patients to try out Botox – a treatment that our female clientele is usually much more comfortable with.
"In terms of cosmetic surgery, men under 40 most commonly opt for chest liposuction to reduce the look of 'man breasts', liposuction of the waistline, rhinoplasty for perfecting the nose and ear tucking. Older men, meanwhile, are most commonly having eyelid lift surgery. The biggest interest is in the less invasive procedures, including injectables such as Botox for forehead lines and fillers for smile lines and restoring their jawline. Men are also getting laser hair removal for their chests and backs, and are finally seeing the value of using skincare products."
As well as wanting to look their best, boosting their job prospects could also be an incentive for the fellas, suggests Michael.
"If you think about the rise of men grooming in general and the selfie culture then it is not surprising men want to look their best at all times. I also think men see looking young and well-groomed as being a good thing for career advancement," he said.
Buying special fluoride toothpaste for gleaming teeth, having his eyebrows waxed, tweezing daily and cutting and filing his nails once a week, Scottish expat Peter Johnson says he takes more time to get ready than his girlfriend.
He explains: "I think it's important to feel good about yourself and that includes looking your best too. I think when you step out of the front door you're saying to the world 'this is me'. I need at least 30 minutes to get ready but my girlfriend likes that I make an effort."
Admitting that he spends around Dhs725 ($197) on beauty products a month – using six different hair products in the month depending on the length of his locks - Peter also only wears designer clothes.
He adds: "I wear concealer as well, a specialist tanned one for my skin because I'm dark. That goes back to my teen days when I had acne. I hardly get a spot now but if I do I put concealer on."
Peter isn't alone in wanting to keep his skin in tip-top condition says Rebecca Treston, an aesthetician and laser specialist at Dubai's Euromed Clinic.
Rebecca says men are indulging in the most unusual treatments to keep their outer layer looking amazing. She now offers a bespoke moisturiser made from proteins that are extracted from the individual's blood!
She says: "An increasing number of men are looking for anti-ageing treatments and procedures that combat skin imperfections such as scarring and pigmentation.
"The most common treatments men have been requesting are laser hair removal, body contouring for love handles and treatments that address hair loss, such as mesotherapy."
Rebecca says social media is a big motivator for men when it comes to looking their best as well.
"Several patients have mentioned to me during consultation that they have seen themselves in a photo and were not happy with how they looked and decided they needed to do something to improve their appearance. It would appear that as society moves to become a more visual one, typified by the use of social media sites such as Instagram, men are becoming more aware of how they look."
Boxout? A profile of a preened man
As a professional mixed martial arts fighter, many would be surprised to learn they're as likely to find Raf Shawe perusing the beauty aisles as they are manhandling someone into a head lock in the boxing ring.

Indeed, the 40-year-old Iraqi fighter is a big believer in hydrating his skin and spends Dhs1000 ($272) a month on beauty products.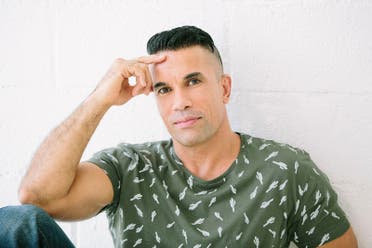 From the expensive Filorga day cream to a Lancome firming eye cream and the same Rahua organic shampoo that Jonny Depp uses, Dubai-based Raf says his routine takes 15 minutes at night or more if he's been swimming and needs to apply more body moisturiser.
He explains: "I am an advocate of eating well, exercising and looking the best I can. I am proud to be a man who takes care of himself. I think it's important. I've just turned 40 but regularly get mistaken for my early thirties so I must be doing something right!"

Save
Save
Save
Save
Save
Save
Save