How an Arabic-script bag is riding a wave of politicized fashion
For decades, we have been wearing out politics on our sleeves and this is just the latest example of fashion with a message
As bags go it is not the flashiest or fanciest, but a snap of this seemingly innocuous tote bag has gone viral in recent days due to its powerful tongue-in-cheek message, catapulting the accessory into the realm of politicized fashion.
The brainchild of Palestinian designers based in Haifa, the Arabic script on the bag reads: "This text has no other purpose than to terrify those who are afraid of the Arabic language."
First noticed by Berlin-based journalist Nader al-Sarras, his photo of the bag quickly went viral, with more than 200,000 social media users sharing and liking it, and leaving a litany of comments.
Rock Paper Scissors, the company behind the dark-humored tote, said the bags were sold out instore and online as of Tuesday, but the designers promised more stock would be released come Sunday.
Not soon enough, it seems, for the hordes of fans the company has amassed on social media.
"Can't wait for you to return with more products and more bags!!" wrote one Facebook user, with another commenting: "So happy for you guys! Just hurry up with the t-shirts! :) I can't wait for them!"
What is it about this unassuming bag that has tongues wagging and the cash till ringing?
"Fashion and the clothes that people wear are very portable statements," said Lezley George, who is completing a PhD on fashion and identity at the London College of Fashion.
"All fashion is connected to identity politics. We choose clothes to wear every day, and these choices are made in certain contexts that can further emphasize the message we want to give by standing out or blending in."
The context that sparked the birth of this particular bag is the eschewing of the Arabic language in favor of Hebrew in Israel, with lawyers threatening legal action against the municipality of Tel Aviv in June for failing to include Arabic on most of the city's public signs.
Creators Sana Jammalieh and Haitham Charles Haddad told SBS.com that their bag contains Arabic words because "it is our language, and part of who we are, and we think it should be part of our urban landscape…
"We notice here that the Arabic language is starting to disappear from signs and public places."
That the bag was spotted on a Berlin metro is also significant, with many online commenters noting the anti-Islamophobic nature of the message in an atmosphere of rising Islamophobia in Europe following a string of deadly attacks across France and Germany this year.
"I didn't expect that it would kick off this discussion about Islamophobia, or being afraid of Arabs or of Muslims who speak Arabic or read Arabic books on public transport," Sarras told Al Arabiya English.
"In Germany now, people are discussing whether to forbid the burqa and talking about the attacks and refugees… so I think this photo I posted came at the right time."
In recent weeks, some French coastal towns have banned the burkini, a form of swimwear worn by some Muslims, claiming that it violates the country's secular laws.
Meanwhile, a June study found that more than 40 percent of Germans believe Muslims should be banned from entering the country.
"These designers wanted to make a statement about the Arabic language, and the misunderstandings and uncertainty that people have about other cultures," George said.
History of political fashion
This bag is not the first fashion item to make a political statement, nor will it be the last. It is the grandchild of decades, if not centuries, of garments used to demonstrate for everything from women's rights to de-nuclearization and animal welfare.
Dubbed the "the pioneer of the political slogan t-shirt," when designer Katharine Hamnett met then-British Prime Minister Margaret Thatcher in 1984, she wore an oversized t-shirt printed with the slogan "58% don't want pershing," or nuclear warheads.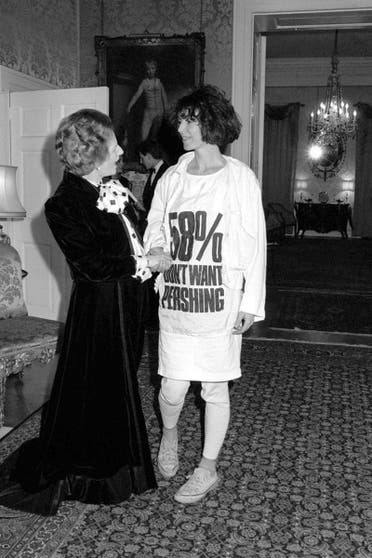 A photo of the meeting was the year's most widely published image. "Following on from punk and the rise of the emblematic t-shirt, this captured the way a lot of [young] people were feeling about politics and global issues at the time," George said.
Whether it is a pantsuit or miniskirt, the link between feminism and sartorial choices has been played out in the public sphere time and again.
In the 1960s, wearing a short skirt became an overt political act rather than an individual fashion choice, with Mic.com noting: "In just one garment, one could feel the cultural zing of women's rights, feminism and liberation alongside the fight for female birth control."
Although Coco Chanel reportedly called the skirts "just awful," she previously mothered her own style of political garments that advanced the feminist movement.
"Coco Chanel wearing looser, more 'masculine' styles, removing corsets and even wearing trousers after 1910, led to the shift in silhouette and more freedom of movement for women during the 1920s," George said.
From slogan-emblazoned t-shirts to printed tote bags, it seems that making a fashion statement is, and always has been, about so much more than looking your best.
For decades, we have been wearing our politics on our sleeves and this bag is just the latest example of fashion with a message.Save
Save
SaveSave
Save