Istanbul Fashion Week draws stylish crowds amid criticism
Mercedes-Benz Fashion Week Istanbul features about 40 homegrown designers showcasing their Spring/Summer 2017 collection
Mercedes-Benz Fashion Week Istanbul (MBFWI), the country's one and only fashion event with global participation, is set to run between October 11-15 in Istanbul, with about 40 homegrown designers showcasing their Spring/Summer 2017 collection.
Among the prominent Turkish designers whose collections will grace the runway in Istanbul there are Arzu Kaprol, Bahar Korcan, Dilek Hanif, Atil Kutoglu, Ozgur Mansur among others. Korcan, known for her striking use of geometric accessories, retro pieces and hidden meanings in clothes, will display her "Toz" (Dust) collection during the event.
Held for the eighth time, the event was launched with a fashion parade of Lug Von Siga – a brand of a Turkish designer Gul Agis - at the Pera Palace Hotel in Istanbul that unveiled a stunning collection inspired by "queen of crime novels" Agatha Christie who stayed at the hotel several times between 1926-1932. Agis is the first Turkish designer to be presented abroad by Mercedes Benz during Madrid Fashion Week in February 2015.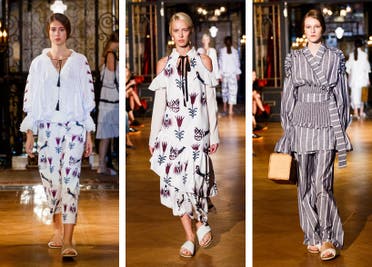 According to sector professionals, Turkey's fashion week ranks among global top 10, apart from "Big Four," namely London, Milan, Paris and New York.
Banu Bolen, the fashion director of the event since 2013, says Mercedes-Benz Fashion Week-Istanbul contributed a lot toward turning Turkey into a fashion hub for the region that attracts a global audience.
"I think that this event has [played] a complementary role in transforming Turkey from a textile manufacturer into a designer country," Bolen told Al Arabiya English.
As Donatella Versace once said "fashion is about dreaming and making other people dream," in this line of thought Istanbul Fashion Week provides a colorful runway –originally on a theater stage of the Zorlu Performance Arts Center - where a wide range of clothing designs can appeal to different tastes and unlimited dreams.
Two years ago, MBFWI turned into a hybrid fashion week by displaying both the upcoming season and the new collection that will be sold in stores.
Apart from improving the host country's international image, fashion weeks also contribute to the national economy.
The commercial pillar of the event, named "The Core," recently opened its doors in Istanbul with the aim of promoting the export of value-added products and incorporating Turkish designers into the retail marketing within a showroom concept. This is a kind of meeting point between Turkish designers and global buyers. The aim of this commercial initiative is to increase apparel exports by $500 million over the next five years.
"Each year, a high volume of orders come from Middle Eastern and Gulf countries during 'The Core' event. The orders mainly cover high-necked designer clothes," Bolen said.
Basak Cankes is one of the talented designers who attended this year's MBFWI with her "Bashaques" brand. Her aim is to offer wearable art pieces by combining the artistic works of Spanish architect Antoni Gaudi with garments woven in Turkey.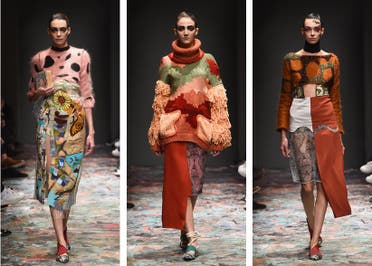 Cankes showcased a collection of 50 stunning pieces based on what many call the slow fashion movement i.e. creating clothes that can be worn all the time, independently of seasonal fashion trends. The slow fashion movement aims to slow down consumption by making the rhythm of fashion production respectful of the earth's regenerative capabilities.
In a surrealistic showcase, her collection combines Spanish artist Salvador Dali's artistic pieces and Turkish miniature art.
However, Barbaros Sansal, a renowned Turkish designer, has expressed criticism of Turkish Fashion Week.
"Unfortunately, Turkey cannot display its own globally-known brands anymore. It became a country of mass production under the counter with uninsured employment. So these fashion weeks cannot go beyond local gatherings where there is no innovation of fabrics, nor a brand with a Turkish name," Sansal told Al Arabiya English.
Sansal said that there are many reasons behind such a decline of Turkey's fashion innovation, creativity and competitiveness.
"These events should have a worldwide strategy elaborated by advisory committees. Turkey unfortunately shut down the male sections of technical high schools on couture as well as advanced technical schools for girls, a move that undermined its design capabilities," he added.
According to Sansal, who also has a boutique of ladies' accessories in Doha, there is a fine distinction between becoming a brand and being born as a brand.
"Yves Saint Laurent is known for its lady's suits and jackets, Jean-Paul Gautier is recognized for its surreal collection, while Elie Saab's design pattern [is classed as] orientalist romance. However, Turkey does not have such distinctive brands and creators in its fashion history," Sansal said.

Save
Save
Save
Save