Get fierce and frightening with spooky Halloween nail art
There are so many fun designs and themes to choose from that can match your costume or character
Nail art has gotten more popular than ever! Some people do it for beauty purposes while others do it to celebrate their interests and hobbies. Halloween is just around the corner and what better way to enhance your costume than with some cute and spooky Halloween nail art? Halloween is a time to be creative and you can go out of your way to get that perfect Halloween look that you've been planning for months. These creative nail art ideas can help improve your costume or enhance your make-up.
No matter which way you use it; you'll definitely have fun recreating and wearing these ideas. There are so many fun designs and themes to choose from that can match your costume or character. Get inspired and try these funky nail art ideas, just in time for Halloween.
Ghost nails
Get creative this Halloween with these spooky-looking nail art. Use a colorful polish as your base coat and paint ghosts and creepy to your heart's content yes. For those that prefer to use simple colors only, use black and white for a more realistic effect. Top it off with a clear coat to make it last long.
Scull art
To keep it chic and spooky at the same time, go for this black and white scull art. The sleek black and white stripes with a subtle Halloween art are the perfect design for those that rather not play with colors. For those DIY girls, you do need a steady hand when recreating this nail art and a sharp brush with pointy tip.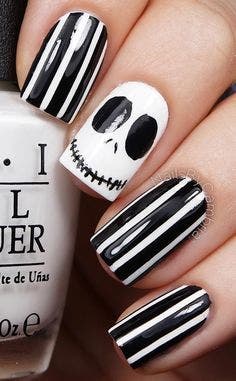 Cute pumpkin nails
These pumpkin inspired nails are quirky and a cute for Halloween. Play with different textures and try combining matte with glossy lacquers, perhaps with glow in the dark nail polish too – this will make your nail art a one of a kind.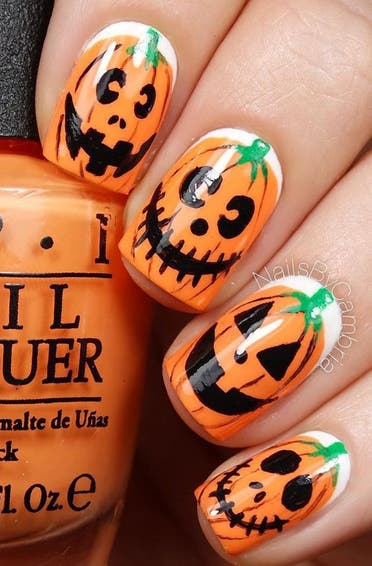 Frankenstein French Manicure
French manicures have never looked this spooky! Try these Frankenstein's monster inspired art for Halloween. They're easier to recreate than you think. Simply take a pointy narrow brush. Dip it black nail polish and wipe off any excess to a tissue. Then, start creating the lines in strokes. Finish off the design by using a topcoat to prevent your freshly painted nails from chipping. If you're in a creative mood, add color.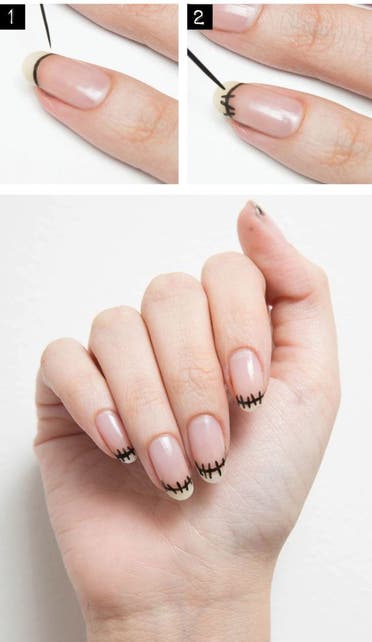 Spider web claws
Nail claws are a beauty statement on their own with but when paired with spider web designs and ultra dark colors, it's the ultimate fierce nail art. The best way to wear this look is to keep it minimal by painting the majority of your nails in black and 2 or 3 nails with a spider web nail art. Play with different textures and go for a similar design by using nail lacquers with a matte finish.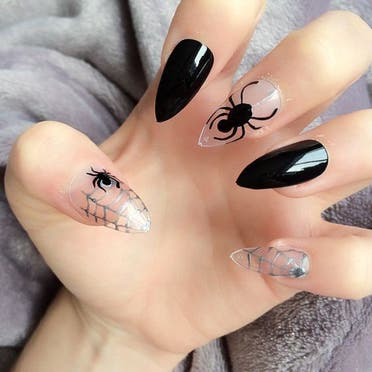 Bloody nails
This blood dripping nail art is a classic and never goes out of style, at least not during Halloween. They look great on any nail shape, whether it's long, short, square or pointy. The design is quite fun to recreate and you only need a handful of tools such as a burgundy nail polish, dotter tool and your favorite topcoat. Prepare your nails first by filing them and painting them using a nude color. Then, use a dotter tool to create the blood drips. Dip the large end of the dotter into burgundy polish to get a bead of polish onto the tool. Next, touch the ball of paint to your nail and let them run down your nails and gently extend it to the tip of your nail — it should then resemble a teardrop. Finally, allow everything to dry completely, and apply a topcoat.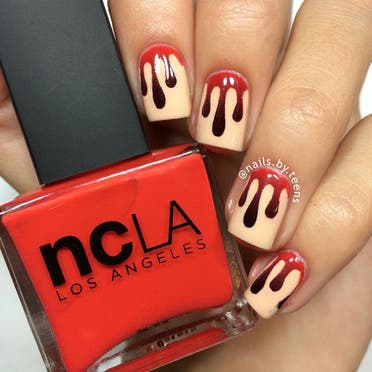 Cemetery inspired stiletto nails
Cemetery inspired nail art design that looks this fierce? Yes, please. And the flying bats have to be included. Halloween only comes once a year and it's the best way to go out there and spook everyone with your one of a kind Halloween nail art!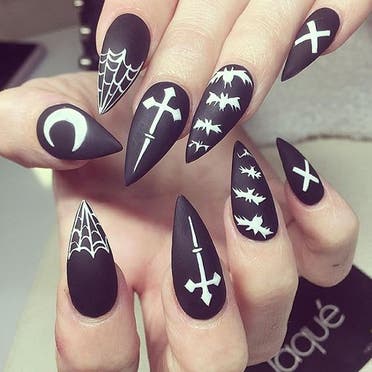 Vampire nail art
Could these fangs inspired nails look any more realistic? It's a one of a kind nail art design that might actually be wearable; it probably just feels weird having 2 long nails and the rest short but during Halloween, anything is possible. The tools you'll need for this look? A file, white and red nail polish, a matte topcoat and you can have this jaw-dropping nail art in no time.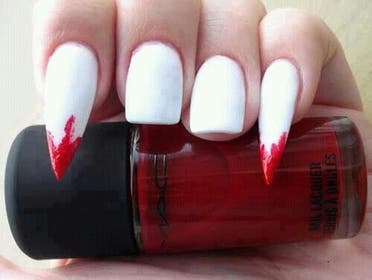 Black cats
Black cats have been believed to be a sign of bad luck, many people fear them so if you're looking for something cute and a little creepy but not ghost-scary, then this may just be the nail art design for you.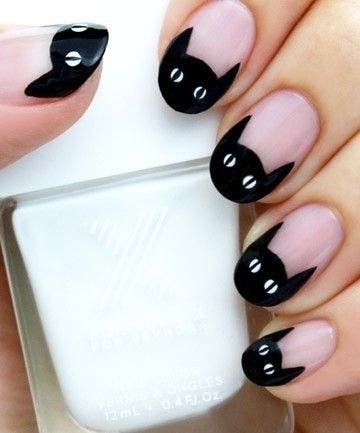 Save