Make-up miracles: The best blushes under $20
Choose a blush that works well with your skin tone. The better it matches, the more natural and flawless your skin looks
Having the right blush can be essential for many women. A blush can be a woman's best friend; it has the power to transform dull skin into healthy looking skin. Wearing blush adds color to the face, it adds glow to the skin, and it wakes up your entire complexion. There are countless formulas on the market, but when you don't have the budget for the luxury options, these drugstore products will get the job done. Find out which blushes are the best for under $20.
Tip: Choose a blush that works well with your skin tone. The better it matches, the more natural and flawless your skin looks. For example, if you have a fair complexion, try avoiding using dark or warm blushes – go for a cool toned blush instead.
Fair skin
Cool toned, plum and baby pink blushes look great on fair complexion; it gives a subtle flush to the face. If you have really fair skin, other shades can tend to look orangey so try to avoid warm toned blushes as much as possible.
Medium skin
Peach and apricot shades are colors that almost anybody can put on and look great with. Peachy blushes are especially flattering if your complexion has yellow undertones. It has orange and yellow tones in it, so it enhances the natural flush. Apricot with a bit of orange is flattering and subtle; this shade is soft, flirty and fresh on medium skin. It allows you to go bolder with the rest of the make-up.
Dark skin
Deep and darker complexions are very versatile when it comes to picking a blush; almost any shade looks great on darker skin tones as long as it's highly pigmented. Choose a blush that suits your style or mood whether it's bright and orange, warm bronze or raisin pink. Whatever color you're choosing, make sure it's warm toned otherwise it may look ashy on the skin.
Top 5 best blushes under $20

Why buy a single blush when you can have an entire palette for only $10? This blush palette by Makeup Revolution features eight shades varying from bright Tangerine to bright pink and deep red tones. It's the perfect palette for when you like to change up your blush color every once in a while. The creamy formula adds glow and radiance to your cheeks creating the illusion of having a fresh and awake skin.
Makeup Revolution, Blush Palette $10
If you prefer creamy textures over powder and solid formulas, then this is your blush. It features 3 colors: soft peach, soft pink and soft berry. The blush is impressively pigmented for a drugstore product, a little goes a long way and it last all day. The blush also has the ability to blur out textured skin and open pores which is another reason why this is a great blusher.
L'Oreal, Visible Lift Blur Blush $13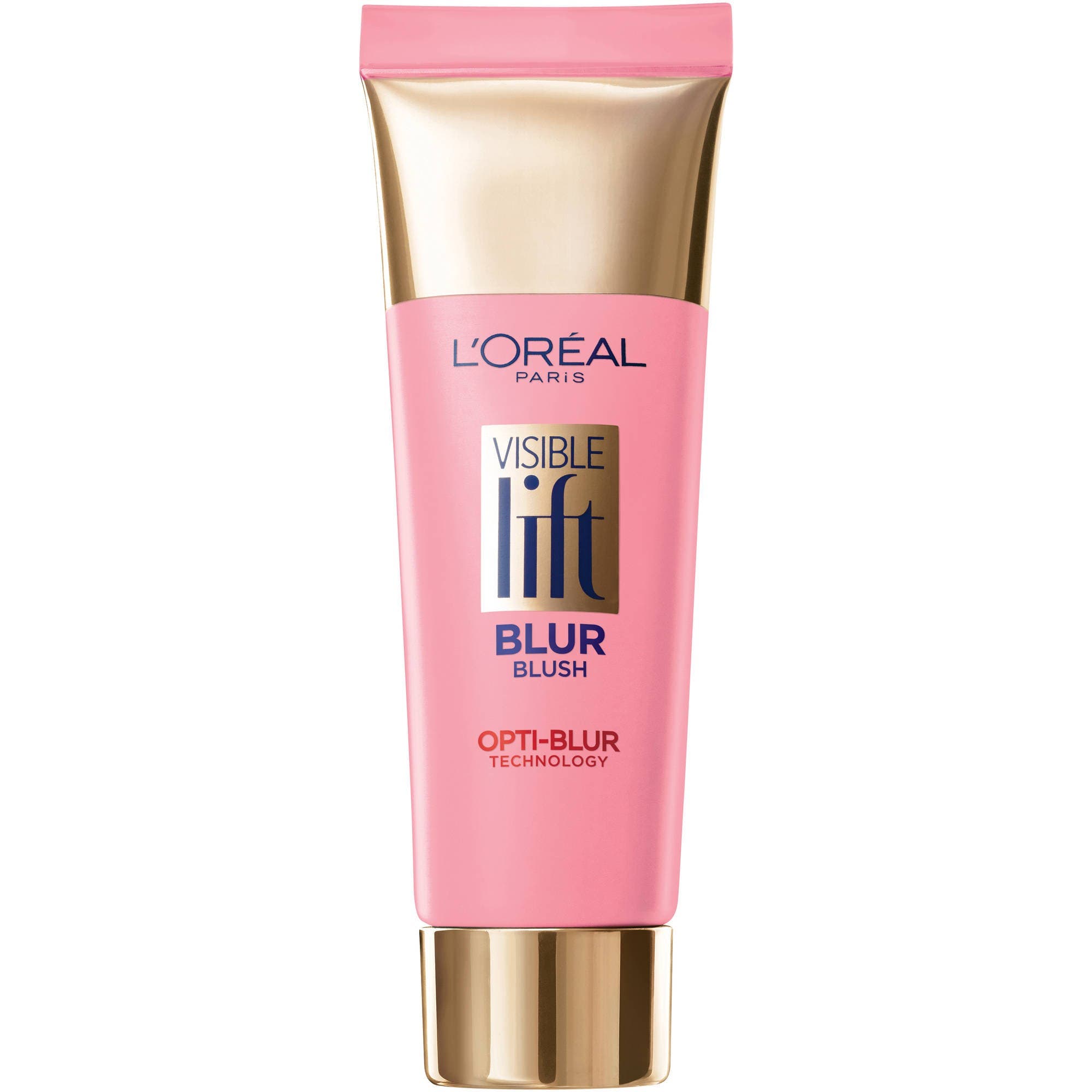 Another great blush palette is this small and compact product by ELF cosmetics. There are two palettes available to cater to different skin tones; one palette features lighter and brighter shades while the second palette features warm and deeper shades. The powdery formulas work great when you have oily skin and it allows you to mix and match different colors as it blends beautifully on the skin.
ELF Cosmetics, Powder Blush Palette $6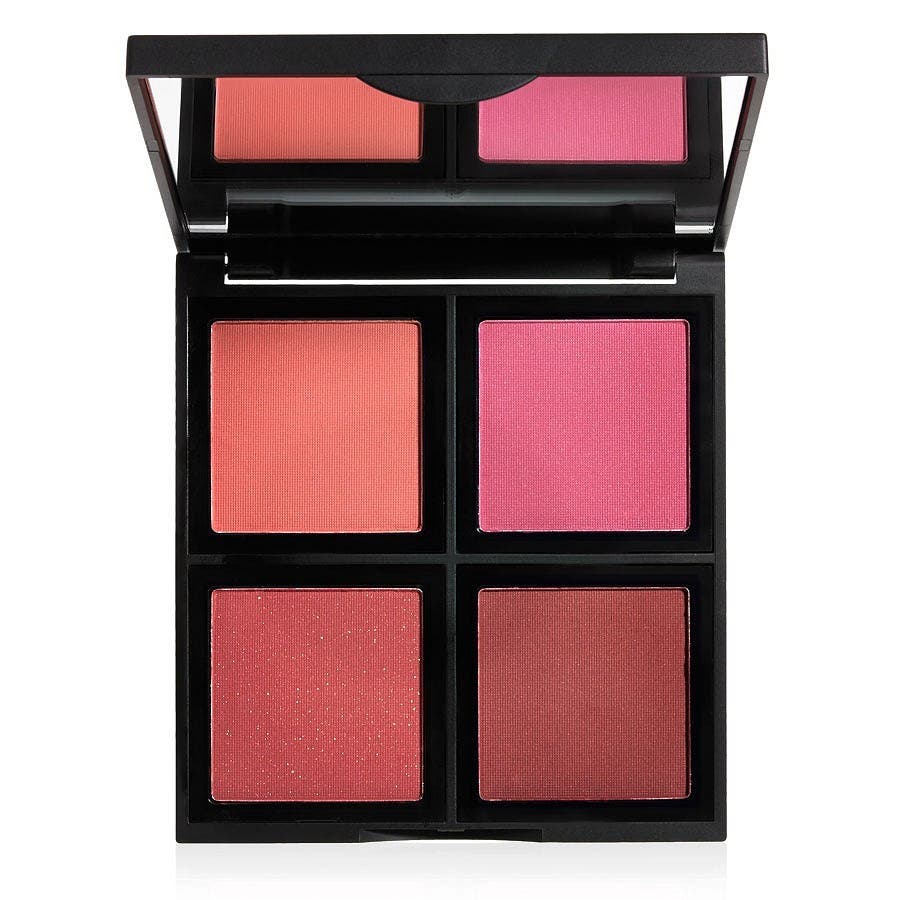 Pixi blushes are a bit more pigmented than your typical drugstore blush but are still budget-friendly. This blush duo features a blush and highlighter in one plus a kabuki brush that helps to create a flawless blended flush to your cheeks.
Pixi, Beauty Blush Duo $18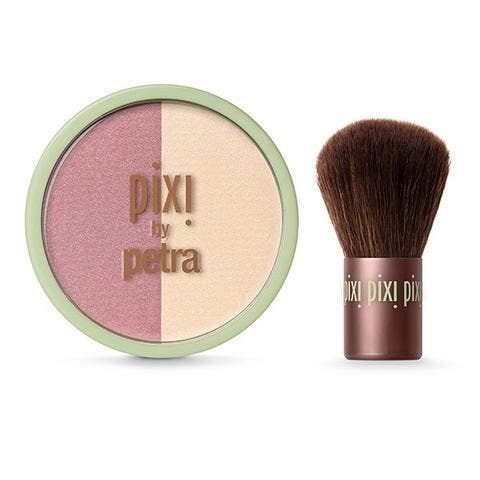 Cream blushes are great if powder blushes don't last long on your skin. They're easily blend able and are even great for layering under powder blush as a base. If you travel regularly then you should definitely consider using creamy, solid blushes. They can be carried in your hand luggage and you can add some flush and healthy glow to your skin by dabbing some with your fingertips right before leaving the plane. This Revlon blush is the perfect travel buddy as it's light weighted and comes in 3 beautiful colors from coral, peach to dark pink.
Revlon, Photo Ready Cream Blush $11