Palestinian designer Natalie Tahhan is on a mission to revive her country's rich identity and bring it back into fashion - and she is doing it one embroidery motif at a time.
The Doha-based designer recently launched her first solo collection "Prints of Palestine", highlighting the unique embroidery designs from each city of her country.
"When I started working on the project, what I wanted to highlight was that Palestinian embroidery was actually a language in the late 18th or early 19th century," she told Al Arabiya English.
Traditionally embroidery designs were worn by Palestinian women on their long dresses worn during special occasions known as jalabiya.
"Back in the days, when they wore the dress, you could tell where the woman was from and whether she was married, or not, simply by what she was wearing," she added.
Tahhan said her new collection's focus highlighted the beauty of Palestinian culture by reviving it in new designs and cuts inspired by the unique designs from each city, such as Jerusalem, Hebron, and Gaza.
"People look at these motifs aesthetically and don't really know that they have a meaning. I wanted to bring that back. I felt people could relate to the pieces in that way," Tahhan added.
To do so, she used printed satin in the form of capes and said she believed she was the first to create such a concept.
"I think I am. I haven't seen this anywhere. This is something I wanted to create that hasn't been done before. Which Is why I think we got a huge reaction to it," she told Al Arabiya English.
Where did it all start?
The Jerusalem-born designer first came onto the scene in 2015 when she debuted her "Untha" collection and was lauded for being "100 percent Palestinian" for her collaborative efforts with an NGO.
"Untha was actually a collaboration I did with an NGO back in Jerusalem. It was something nice to do because it was so different." she said.
Tahhan said she faced difficulties when she was exhibiting her previous collection - "Untha" - in Jerusalem. People from Hebron could not attend as they did not have the relevant documents to allow them into Jerusalem - a measure imposed by the Israeli authorities.
But she says she is determined not to focus on the politics.
"It's not really what I focus on. I focus on highlighting the beauty of something that exists within our culture." she added.
But while the "Untha" collection had a nationalistic focus, she hopes "Prints of Palestine" will receive international attention for Palestinian fashion identity.
Future plans?
Tahhan has so far received positive feedback from Palestinian women, who have thrown their support behind the young designer.
She said the support she received from her fellow Palestinians gave her 'a positive push forward', which she said was an inspiration in itself.
Tahhan's designs have sold to women all over the world, including people in Brazil and customers in Asian markets.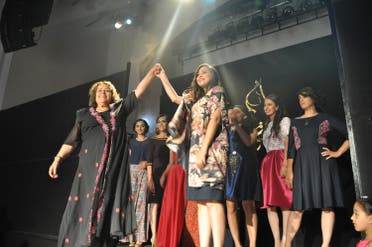 "I thought it would be an interesting thing for Palestinians mainly, but the [customer] base has been a mixture of cultures and ethnicities," she said.
As for her future plans, Tahhan hopes to develop more lines of garments including trousers and skirts. "It [Prints of Palestine] was just a small collection for me to test the water," she said.
But Tahhan's designs will maintain their Palestinian influence, she said.
"It is important for me to produce something initially and artistically Palestinian… Because for me it's personal and very close to home and something I've grown up with," she said.