Lebanese designer Amal Azhari opened the Lebanese Fashion Week in the presence of the Lebanese Prime Minister Saad Hariri, along with political and social figures, supporting the event, which is considered as a season of elegance.
The designer presented a collection of Moroccan kaftans and jalabiyas for spring and summer of 2017, where she was keen to provide a convenient wear for the occasion of the month of Ramadan. The collection also included designs of transparent caftans that are suitable for beach wear.
The rich ornament was prevalent in the show aligned with the oriental touches which was dominant in different designs. But these decorations did not prevent the presence of many of the simple looks that fit with our modern lifestyle.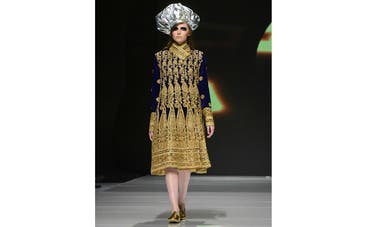 In this collection, we noticed the long plisse abayas with a knot at the neck, the golden and silver turbans worn by the models as well; which perfectly matched the atmosphere of the show along with the huge accessories.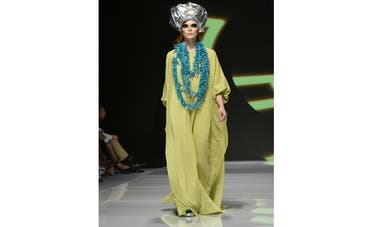 Amal Chose for the bride of this season, a long silver dress blending both the eastern touch along with the modern lines. Amal appeared at the end of the show to greet the audience, wearing a golden kaftan on top of a classic black trousers and shirt; Her look Briefly stated her message of mingling the eastern and western touch in her designs.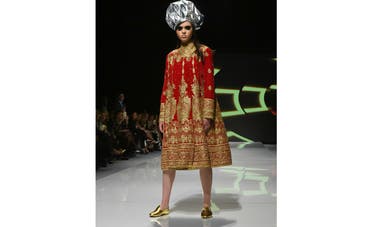 The kaftan is a traditional wear, which is based on the simple tunic, or one-piece dress. The kaftan is often worn as a coat or overdress, usually reaching to the ankles, with long sleeves; it has evolved and acquired different styles, purposes, and names depending on the culture.