Worn by Beyonce and Egypt's First Lady, these 'Okhtein' bags are one to watch
Mounaz and Aya Abdel Raoul who founded luxury brand Okhtein, Arabic for "two sisters," are seeking to set new trends to promote Egyptian artistry as well as presenting new designs to the world.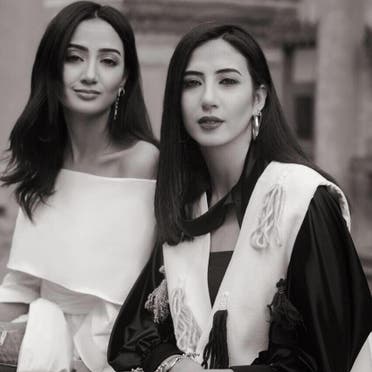 The design duo both grew up in Cairo and had always been passionate about design and waiting for "the right time" to embark on their design career, together.
Launched in 2013, the brand specializes in bags made of leather, cotton, canvas and straw.
Okhtein sent waves across the Middle East in recent weeks when Beyoncé posted pictures on her Instagram account of her wearing a bag designed by the Egyptian luxury brand.
The 20-time Grammy winner had bought the bag from the high-end Curve Boutique in Los Angeles, where it had been on display following the win by Okhtein of the Vogue Arabia Award in April.
Another celebrity, American actress and model Olivia Culpo, also purchased a bag by Okhtein from the same store.
The brand takes pride in exporting Egyptian craftsmanship to the world, and proudly competes beside giant Italian bag designers at several high end retailers.
"It feels very empowering [after] many people told us at the very beginning that Made in Egypt products won't stand a chance next to high-end fashion Italian brands, and that if we want retailers and people to trust our products it needs the Made in Italy label.
"Four years later we managed to prove them wrong and have our products displayed on the same shelf as the Italian designers brands," they tell Al Arabiya English.
Locally, the brand was widely acclaimed last month when Egypt's first lady, Entesar el-Sisi, was spotted wearing an Okhtein bag at Sharm el-Sheikh's Youth Forum and praised for encouraging a local design brand.
Many Egyptian women are shifting to local design brands, given that the prices of almost all products and services in Egypt are going up. This has provided Okhtein a great chance to grow in popularity.
"This is a great advantage for us because we provide the high end luxury product women want to buy at an affordable price," they said.
The Okhtien founders are very much inspired by people. They tell us that inspiration for their designs can emerge from observing various types of women, and from a certain mood or an idea, a collection of bag design can develop.
Aya's style is a mixture between classic and edgy, mixing between two elements of design that are usually juxtaposing. Mounaz's style is hobo chic with a touch of edginess.
Together, they form a brand that targets "clients who are daring, independent women who love to express their style with a unique accessory."
Both sisters have discovered the artistic side of their personalities long time ago. Before starting Okhtein, Mounaz was an abstract painter has exhibited her work in galleries in Egypt and Paris.While Aya always knew she wanted to end up in the fashion industry because she always designed her own clothes and dresses.
Aya studied communication and digital arts at the American University of Cairo, while Mounaz studied integrated marketing communication at the same school.
The favorite part of being a fashion designer, the sisters' say, is seeing our designs come to life and seeing clients and celebrities wearing them.
"It's always a rewarding feeling."
But what's even more rewarding is fulfilling a duty to give back to people and to our society, they said.
The brand collaborates with several NGO's that empower women in Egypt in several governorates. Some Okhtein bags are designed by the help of these women.
"[We] felt that it would be a great opportunity to work with them in our Summer Capsule collections which is mainly consisted of straw and embroidery; work that they are familiar with. We worked with two different NGOs that help support women who are the breadwinners of their families."