Swiss watch manufacturer, Louis Moinet, unveiled a timepiece watch inspired by the UAE's founding President Sheikh Zayed's mosque.
This comes in celebrations of Sheikh Zayed's hundredth year since he was born. The timepiece took three years to manufacture, and showcases a miniature painting of the late president's Grand Mosque on the mother of pearl dial, according to Watch Time Middle East.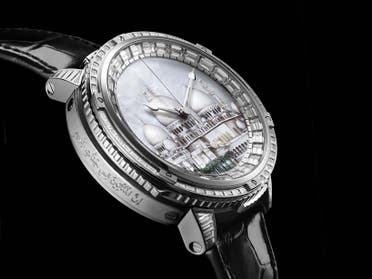 The watch comes at a price tag of over $200,000 (almost eight million AED), and is adorned with 68 baguette-shaped diamonds on its 18 carat white gold handcrafted case, the magazine reported.
It also features a minute repeater and a chronograph, while its case band features a Quranic verse engraved in Arabic, which translates to "the righteous are in gardens and bliss."
The watch has reportedly already been sold to a prominent sheikh from the Sultanate of Oman.