Your guide on how to avoid the MERS virus
Health care workers are more often the unwitting carriers of the disease through hospital wards
The washing of hands and avoiding crowded places is key to avoid catching the Middle East Respiratory Syndrome (MERS) which has so far killed close to 100 people, medical professionals say.
Infographic: What is the MERS virus?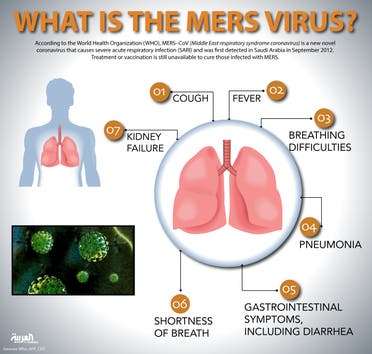 Although the World Health Organization (WHO) has said that that the virus is not a concern for public health at the moment, UAE-based experts say that it is important for individuals to gain awareness as to how the virus is transmitted.
The virus - which has similar symptoms to common upper respiratory tract infections such as influenza and the common cold - can be prevented in much the same way as the latter two ailments, Moeena Zain, a specialist in infectious diseases at Dubai's American Hospital, told Al Arabiya News.
Infographic: How to prevent MERS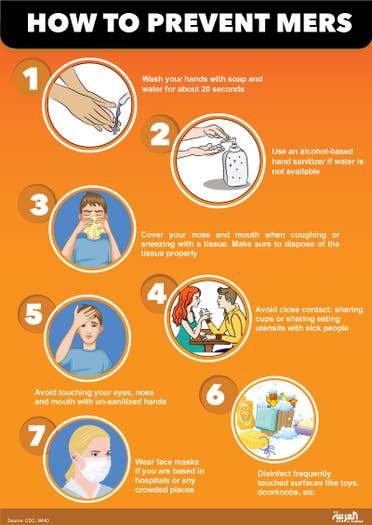 Those who display symptoms of any common viral infection, either before or after seeking medical help, should avoid crowded places such as markets or shopping malls.
"Every time you cough, your secretions will go to a diameter of about 6 feet and infect people," said Zain. "You need to keep your secretions covered."
Additionally, hand washing is "is the most important break in the chain of all transmissible infections," she added.
Due to their numerous adaptions, colds and flu remain vastly more spreadable that MERS, according to Zain.
"This doesn't seem to be a very easily transmissible virus," she said.
Not a great risk
Both experts agree that there is little statistical chance of catching the virus, and that it is usually caught by individuals who have been in frequent contact with animals, particularly camels, those who have recently travelled to Saudi Arabia – where infections are most common – and those with already weak immune systems.
Instead of the threat of transmission through normal everyday life, health care workers are more often the unwitting carriers of the disease through hospital wards, according to Mohammad Hamad, an infection control manager with over three decades of experience in both public and private healthcare in Abu Dhabi and Dubai.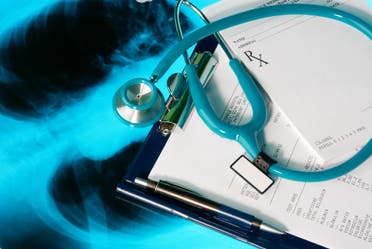 "The problem is among healthcare workers, because they ignore the necessity and the importance of wearing personal protective equipment when they conduct their daily activity work, like gloves and masks," he told Al Arabiya News.
Being a carrier of the virus poses a large risk to others, although is no personal threat to the carrier, he added.
While new cases of infection of the virus – which was first identified in Sep. 2012 - appeared to slow during the winter season, there has been a quick rise of cases this month.
Saudi Arabia on Sunday reported 13 new cases of the virus, which has caused 79 deaths in the kingdom alone. Then on Monday, Abdullah al-Rabeeah was "relieved of his post" by royal order, the official news agency reported.
Downplaying fears
The kingdom has so far reported 261 cases of MERS since the disease was identified in 2012, of which 81 have been fatal, Agence France-Presse reported.
In the UAE, a total of 34 cases have been confirmed and out of them, 9 cases resulted in death, according to Hamad.
Playing down fears of the virus, the UAE's health minister and Abu Dhabi's health authority recently told UAE residents that those detected with the disease in the country are all currently well and are expected to be free of MERS within weeks.
While the worst may be yet to come, the Middle East has greater infrastructure in place after the health scare from the SARS virus a decade ago, according to Hamad.
However, a key problem in fighting MERS is the general public's lack of awareness as to its nature, said Hamad.
"Awareness regarding coronavirus is very essential and important. You cannot ask people to cover their nose and they don't [know why]."