NBA star Kareem Abdul-Jabbar joins Abu Dhabi diabetes push
Kareem has assumed the lead role as an ambassador for Imperial College London Diabetes Centre and has taken steps to raise awareness across the UAE
Leading scorer in NBA history and six-time NBA MVP legend, Kareem Abdul-Jabbar, has joined efforts this week with Abu Dhabi Health Authority in an initiative to raise diabetes awareness in the UAE.
The basketball player spoke at a conference on Tuesday in Abu Dhabi accompanied by associates from the Imperial College London Diabetes Centre, senior executives from Health Authority, and the national health insurance company, Daman, in the lead up to WALK2014.
Under the patronage of Her Highness Sheikha Fatima bint Mubarak, WALK2014 will be taking place on November 7 at Yas Marina Circuit, successfully taking place for the eighth year in a row and is expected to receive more than 20,000 participants walking the F1 track. The walk will be the UAE's longest-running public health awareness initiative.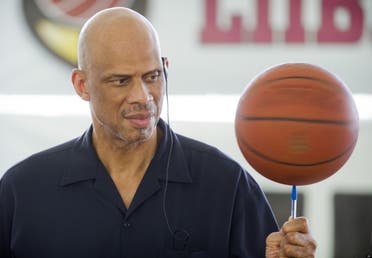 Kareem has assumed the lead role as an ambassador for Imperial College London Diabetes Centre and has taken steps to raise awareness across the UAE through means of lending support in conferences and by taking part in a basketball tournament this Thursday.
"I am here as a guest because I am very concerned about what I see going on here in the UAE," Kareem said.
"The increase in people contracting diabetes in the UAE is alarming. My approach to diabetes has to do with the fact that when my mother got ill, it greatly affected her health and influenced her death. I don't like to see that happening anymore than it has to."
The NBA player joined the supporting social media campaign of 'Take a Step for Diabetes' by posting a 'shoe-selfie' inviting patrons to join along the campaign by posting their own shoe selfie with the tagline 'I'm taking a step for Diabetes'. Kareem jokingly added, "I think I have taken the biggest step with my size 13 shoes."
The annual WALK, organized by Imperial College London Diabetes Center as part of their award-winning Diabetes-Knowledge-Action public health awareness campaign, hopes to not only raise awareness, but to also call for action.
Another community initiative taking place on the November 7 will be the introduction of 'Health-X', a community-oriented health and wellbeing forum, which will be acting as a facilitator of conversations much like ted-ex events.
Members who will participate in the discussions include athletes, healthcare practitioners, media and bloggers who are all eager to share ideas and make a difference in community health.
"The continued efforts to put healthier living at the top of the health agenda is something that we are very pleased to offer our wholehearted support to," Professor Maha Baraket, Director General of Health Abu Dhabi, said.