The summer season is here and temperatures are starting to soar. As residents try to escape the sweltering heat across the Middle East and North Africa, pet owners are faced with yet another dilemma - the care of their much beloved animals.
Domesticated animals are found in households across the region. But where the owners are not always present and the provision of pet day-carers is not readily available, what should people do?
According to the British animal protection charity, the Royal Society of the Prevention of Cruelty to Animals (RSPCA) told Al Arabiya News that leaving a pet "for up to four hours alone at home could be harmful."
Some people are fortunate enough to be able to take their canine chums to work with them - although the truth is that in the Gulf region few bosses are open to the idea of their offices resembling a kennel.
Anyone who has owned a dog will know that their pack instinct continues when they join your home. They are immensely social animals and require regular attention and stimulation.
Home alone
Separation anxiety is found amongst dogs who have been neglected and left alone for too long causing them to feel unwanted.
According the RSPCA website: "Separation-related behavioral problems in dogs are categorized as unwanted behavior that only occurs when the dog is separated from his/her owner."
But prevention methods are plentiful as the website explains that "one of the most effective ways of preventing dogs from becoming anxious when they're left alone is to teach them that being alone is fun."
This can be achieved, the website explains, in a number of ways, including leaving a suitable and safe toy or bone, dog treats left inside the dog's favorite toys - although the charity went on to warn that any food treats should be considered as part of the animal's daily food intake.
Meanwhile with temperatures in the region climbing to in excess of 40C, pet owners should ensure they ensure their animals are safe.
Always keep them cool
Julia Kekwick, a veterinary surgeon at the Dubai Kennels & Cattery clinic said: "It is important in summer and the Dubai heat, to make sure your pet does not get too hot as animals can get heat stroke very quickly.

"Keeping them nice and cool by using cool water sprays as well as keeping them in a cool home environment is important."
However according to an Ashley Fruno of the People for Ethical Treatment of Animals (PETA), "if animals must be left outside, they should be supplied with ample water and shade, and the shifting sun needs to be taken into account. Even brief periods of direct exposure to the sun can have life-threatening consequences."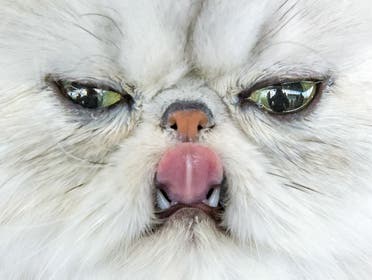 Like all living creatures, pets generally become dehydrated faster during the summer, so taking extra care of the environment they are in as well as checking their water bowl regularly are both essential.
But why do some animals cope better in the heat than others? According to the Dubai Pet Sitting Service. "Wild animals such as camels have built in coping mechanisms for the heat, dogs and cats are a little different... A lot of animals that were born in Dubai are used to the heat as they grew up with it, however others that were imported later in life do struggle."
Like humans, some domestic animals should have sunscreen applied to them - especially if they have very short or light coloured fur. For example white cats should have sunscreen put on their ears.
Pets that need daily and regular exercise, such as dogs, should be taken out on during specific times of the day when temperatures are at their lowest. But even during these periods owners are strongly advised to take a bottle of water and bowl to help rehydrate the animal.
Gentle exercise
"Take them early and late and night. Make sure they have water on them during the walk and if they feel the animal is too hot, stop and spray them with water and quickly find cover in a cool environment," Kekwick told Al Arabiya News.
"It is not a good idea to take them out for long periods of time or for very strenuous exercise."
Pet owners should always err on the side of caution and remember that while we like to treat our pets as another person in the household, the truth is that their biological make up is significantly different to the human body.
PETA's Ashley Fruno told Al Arabiya News: "Unlike humans, dogs can only sweat through their footpads and cool themselves by panting. Soaring temperatures can cause heat stress and be physically damaging or fatal."
But if you do own a pet and you are planning to go away for any length of time then a spokeswoman for the Dubai Pet Sitting service said it was essential top plan well in advance.
"The summer is a busy time. I would definitely recommend you make arrangements for your pets as early as possible."
The spokeswoman said that in cities like Dubai there were licenced pet sitters "who care for your pets in your home."
She added: "Personally I think there are more benefits of pet sitters, mainly for the animal, but also for the owner, and of course the house/apartment. Home care for pets has the least effect on the animal as they remain in their home environment, with very little stress due to changes. Animals that go to a kennel or cattery may experience more negative effects as they are in a new environment, surrounded by strange people/animals/smells."
(Additional reporting by Tarek Ali Ahmad & Leila Alwan)