Got a Ramadan sweet tooth? Here are 6 healthy and easy-to-make desserts
Arabic sweets, popular in Ramadan, are laden with a lot of sugar and fat... try these delicious alternatives!
Most people agree an iftar meal wouldn't be complete without a sweet indulgence. Arabic sweets, popular in Ramadan, are laden with a lot of sugar and fat and can explain the reason you may be putting on weight although you're fasting. Let's take for example Baklawa which contains 668 calories and 44g fat per two piece serving. Kunafeh is equally calorific and packs in 589 calories and 26 grams fat per average portion. A typical 125g serving of lokmat (sweet dumplings) contain a whopping 600 calories. If you choose to make this a daily ritual, it'll be difficult to escape the weight gain.
This Ramadan, why not give your desserts a healthy twist and save yourself the guilt? We've chosen 5 low calorie and more nutritious ways to satisfy your sweet tooth.
Cacao Coconut Date balls
Ingredients:
• 10 pitted dates
• 4 tbsp coconut oil
• 3 tbsp cocoa powder
• 1 cup crispy rice cereal
• 1 oz unsweetened cocoa powder
Can you think of a fruit sweeter than chocolate and more nutritious? Dates can be the perfect choice to satisfy those sweet cravings.
How to:
To start out, count about 10 pitted dates and place them in water an hour before preparation to soften the dates before handling. Then place the dates in a food processor, add 4 tablespoons coconut oil, and a heaping teaspoon of cocoa powder and blend. Stir in 1 cup of rice crispy cereal or any plain cereal for a nice crunch, blend with hands and shape into 12 small balls. Roll 6 balls in shredded unsweetened coconut and the other 6 in unsweetened cocoa powder. Refrigerate for 1 hour until firm.
Makes 12 date balls. 1 serving (2 date balls) contains 144 calories and 8 grams fat.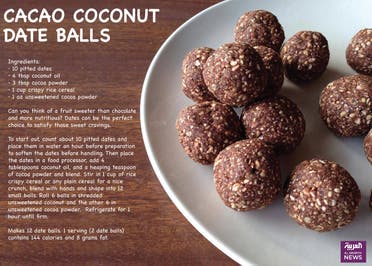 Watermelon ice-pops
Ingredients:
• 4 cups watermelon cubes
• 1 tbsp lime juice
• 1 tbsp honey
How to:
With Ramadan falling in the summer, what could be more refreshing than ice-pops? To make, blend the watermelon cubes without the seeds, freshly squeezed lime juice, and honey in a blender and strain in a fine sieve. Pour the juice into popsicle molds and freeze until solid. You can try any flavor and replace watermelon with any other juicy fruit such as oranges, strawberries, or apricot juice.
Makes 4 ice-pops. 1 serving equivalent to one ice pops contains 50 calories and 0.2g fat.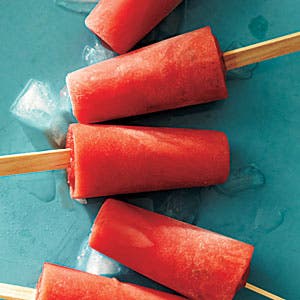 Dried fruit compote
Ingredients:
• 1/4 cup raw walnuts
• 1/4 cup raw pistachios
• 1/4 cup pine nuts
• 3/4 cup golden raisins
• 11/4 cup dried apricots, chopped
• 5 tbsp honey
• 3 tbsp orange blossom
For a healthy hydrating dessert, dried fruit compotes are a good option and can be personalized to your taste.
How to:
To make, soak walnuts, pistachios, and pine nuts in 1 cup boiling water for one hour. Then rinse golden raisins and chopped dried apricots under cold water and place in a bowl. Cover in 4 cups cold water and let it soak for 2-3 hours. After soaking, add 5 tablespoon honey and 3 tablespoon orange blossom water and stir. Rinse and drain the nuts and add to dried fruits, mix well, and serve.
Makes 8 servings. 1 serving contains 193 calories and 7 grams fat.
Chocolate apricot turtles
Ingredients:
• 7 tbsp bittersweet chocolate chips 490 -28
• 2 diced apricots 30
• 1/4 cup sliced almonds 132 - 11
How to:
If you're a chocoholic, this one's for you. Microwave 7 tablespoons of bittersweet chocolate chips in a glass bowl for 1 minute or until melted. Stir in diced apricot or your dried fruit of choice and ¼ cup sliced almonds. Drop 6 rounded tablespoons onto a parchment paper and cool in refrigerator for 5 minutes.
Makes 6 turtles. 1 serving equivalent to one turtle contains 108 calories and 6.5g fat.
Katayef ricotta
Ingredients:
• 10 small store-bought Katayef
• 150g ricotta
• 1/4 cup ground pistachio
• 1 cup honey
How to:
Katayef is an Arabic version of pancakes and is very special during Ramadan. If you love katayef, this healthier version will surely put a smile on your face. Simply fill each katayef with a tablespoon of ricotta cheese, which is naturally low in fat, instead of ashta which is heavy in fat. Pinch the edges together only half way, forming a cone-like shape. Dip in ground pistachio and arrange in a large serving dish. Serve with honey, approximately 2 teaspoons per katayef.
Makes 10 katayef. 1 serving contains 124 calories.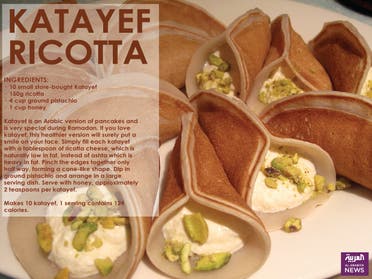 Chocolate Fruit Dip
Ingredients:
• 3 tbsp Nutella 300, 18
• 3 tbsp Greek yogurt 118, 0.8
• 1 1/2 cup Strawberries 120
How to:
This is a healthier take on chocolate fondue. Instead of pure concentrated chocolate, mix Nutella with Greek yogurt to reduce the calories and fat. Use it as a dip with some fresh fruit of your choice.
Makes 3 servings. One serving contains 179 calories and 6g fat.