Slimming device that sucks food out of your stomach sparks controversy
The weight-loss device allows people to "eat like pigs" and then pumps food out of their stomachs
A new treatment option for body slimming that allows people to "eat like pigs" and then push food out of their stomachs will be available in Britain within months, the Daily Mail reported Sunday.
It is claimed that the weight-loss device AspireAssist, described by medics quoted in the newspaper as "highly controversial," has already helped "hundreds of patients" in the United States shed huge amounts of weight, the newspaper said.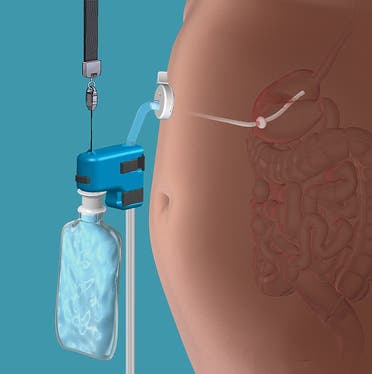 It requires patients to undergo a 15-minute surgery at first in order to insert a tube into their stomach through their abdomen.
After it has been fixed, a small pump is attached to the exit of the tube, which washes water into the stomach before it sucks undigested food to an external bag, the newspaper added.
The end of the tube is then sealed off with a special stopper when not in use, it added.
Dr. Anthony Shonde, a British gastroenterologist, said he plans to offer private patients at his London clinic "an excellent alternative to obesity surgery" starting from September.
"Fitting and use [of the device] is not dangerous and the weight loss results are nearly as good as surgery – but without the risks," he told the Daily Mail.
But critics say the invention fails to tackle the real causes of obesity and encourages people to consume food and "vomit on demand."
Tam Fry, of the National Obesity Forum, described the device saying it was nothing short of "vomit on demand."
"I cannot believe we have now invented a gadget that allows people to make gluttons of themselves and eat like pigs and not suffer the consequences. It appalls me to think people will be able to press a button to empty the contents of their stomachs," he said.