You may have seen those black-and-yellow straps hanging from the ceiling at your gym and wondered how the to use them. This piece of equipment is the TRX Suspension Trainer, and it was developed to deliver a total-body workout using only your body weight as resistance.

If you want to define and tone your entire body while developing functional fitness and looking your best, then you should try TRX Suspension Training.

Here are 5 moves to erase every bulge. Perform 2-3 sets of each move for 30 seconds in order, moving at a slow, controlled pace.
Total time: Up to 15 minutes

1. Low Rows

Stand facing the anchor point, lean back with your arms straight with palms facing each other.

Pull your body toward the anchor point and squeeze your shoulder blades.

Return to start, maintaining the slight plank.

Straps adjustments (short)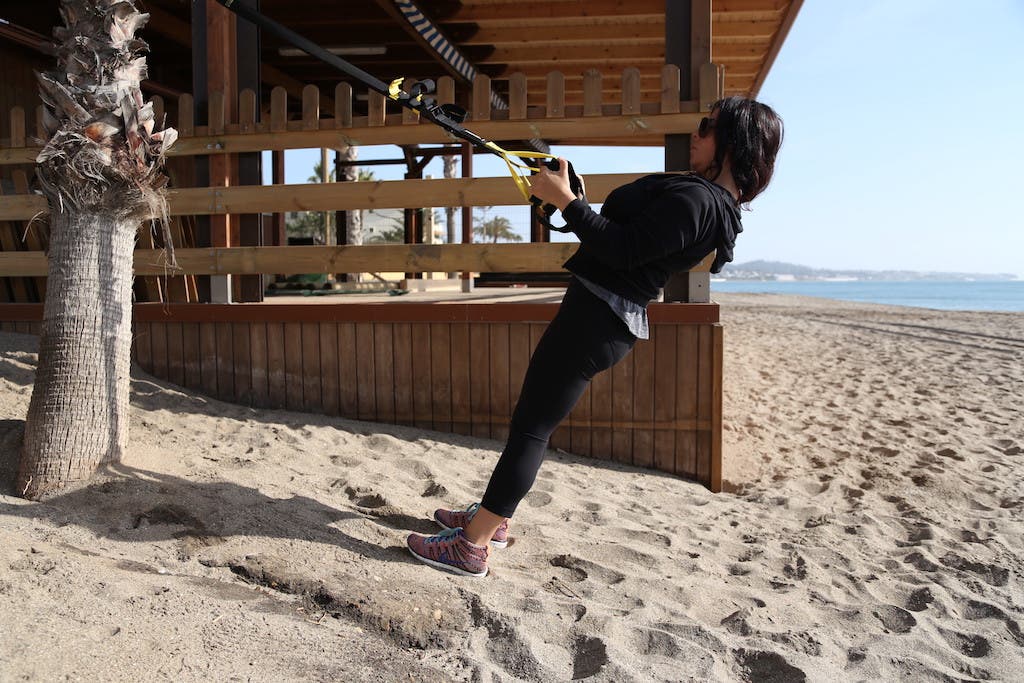 2. Squat Fly

Stand facing the anchor point with your hands extended overhead and a handle in each hand.

Move your hips down and back into a squat position, pushing your knees slightly outward, while simultaneously lowering your hands to shoulder level.

Now drive through your heels and push your hips forward while raising your hands back overhead, maintaining straight arms until you reach the top.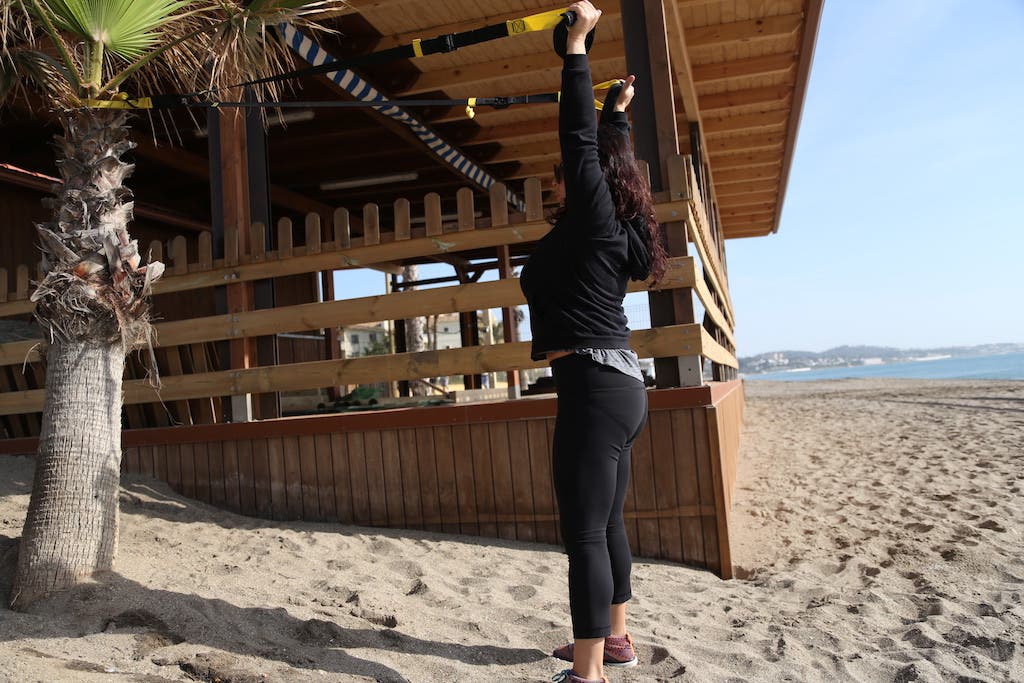 3. Tricep extensions

Stand facing away from the TRX with feet hip-width apart.

Lean forward and grasp handles in front of your face, elbows bent 90 degrees and palms facing away from you.

Extend your arms, and then bend elbows to return to starting position.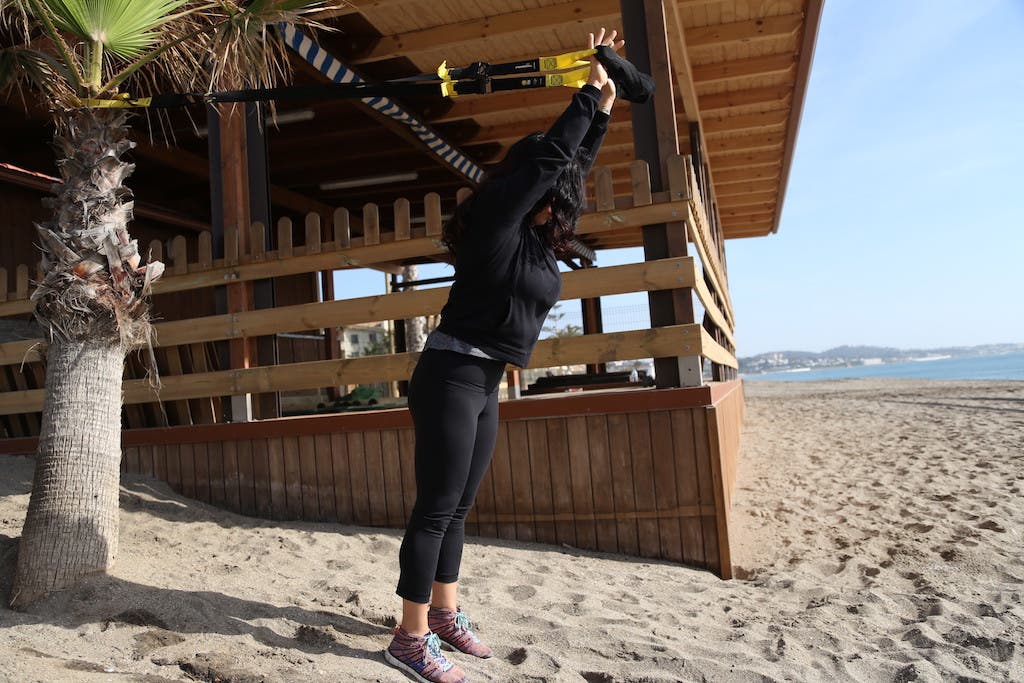 4. Crossing balance lunge

Stand facing the anchor point, place your elbows under shoulders with palms facing each other, hands holding the straps.

Centre one leg to the anchor point then move the other back into a lunge crossing behind the working leg with your knee pointed toward the ankle.

Drive back up by pushing through your front heel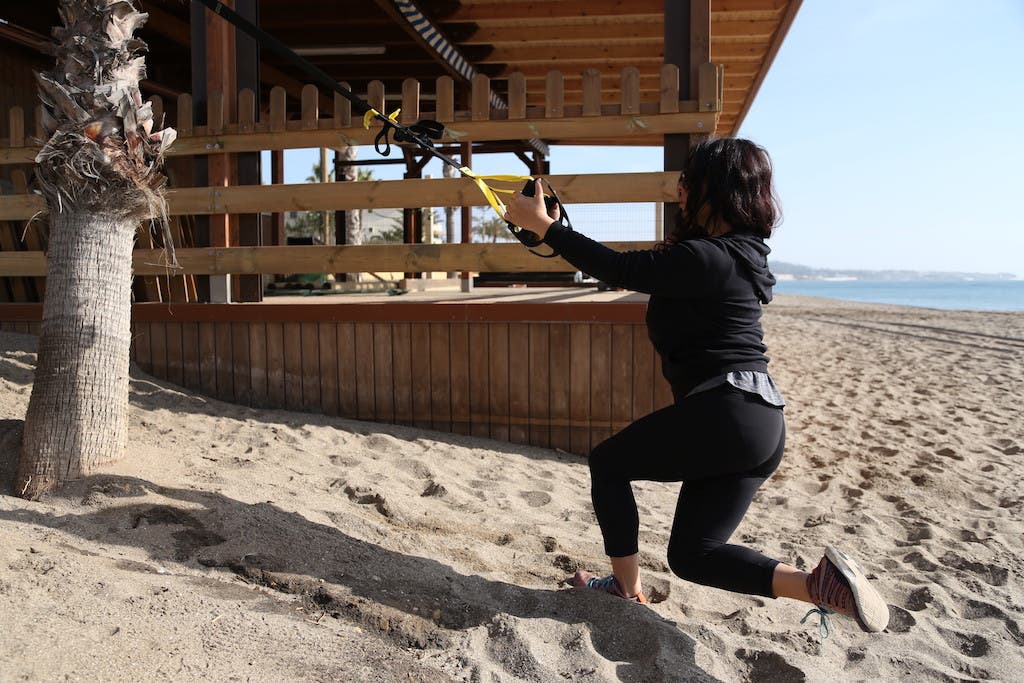 5. Atomic Push up with Crunch

Kneel facing away from the anchor point with your feet in the foot cradles, place your hands on the ground slightly wider than shoulders width and lift up to a plank position.

Lower your body toward the ground by bending your elbows to 90 degrees.

Press back up, lift your hips slightly and crunch, bringing your knees to your chest