The Saudi Antibiotics Integrated Regulatory Program (SAIR) is an initiative launched by Mohammed Alaqil concerning the misuse and abuse of antibiotics and the issue of superbugs in Saudi Arabia. It is the first initiative and program where the idea is educational and supported by several international and national organizations. SAIR program has been working with several universities in the United States including Portland State University & Georgetown University. As a first plan, symposiums, seminars, and campaigns will be held and then it would be transmitted to the MENA region within the extended plan of SAIR for Middle East & North Africa Antibiotics Integrated Regulatory Initiative.
SAIR addresses superbugs' issue within a specific approachable national program in order to create an awareness among community members and health care providers and educate them through social media platforms. It is a focused program that targets health-related universities and it opens for youth and students great opportunities to be linked with the community and their senior doctors. The research studies in Saudi Arabia would be enhanced and several health care providers are within the team for conducting research studies that improve the research outcomes of antimicrobial resistance in Saudi Arabia.
SAIR has done multiple achievements starting from building and constructing an exclusive elaborated plan and doing actual campaigns in different universities, schools and hospitals around the Kingdom including Riyadh, the Eastern Province and Jeddah. Besides, building coalitions between several organizations and institutions in health and education inside and outside Saudi Arabia for supporting the project locally and internationally. Furthermore, animated and short film videos have been launched with lots of engagements and support from people. Besides, simple and creative infographics have been launched on "www.SAIR2030.com" and social media accounts.
An electronic application on IOS and Google Play Devices has been implemented. In addition, a team of infectious diseases, antimicrobial field, and interrelated specialties have been linked for increasing awareness and research studies across Saudi Arabia. SAIR has participated in several conferences outside the country including the United States, the UAE, Bahrain, Tunisia. It has been supported and upheld by several universities including Portland State University and Georgetown University, and several trophies and shields from local hospitals have been awarded to it. SAIR is looking for a support from Saudi Ministry of Health where they could complete their roadmaps and draw them together. Some international experts there believe that SAIR can be implemented not only in Saudi Arabia, but in the US as well.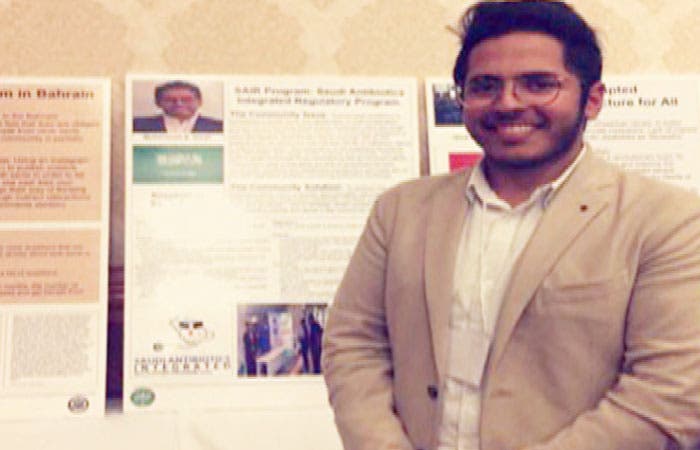 Antibiotics & superbugs
There are two types of societies: one suffers from lack of drug access and the other suffers mostly from overconsumption of antibiotics. Alaqil has worked with several international organizations in different low-income African countries lacking access to drugs like antibiotics due to high prices. However, what most countries are struggling with is the issue of overconsumption and abuse of antibiotics.
The discovery of antibiotics is a revolution that changed the face of medicine from the first discovery of penicillin in 1928 by the Scottish scientist Alexander Fleming. It was thought that open-heart and even major pelvic surgeries would not be possible for the reason that infections and mortality rate are considered as high risks and complications. During World War II, for instance, penicillin was used to treat amputees and to prevent further contagions. It reduced the number of mortality, morbidity, and amputation rates. For that reason it was considered a magical drug for infections. Due to the ignorance of the humans, as Alexander mentioned in one of his lectures, antibiotics could be dangerous.
Antibiotics can be anti-life if they are used improperly, Alaqil maintains. It would lead to antimicrobial resistance or commonly known as superbugs! It is a condition where bacteria resists most of the antibiotics due to the excessive use of antibiotics. We are now in an era called "post-antibiotics era" as World Health Organization (WHO) has stated. It is an unfortunate era where bacteria becomes superbugs and genetically be mutated to resist most of antibiotics.
Almost two ton of antibiotics are used globally in every 10 minutes, recent studies suggest. Besides, no new single class of antibiotics has been discovered since 1984 as New Journal of England Medicine revealed. It is believed that every 10 minutes a patient dies due to antimicrobial resistance (superbugs) for infections in the US and Europe. The problem with superbugs is that if they are still continuing to develop, the simple and major surgeries such as C-section or total hip replacement surgery would be fatal.
Superbugs are the next upcoming cancer to the world, so to speak. Statistical studies suggest that in 2050, superbugs would be responsible for killing more than what cancer does. Almost every year in the United States alone, 800,000 people are affected by superbugs and 23,000 people die annually because of superbugs as the Centers for Disease Control and Prevention (CDC) revealed.
In the Gulf Cooperation Council (GCC), specifically Saudi Arabia, superbugs are very common in medical institutions. In hospitals, a lot of cases for superbugs are found, especially in Saudi Arabia and Kuwait, according to the antimicrobial resistance & infection control report — 2012. The primary issue in Saudi Arabia is that there is a lack of awareness in both community members and healthcare practitioners.
There are several campaigns regarding antimicrobial resistance and superbugs around the world and in Saudi Arabia, but frankly they are not sustainable or do not meet the population's needs. They are either too medically hard to be understood by the public, too general and widely informative to be transmitted, or not meeting the standards of chronological executive plans. In terms of feasibility, many campaigns lose their interests and functions and the reason is not making a sustainably alternative plans, not having a well structured team, and having competitions between one and another.
This article was first published in the Saudi Gazette.