Ayurveda, an ancient health care tradition that has been practiced in India for few thousand years, are luring Gulf Arab nationals who have been seeking cures for various ailments at Ayurvedic centers in the southern Indian state of Kerala.
These treatments are believed to transform one's state of mind, body and spirit with a phalanx of therapeutic treatments. The popularity for Indian herbal medical remedies among Arab nationals is visible in the number of patients seeking treatment in the state is on the rise.
Proximity to the Gulf Cooperation Council (GCC) countries via air route, natural abundance of forests with a wealth of herbs and medicinal plants, and the salubrious monsoon season spanning June to October are best suited for Ayurvedic programs.
Kerala Ayurveda resorts are destinations that help its patients discover themselves in a peaceful manner. The total size of the Indian Ayurveda market is pegged more than 15 billion rupees and it is growing substantially at a rate between 10-15 percent. Kerala takes a major chunk of it.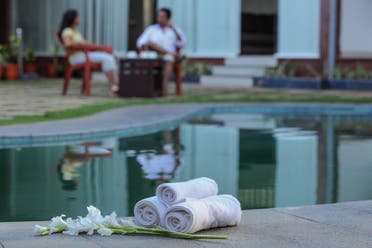 The GCC is an important market for India's tourism with India emerging as a most sought-after destination for medical/wellness for tourists from the GCC. India received 265,000 tourists from the six GCC countries in 2017 with Oman topping with 1,07,217, followed by the UAE (67,238) and Saudi Arabia (52,976).
Tourist officials say that medical tourists form a significant group among Gulf Arab tourists that visit Kerala for wellness tourism. Professionally-managed natural treatment at these clinics are bringing in to the State scores of Gulf citizens who are looking for alternative remedies for a range of medical problems.
According to Chitra, Manager-Operations, KS-Central Reservations , Somatheeram Ayurveda Group, they offer different Ayurveda packages like rejuvenation/body purification, slimming, stress management besides, anti-ageing, beauty care, psoriasis, spine and neck care programs and other types of Ayurveda treatments. "Somatheeram Ayurveda Village is located at about 7 km from Kovalam, offers an extravaganza for the body, mind and soul," she said.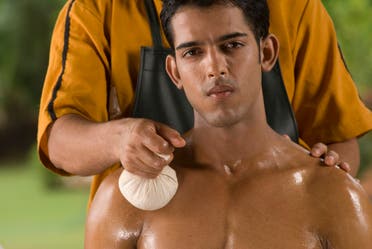 Hafidh al-Rawahi, an Arab from Oman, was in one of the premium resorts in south Kerala. "I was suffering from severe cervical spondylitis and through word of mouth I came to know about the herbal medicine treatment in Kerala. After three weeks stay I felt really nice and relieved. We also visited the idyllic places in and around the place where we stayed after the course of treatment and felt rejuvenated," he said.
According to Sajeev Kurup, Managing Director, Ayurvedamanzil, Kottakkal Ayurvedamanzil is one of the famous hospitals in Kottakkal, the hub of Ayurveda in Kerala for patients from across the region. "From all GCC countries we are getting patients and it is mostly for neurological and muscular issues related problems," he said.
A name to reckon with in Ayurveda treatment is Kottakkal Arya Vaidya Sala, which receives hordes of tourist-patients from all over the GCC. Buoyed by the success of Ayurveda, Kerala would soon establish an International Ayurveda Research Institute near Kannur, where an international airport is ready for inauguration.
The institute will promote Ayurveda research that would lead to patenting.