Dozens of young Saudi girls line up to learn the "Kango" which is attributed to the Kangaroo's movements, eagerly following the guidance of the instructors to master the basics of "Kango" jumping and bouncing, from wearing a special pair of shoes, walking with them, controlling their steps, and jumping like Kangaroos.
Their movements go hand in hand with the music, in the latest fitness trend.
Young girls are very much attracted to this sport, wearing sport shoes that resemble the skating shoes, making the trainees always ready to jump and bounce.
These shoes are developed to ease the movements because it consists of a hard outer shell, an inner surface and a rubber base.
The "Kango" jump has quickly spread in a large number of Arab countries over the past few years. The sport combines jumping harmonically with the music and rhythmic physical movements.
Those who enjoy this form of physical exercise are very fit allowing them to have high physical endurance, in addition to the fact that this sport is very enjoyable and can boost self-confidence.
In the past few years, Saudi girls have turned to new types of sports, the latest of which has been "Kango" jumping. Saudi girls are participating in this sport where they are able to use their energy in a fun leisure time and develop their body skills to express themselves better. This form of exercise combines discipline and fun in a happy euphoric atmosphere.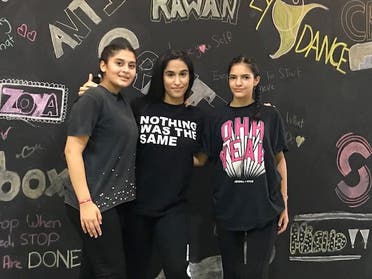 Sharifa al-Eid, a "Kango" instructor said to Al Arabiya English, describing the new fitness trend as "an all body sport, where all the parts of the body can move reflecting the benefits of this fitness routine to the body, increasing strength, agility, speed, timing and rhythm."
She explained that this fitness exercise has an average effect that increases the density of bones and joints.
A fitness club in the Saudi city of Khobar has started allocating fitness classes for this type of exercise.
Sports clubs are equipped with various types of exercises and training that are constantly evolving and competing to provide training sessions and the best machines and equipment that help the trainees, while ensuring their safety and protecting them from injuries.