Recent trends of healthy eating habits among Indians have resulted in revival of traditional cooking practices.
Among them is cooking food wrapped in leaves, which is becoming increasingly popular all across the country; not only for its healthy and sustainable approach; but equally for its quick and easy no-fuss cooking method.
The most common leaf used in Indian cuisine is the banana leaf; although other leaves like that of lotus, banyan, turmeric and jackfruit are also used.
The banana leaves have been traditionally used since ancient times for wrapping rice, vegetable and seafood with several sweet and savoury dishes present in various regional cuisines of India.
A wide assortment of these traditional leaf-wrapped dishes are cooked in different parts of the country but the leaf-wrapped seafood dishes of the coastal areas are very popular at many places; not restricted to their regions.
These leaf-wrapped seafood dishes vary from region to region and are usually prepared using the locally available spices and fishes. Until recently only select few restaurants were offering such dishes but cashing in on the new trend more and more of them are offering such dishes to its discerning customers.
Abdulla Musba, who owns the Utade Mane Restaurant in Mangalore, the port city which is famous all over for its fresh seafood options, says: "Fish steamed in banana leaves is a new rage these days. People are very much fond of this dish, as it is not only tasty but more importantly, it is healthy."
A regular at Kochi's restaurants S.M. Laique finds the dish very delicious. He says, "My grandmother says they used to make banana leaf wrapped dishes very often some decades ago but in between it lost out. And again, it is making a comeback."
A few traditional banana leaf-wrapped fish dishes, which are all time favourite of many food lovers, are outlined below.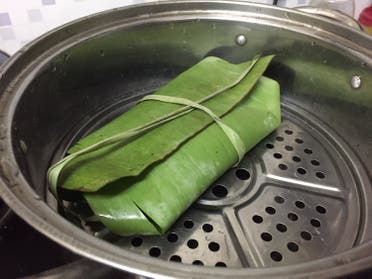 Patra Ni Macchi
A Gujarati-Parsi fusion dish, which is popular during their weddings and festivals. Generally pomfret or other flat fish is coated with a spicy blend of mint and coriander leaves with coconut and wrapped in banana leaf packets and is steamed or grilled.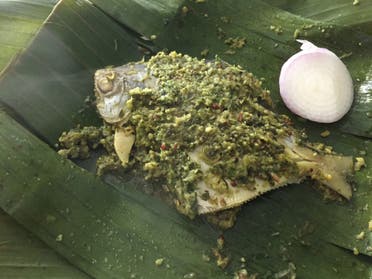 Meen Pollichathu
A Kerala-styled fish dish which is traditionally made with pearl-spot fish (locally called karimeen), although other fishes like mackerel, snapper and other fish fillets are widely used. The marinated fish is first fried a little or sautéed in spicy onion-tomato paste and then wrapped in a banana leaf and steamed or grilled for added flavour.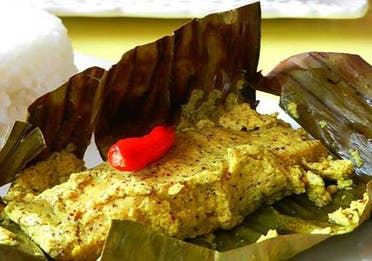 Maacher Paturi
A traditional Bengali fish recipe made with Asian Seabass (Bhetki) or Ilish. The boneless fish pieces are marinated in mustard paste and wrapped in a banana leaves and then steamed or roasted.
These and other Indian traditional leaf-wrapped fish delicacies are known for their delectable taste, moistness and amazing flavours. The banana leaves are not typically consumed, rather they are used as waterproof wrappers to cook food and add flavour to it.
These leaves protect the food wrapped in it from direct heat; locking in the moisture and imparting a mildly sweet earthy flavour infused with a subtle grassy aroma to the food. Such leaves as food wrappers function like a plastic wrap, parchment paper and aluminium foil.
Besides India, banana leaves are also used wherever they are ubiquitously found in tropical and subtropical countries of Latin America, Southeast Asia and Central Africa. Thus, an African Liboke de Poisson, Mexican Juchitan-styled tamales and Malaysian Ikan-Bakar -- all famous international delicacies are banana leaf-wrapped.
Fresh banana leaves are easily available in tropical climates and the frozen cut banana leaves are sold elsewhere in the Asian and Latino markets. Besides banana leaves, other leaves are also used internationally such as bamboo leaves in Chinese cooking, grapes leaves in Middle Eastern cooking and fig leaves in Greek cooking.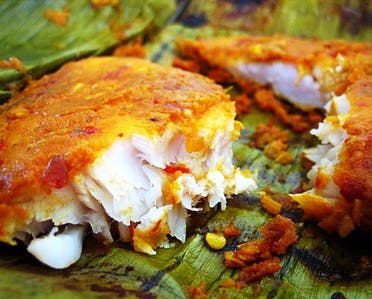 Benefits of banana leaves
The banana leaves are large, wide and bright green in colour which on boiling or steaming become olive green.
They have a waxy coating, which melts on heat and gives a subtle but distinct flavour to the food wrapped in it. The banana leaves are rich in polyphenols such as epigallocatechin (EGCG) which is also found in green tea.
These polyphenols are natural anti-oxidants, which fight against free radicals and help in preventing diseases. The polyphenols get absorbed into the food while cooking. The leaves also contain vitamins and have anti-bacterial properties.
Besides its use in cooking, the banana leaves are also used as plate liners, cups, bowls, to-go containers providing a renewable alternative to disposables, waxed and parchment paper or foil.
This age-old leaf wrapping cooking technique has certainly made a comeback into many modern kitchens and homes across the world; more so in India, giving food more than a cultural flavour.