Studies find medical devices harmful with little to no govt regulation worldwide
After years of suffering from chronic pain, Jim Taft thought he had found something to replace opioids. The pain made it difficult to walk and the drugs wore him down.
"It just gets kind of old. You don't want to be on it. So you try anything to get off that stuff," Taft said from his home in West Columbia, South Carolina.
His doctor recommended a spinal cord stimulator, a device implanted in the spine that sends electric pulses to mask the pain.
It wouldn't fix the nerve damage in his mangled right arm, Taft and his wife recalled the doctor saying, but a spinal-cord stimulator would cloak his pain, making him "good as new."
"At the time I had three boys… and you know you want to spend time with them, you know to do things. And I couldn't do them. I was either dragged down by the medicine or, you know?" Taft said.
Taft was so confident the device would work, he ordered wood to keep a promise to his wife, Renee, to redo the porch.
Then he had the surgery.
Taft's stimulator failed soon after it was surgically implanted.
After an operation to repair it, he said, the device shocked him so many times that he couldn't sleep and even fell down a flight of stairs.
After several months he had it taken out and went home.
"I woke up the next day and I could feel my legs but they wouldn't move," Taft said.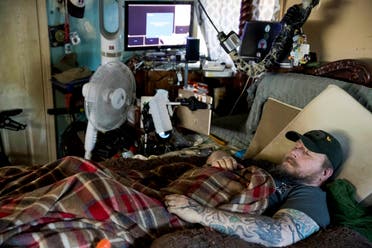 Three years later, the wood is still piled in the backyard and Taft spends his days in bed. He now can move his legs, but he can barely stand and he's still in severe pain.
"You know I kind of feel like I'm bound to be here when I die," he said.
Promoting the devices
To combat the opioid epidemic, doctors and device makers are promoting spinal cord stimulators as a way to wean patients off pain medication, and to prevent them from needing opioids.
But the stimulators - devices that use electrical currents to block pain signals before they reach the brain - are more dangerous than many patients understand, an Associated Press investigation found.
They account for the third-highest number of medical device injuries reported to the US Food and Drug Administration, with more than 80,000 incidents flagged since 2008.
Patients report that they have been shocked or burned or have suffered spinal-cord nerve damage ranging from muscle weakness to paraplegia, FDA data shows.
Among the 4,000 types of devices tracked by the FDA, only metal hip replacements and insulin pumps have logged more injury reports.
Medical device manufacturers insist spinal-cord stimulators are safe - some 60,000 are implanted annually - and doctors who specialize in these surgeries say they have helped reduce pain for many of their patients.
But most of these devices have been approved by the FDA with little clinical testing, and the agency's data shows that spinal-cord stimulators have a disproportionately higher number of injuries compared to hip implants, which are far more plentiful.
Shocking numbers
The AP, NBC, the International Consortium of Investigative Journalists and more than 50 other media partners around the world spent nearly a year jointly investigating the global medical device industry.
Reporters collected and analyzed millions of medical records, recall notices and other product safety warnings, in addition to interviewing doctors, patients, researchers and company whistleblowers.
They found that, across all types of medical devices, more than 1.7 million injuries and nearly 83,000 deaths were reported to the FDA over the last decade.
The investigation also found that the FDA - considered by other countries to be the gold standard in medical device oversight - puts people at risk by pushing devices through an abbreviated approval process, then responds slowly when it comes to forcing companies to correct sometimes life-threatening products.
And it rarely pulls devices from the market even when major problems emerge.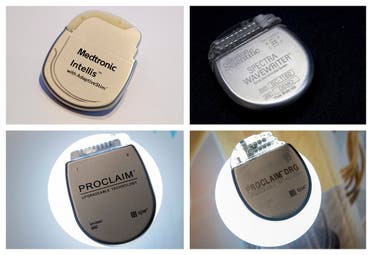 Diana Zuckerman has studied medical devices for nearly 30 years.
"If a new tummy medication comes on the market it will be tested much more rigorously than a spinal cord stimulator, or just about any other medical device," said Zuckerman, who is the president of the National Center for Health Research.
The FDA, in a statement, says ensuring safe and effective products is its fundamental obligation, and it relies on valid science to approve devices before they reach patients.
The agency also says it's database is not a reliable source that can be used to draw conclusions about device safety because it includes mistakes, omissions and under-reporting that can make it difficult to determine whether a device directly caused injury or death.
It also says it's creating a more robust medical device safety net for patients through better data.
The agency now requires high-risk devices, such as spinal cord stimulators, to have unique device identification numbers for better reporting.
'Scientifically proven'
Spinal cord stimulator manufacturers say their devices are scientifically proven safe and effective, are manufactured under strict quality controls, and can be taken out without injury if there's a problem.
The FDA requires manufacturers to warn patients of risks.
Leading neurosurgeon Dr. Steven Falowski says the devices are getting better and the cost - at least 32-thousand US dollars - to implant them is cheaper than opioids in the long run.
"The normal break-even point, we know from a lot of research, is that it's about approximately two years," Falowski said.
One of Falowski's patients is former stuntman Pete Corby. Over the years he injured his back, filming movies, which left him in constant pain and on opioids until doctors stopped prescribing the drugs.
"I was actually buying them on the street like a little like a druggie because I couldn't get them anymore from the doctor," Corby said.
Corby has had the device for more than two years and says he wouldn't trade the stimulator for opioids.
"This is the greatest thing that saved my life, literally saved my life, so I can enjoy my girlfriend, my friends, my family, my horses," Corby said.
But they don't always work.
"Had I known what I know now about it I wouldn't have one put in," said Taft, who is not a Falowski patient.
Insurance companies will pay for spinal cord stimulators only after doctors have tried other treatments.
But doctors are urging insurance companies to pay for the devices sooner to reduce opioids.