Sultanate of Oman beckons hordes of visitors to its diverse and breath-taking splendors including pristine beaches, quaint villages, picturesque wadis, towering mountains, lush green plantations, surreal deserts, spectacular forts and heritage edifices.
Among these attractions, the majestic Jabal al-Akhdar stands out with its salubrious climate and rugged beauty of the rocky mountains interspersed with greenery and ancient cliffside charming villages.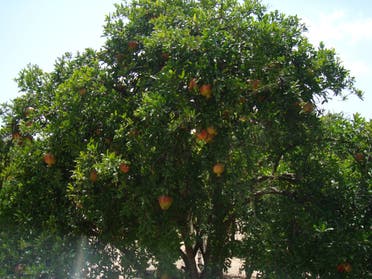 Jabal al-Akhdar or 'The Green Mountain' is a huge limestone massif situated 2000 metres above sea level in the central part of the al-Hajar Mountain ranges. The rich geological diversity of these mountains in their various hues are showcased in Jabal al-Akhdar's undulating topography admixed with the vibrant shades of wild trees and shrubs, fruit orchards and roses.
These picturesque landscapes coupled with its lovely temperate climate attract many nature-lovers and adventure-enthusiasts to the Green Mountain throughout the year for an ideal getaway and has made Jabal al-Akhdar an all-time favourite destination for many Omani residents as well as foreigners.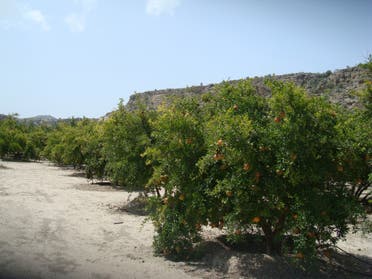 Quaint villages
Jabal al-Akhdar houses several tiny ancient villages in its valleys and mountain cliffs which mesmerise the visitors and include Saiq, al-Ain, al-Uqr, al-Musairah, al-Shraija among others. Such villages present unadulterated picture postcard sceneries characterised by traditional stone and mud-brick houses, cobbled alleys, lush farms and ancient aflaj (plural of falaj).
Some of these villages are in ruins as they have been abandoned decades ago; though visitors can explore these ruins. The rest of the villages are inhabited minimally and survive on traditional farming practices with many such communities owning clusters of farms.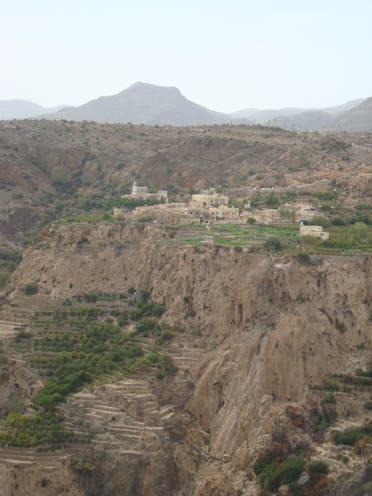 For instance, Wadi Bani Habib is famously explored by tourists for its valley of walnut and pomegranate trees and its historical stone houses. Al Ain village is famed for its terraced gardens of pomegranate trees cascading down the slopes and also houses the traditional rose water distillation homes.
Saiq, which is Jabal al-Akhdar's main town is famous for its terraced rose gardens. Also the remnants of the Saiq castle and Bait Al Malab are key tourist attractions which serve as reminders of Oman's chequered part.
The appealing view of the whole terrain are viewed from different prime locations in Jabal al-Akhdar; of which the most famous is the Diana viewpoint- named after the Late Lady Diana who visited here in the 1980s.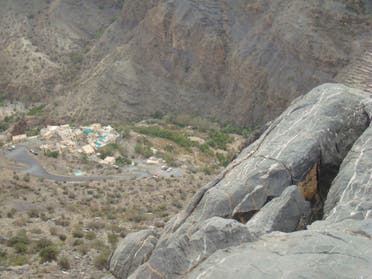 Rugged peaks, steep valleys
This view offers one of the most panoramic views of the Jabal al-Akhdar's rugged peaks and steep valleys dotted with serene cliff-hanging villages, though a resort has opened here recently.
Other key attractions in Jabal al-Akhdar are the alluring sights of water cascading down the rocky mountains, which are a visual treat in Ain Wadi Kotom which has 10 major springs.
However, the prime tourist season here is when it blooms with fruits, vegetables and roses in different months and the manmade terraces of the Green Mountain are carpeted in a riot of colours attracting large crowds. GCC tourists come in huge numbers.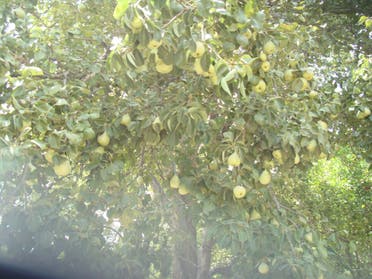 During March to May, tourists witness the dusky pink Damask roses covering the mountain slopes in huge swaths of pink with their sweet scents wafting in the air. These roses are cultivated for making the Omani rosewater traditionally in the surrounding villages.
Thereafter, the annual summer harvest festival of Jabal al-Akhdar also draws large crowds of visitors to relish and buy the farm fresh vegetables and fruits like the plums and peaches.
But it is during September and October months, that the Green Mountain transforms into a fruit bowl with delightful and succulent fruits ready for harvesting such as pomegranates, grapes, strawberries, raspberries, figs, pears, walnuts and almonds.
Among them, the most lucrative and popular fruit is the huge pomegranate which is coveted by many for its characteristic sweet taste and fragile seeds. More than 25,000 pomegranate trees are grown here. This season witnesses a huge influx of people.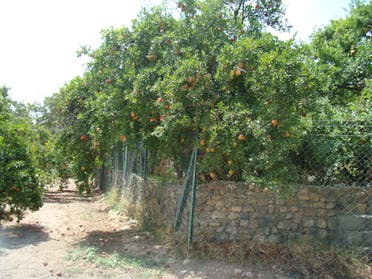 Fruits and vegetables
The farm of the Ministry of Agriculture is reputed to have the best varieties of the fruits and vegetables but requires prior permission to visit it. However, many other nearby private farms are easily accessible to the tourists who can explore them and even witness their pluckings at harvest season. Fruits are available at roadside stalls at reasonable prices.
Nature-lovers and fruitaholics are not the only ones to cherish Jabal al-Akhdar's experiences; even adventure-seekers are kept engaged in the Green Mountain with its hiking trails and cave explorations with the Ministry of Tourism implementing the Hiking Project connecting Jabal al-Akhdar and the different wilayats at the foot of the mountain.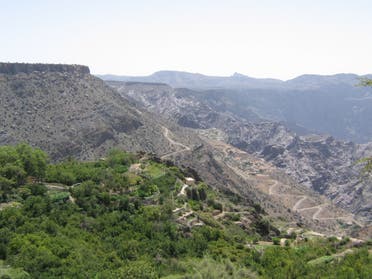 Also in a bid to promote eco-Tourism and adventure-tourism, several hotels and a couple of luxury resorts have opened in recent years catering to the tourists' needs by offering varied outdoor activities like rock-climbing, rappelling, via ferrata, etc. Many tour guides are also easily available at hand.
To sum it all, the charming and exotic terrain of Jabal al-Akhdar along with its luscious seasonal fruits and beautiful roses are luring more and more visitors to the Green Mountain to savour the authentic experiences of its local culture, tradition and dazzling landscapes.