EHS announces 'Care AI' and 'Digital Twin' projects at Arab Health 2023
Emirates Health Services (EHS) launched the 'Care AI' and 'Digital Twin' projects which are the first of its kind in the region while taking part in the Arab Health Exhibition and Congress (Arab Health 2023), which kicked off at the Dubai World Trade Centre on January 30 and will run until February 2.

EHS is participating in this year's event under the theme 'Shaping the future of healthcare.'

For the latest headlines, follow our Google News channel online or via the app.

Mubaraka Ibrahim, Acting Chief Information Officer at Emirates Health Services, said: "The Care AI project is one of the latest and most advanced technology projects announced by Emirates Health Services. It consists of a basic system for a smart healthcare facility, supported by artificial intelligence for self-monitoring, tracking patient behaviour and movement, and assisting doctors in diagnosing patients using computer vision, in addition to automatically updating and analysing patient data. Care AI also allows for using AI technology based on the patients' condition to continuously improve care based on collected information."

"The project independently evaluates and tracks the extent of compliance with approved health and safety protocols across EHS' affiliated facilities, in order to collect immediate information about the extent to which safety protocols are implemented, as well as to analyse and evaluate the patient's condition, and monitor procedures followed while providing healthcare to patients," Ibrahim added.
Digital Twin Project
The Digital Twin project was implemented in partnership with Schneider Electric and Microsoft as part of the comprehensive digital transformation EHS is leading in the health services it provides.
Emirates Health Services established 'Digital Twin' for Al Qassimi Hospital, which aims to enhance EHS' efforts towards sustainability and reduce the carbon footprint of its facilities.
The Acting Chief Information Officer at EHS explained the notable role that the project plays in improving tracking for energy used inside buildings, while comparing different patterns, such as the nature of the facility, to detect areas of potential improvement, determine priorities for modernisation and spending, and identify opportunities for using renewable and clean energy.
The model can control and predict the optimal use of renewables, such as solar power, and adding it to energy derived from the electricity grid, so that reliance on renewable energy is maximized without affecting the stability of the system and business continuity.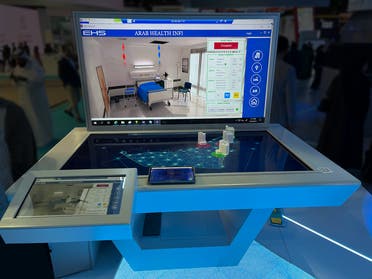 By showcasing a proof-of-concept of the digital twin solution, Schneider Electric, a leader in the digital transformation of energy management and automation, aims to demonstrate how a suite of new digital tools can help hospitals reduce their carbon footprint and become more sustainable with an estimated energy savings of up to 30 percent.
Enhancing efficiency, sustainability
Yasser Ahmed, Director of Digital Buildings & Energy Management Software - Schneider Electric, in comments to Al Arabiya English said: "We are proud to have joined forces with Emirates Health Services (EHS) and Microsoft to launch EcoStruxure™ for Healthcare, which is a digital twin for hospitals, aimed to enhance energy efficiency and sustainability across healthcare systems in the UAE as well as improve patient care and comfort. The solution is designed to provide detailed real-time insights on a range of metrics.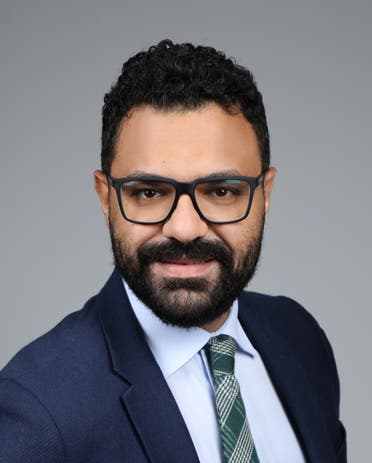 "The digital twin solution is aligned with the UAE's National Strategy for Wellbeing 2031, which is aimed at establishing UAE as one among the world's leading destinations for healthcare."
The platform works by creating a replica patient room complete with all the fixtures, fittings, and equipment. It will provide detailed insights into how equipment and services can be run more sustainably, benefiting providers and the healthcare ecosystem.
Complementing it, Schneider Electric's Unified Operations Center will monitor operational performance in real-time with integrated performance management reports, metrics, analyses, and planning tools, catering to healthcare needs at an enterprise-level.
According to Ahmed, this solution by Schneider Electric, along with EHS and Microsoft, "ties in with UAE's Year of Sustainability by showcasing a proof-of-concept, and aims to demonstrate how a suite of new digital tools can help hospitals reduce their carbon footprint and become more sustainable with an estimated energy savings of up to 30 percent."
This collaboration with Microsoft and Emirates Health Services "gives us the opportunity to empower UAE's healthcare industry locally and beyond," he said.
"Through this collaboration, we aim to analyze the sector's carbon emissions to find more sustainable solutions going forward. The digital twin solution is aligned with the nation's Year of Sustainability. We also look forward to demonstrating how public-private partnerships can fuel healthcare innovation."
According to global research, healthcare facilities are the second most energy intensive buildings globally, with the industry being responsible for 4.6 percent of worldwide greenhouse gas emissions.
The digital twin partnership announced at Arab Health 2023 aims to yield in significant energy savings in the UAE, addressing several pain points in the global and local healthcare systems.
This solution,according to Ahmed, will also impact UAE's healthcare sector in the following ways: "Post-COVID, UAE's healthcare sector has delivered on a set of new challenges including workflow management, burnout, and staff shortages, among others. We are confident that our collaborative efforts with Emirates Health Services and Microsoft will infuse sustainability, energy efficiency, and safety across UAE's healthcare ecosystem."
"Digital twins in healthcare have helped deliver real time efficiency, sustainability and helped optimized patient experience as well as enabled data-driven outcomes for facilities and patients," he added.
Read more: EHS unveils unique 'Microbubble treatments for Children' at Arab Health show