British expats pick UAE over Europe and the U.S.
A report cited one of the main reasons as being career opportunities, according to 75 percent of Brits polled
British expats on the warpath for a life packed with fun in the sun are now swerving away from traditional European hotspots and are instead increasingly favoring the United Arab Emirates, a report has found.
The UAE came in at number three, according to a global study of British expats' opinions and attitudes to living abroad by the UK's Natwest bank.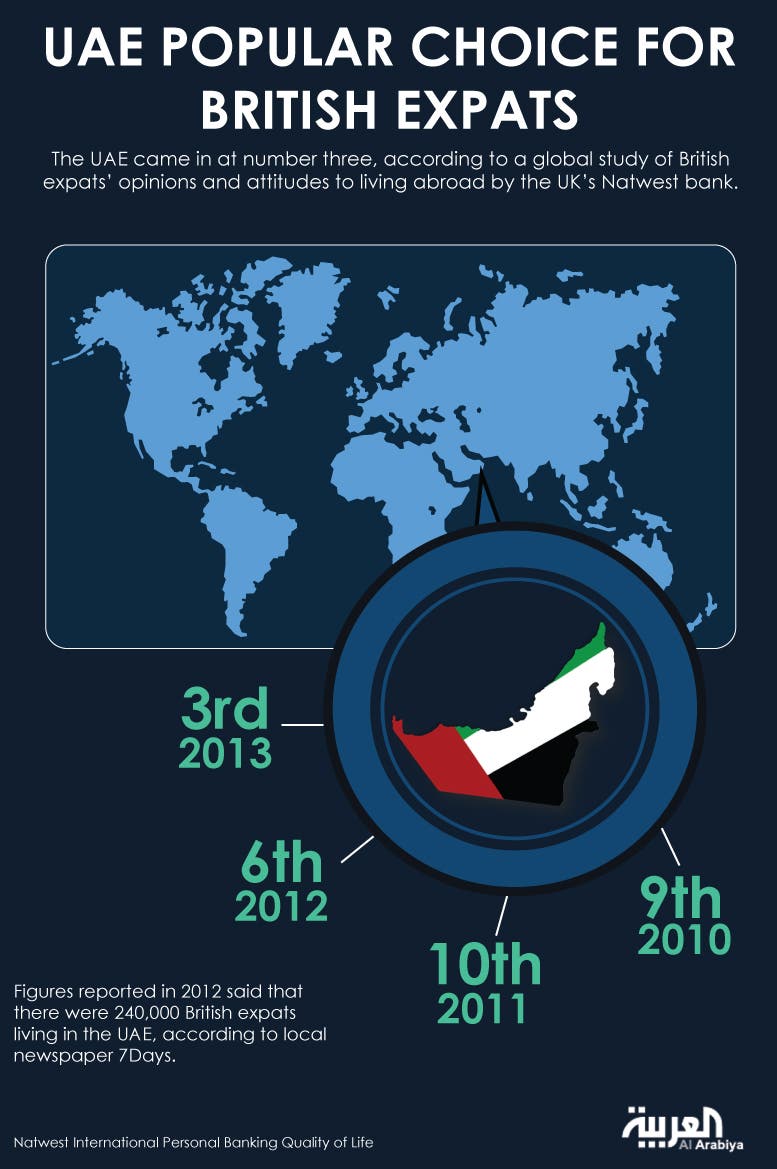 The bank's International Personal Banking Quality of Life Report found that the UAE – alongside European destinations such as France and Spain – beat the U.S., Hong Kong and South Africa on the list.
The report cited one of the main reasons as being career opportunities, according to 75 percent of Brits polled.
"The most notable shifts in our Quality of Life results this year is the rise of the UAE as an expat destination," said Dave Isley, the head of Natwest International Personal Banking.
"It seems expats are willing to adjust their lifestyle in exchange for a stronger economy and better job opportunities."
In 2012, the UAE ranked sixth, ninth the year before that and 10th in 2010. Figures reported in 2012 said that there were 240,000 British expats living in the UAE, according to local newspaper 7 Days.
The Natwest report examines attitudes to lifestyle, employment and financial status among 1,800 British expats worldwide.
UAE tourists to Britain
Meanwhile, Britain appears to be an increasingly less likely option for UAE tourists.
An exclusive Al Arabiya News/ YouGov poll found that than half of UAE nationals feel the UK is an unsafe destination in the wake of two vicious attacks on Emirati visitors to London.
Last month, a seven-member gang attacked an Emirati man and his wife in their London apartment, less than three weeks after three Emirati women were assaulted with a hammer in their hotel apartment at the Cumberland Hotel in central London.
The poll of 1154 people found that more than a third of UAE nationals are now unlikely to visit the UK for their next holiday, while 31 percent of Arab expats residing in the UAE also said they were unlikely to visit.
In recent years, London had welcomed a surge tourists from the Gulf, with more than 50,000 Emiratis visiting the UK annually.
POLL: 52% of UAE nationals say UK 'unsafe'