'Selfie statue' of Ottoman prince revealed in Turkey
A statue of a selfie-taking Ottoman prince was revealed in Amasya, only to be defaced 24 hours later
An unusual statue of an Ottoman prince taking a selfie with a modern day mobile phone while gripping his sword raised eyebrows as it was revealed in Amasya, Turkey, Hurriyet Daily News reported on Sunday.
The strange sculpture had been unveiled on the town's riverbank a day earlier, according to Doğan News Agency.
"We built it for a purely visual purpose. We thought it would draw attention," Osman Akbaş, deputy mayor of Amasya was quoted as saying in the report.
Only hours after reports of the statue appeared in the media, tourists were flocking to the statue to take their own selfies with it, with most appreciating the bizarre nature of it.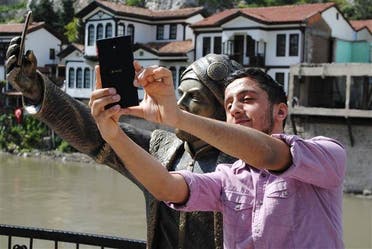 In the Ottoman period, the city served as one to which sultans would send their sons, known as "Shahzade," to learn how to rule. Akbaş said that the statue did not depict any particular such "Shahzade."
Tourists and residents of the city seemed to react to the statue light-heartedly, with one saying "It certainly is very beautiful. It's different" and another saying "I don't think it's a bad idea. It's just a joke."
Still, the statue was not appreciated by everyone, as Ramis Topal, deputy to the Republican People's Party, took to Twitter to share his opinion. "This is our government's latest investment in Amasya: A selfie-taking Shahzade. Not a joke," he wrote.
But only a day after the statue was revealed, it was defaced by unknown vandals who broke off the mobile phone.