From cheetahs to chinchillas, on the trail of exotic animals in the UAE
Peacocks are apparently the 'it' pet to have right now
The Sharjah pet market is one of those places you smell before you see; a bouquet of hay bales and livestock. But the barnyard smell belies some of the exotic animals living in cramped quarters behind the glass frontages of the dozen or so rectangular rooms.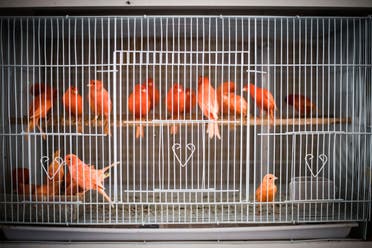 Turtles from Saudi Arabia, I'm informed by the lone shop attendant of one store, can be purchased for Dh1800 ($490) while squirrels from Thailand have a pricetag of Dh500. An adjacent store is selling sugar gliders, a sort of tiny flying possum, from the same country for just Dh250.
Birds of polychromatic plumage, including turkeys, peacocks (apparently the 'it' pet to have right now), and – somewhat inexplicably – ducks make up most of the rest of the crowded market, alongside the usual store of domestic pets, like cats and rabbits.
Online, you don't have to look too far to find cats of a less domestic variety in the UAE. A host of classified websites carry advertisements from seemingly offshore traders, offering the whole gamut of big cats, from pumas to lions.
Cheetahs for illegal delivery
One trader, who goes by the screen name Michael Blount and is supposedly located in Maryland in the U.S., offered to send two cheetah cubs to me for pick up at Dubai Airport, for $1000 a cub.
"I will send the cubs using a pet delivery agency, which will transport the cubs to your location by air plane," he wrote.
Blount also told me: "I will have to transfer the names on the ownership papers from my name to your name for them to be legally yours. And [I will] issue you a certificate of sales as well. I have sent cubs twice to the UAE before without any issues. I also have connects who will help you raise them with no problems."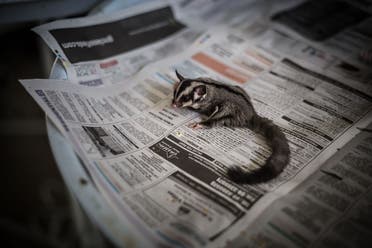 The cubs were to come alongside a cage and feeding menu - but I never found out the validity of Blount's claims, who was asking for payment upfront.
Blount's proposal was illegal according to UAE laws on exotic animals – which are not always adhered to. In July 2012, after high profile stories about cheetahs on the loose in Sharjah and Abu Dhabi, the Ministry of Environment and Water issued wide-ranging rules controlling and limiting the import of exotic animals.
All big cats were banned from importation for personal or commercial use, while a blanket ban on importing primates, porpoises and other wildlife was implemented.
The decree includes a second list of domesticated animals, like hamsters and guinea pigs, which can be imported if the ministry's conditions are met.
Commercial establishments are also cleared to import animals like kangaroos, camels, parrots, tortoises and other reptiles. But the law makes it clear each imported animal must come with three documents: A veterinary health certificate, a certificate of origin and a certificate issued under the Convention on International Trade in Endangered Species (Cites).
This is in contrast to the Sharjah pet market attendant who told me the animals didn't have any paperwork – nor, he said, did they need any.
Fewer dangerous pets
Italian vet Dr. Walter Tarello, the medical director at Dubai's Pet Connection Veterinary Hospital, specializes in treating exotic animals. He first came to Dubai in 2001, and after stints in Kuwait and Saudi Arabia returned in 2006 – where he took up the post of vet at the private zoo of Dubai Ruler Sheikh Mohammed bin Rashid Al Maktoum.
"I got a lot of experience with lions, tigers, big game animals, gazelle," Tarello said.
The position to look after in excess of 10,000 animals – of about 2000 species - was almost a "dream job" for the exotic animal enthusiast, who also paints such animals in his spare time.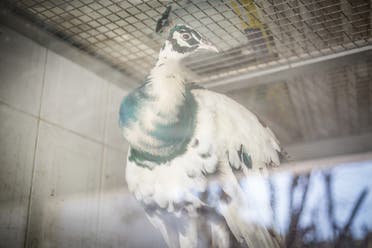 In 2010, he took up his current position after other stints in Cyprus and Qatar.
"We are mostly treating birds, parrots, reptiles, tortoises, terrapins, rabbits, chinchillas.
"Sometimes there are strange sugar gliders, leopards, chameleons, fish [and] ferrets," he added
He says the number of private owners seeking help for big cats has decreased, and it's been several years since he treated a leopard.
"I think it's reflecting the minds of most people, they're changing their minds about keeping dangerous animals. [They're thinking] 'What do we do with these leopards, to keep all the time in a small cage?"
Tarello, who says about half of his patients are exotic animals, was one of the first exotic vet specialists in the region but the numbers are growing now to keep up with the demand.
Many of the pets that end up needing treatment come from bad breeders and traders, he says.
Avian Aids and Chlamydia
For example, about 40 per cent of parrots have something called Circovirus – an immune disorder also called 'Avian AIDS' – and many pet traders do not disclose this information – which is not detectable with the naked eye.
"They will be one day healthy and the next day dead.
"It's more common in the parrots that come from the Sharjah market because they are collecting birds from not good quality breeders, they don't care."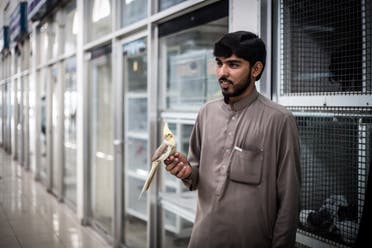 Birds are also highly mobile vectors for chlamydia, which remains dormant in many but can be activated under stressful conditions – like overcrowding. Tarello says chlamydia in birds can actually be transmitted to humans, manifesting as a lung infection.
The day we meet, Tarello has a session with a "star parrot" called Picasso who has lost his mojo. Picasso is a cockatoo who works at the Dubai Creek Park for about 20 hours each week.
Handlers knew something was wrong with Picasso when he stopped working as usual, not performing his core tricks of painting, dancing and playing the drums with his usual verve.
Tarello, who has pioneered the treatment of birds for what he describes as chronic fatigue syndrome and written research papers to this effect, has been treating Picasso for several weeks with a cocktail of antiviral immune stimulant and vitamin C.
"He's stressed because he's working six days a week, four hours a day. He's not just sitting in the cage and eating seeds."
Tarello takes a very laissez-faire approach in treating pets; his interest is the health of the animal not ethics of ownership.
"Here we don't care. We are not a lawyer, we are not a judge."
Curbing the exotic animal trade
Tarello's approach is in contrast to the work of International Fund for Animal Welfare, which has its regional headquarters in Dubai.
As IFAW Middle East director Dr Mohamed Elsayed explains, the organisation – which works to tackle animal trafficking and conserve wildlife – is against all human ownership of animals where the relationship is not essentially symbiotic.
Even reputable zoos and animal facilities are secondary to animals being left and maintained in the wild, he says.
"We believe that wild animals belong to the wild. It is not advisable to keep wild animals as pets. We have five reasons for this."
Those points are conservation; safety; to avoid inter-species disease communication; animal welfare, and to prevent introducing species that will threaten the survival of endemic species in a given country.
"Wild animals will be always wild and it is a matter of time before they will attack. There is nothing called a domestic tiger, domestic cheetah, domestic elephant. It is just a matter of time when the human mistake happens."
There is a body of evidence that shows many animals commonly held in captivity, such as dolphins or royal pythons, live much longer in the wild. This is a good indication that's where they should stay, Elsayed says.
He explains a good rule of thumb over whether an animal should live with humans is if it would voluntarily stay in captivity if given the chance of freedom.
IFAW, which works closely alongside the region's governments and has helped both inform regulations and train customs officers, has frequently conducted surveys to find out what the online trade in exotic animals is.
New threat from dark side of media
Last year, they found 122 adverts on various UAE sites offering the illegal sale of exotic animals, up from 796 in 2013. While the organisation has not done a similar study this year round, Elsayed says technology is creating a new threat.
"Regarding those ads on the internet we believe they're going down and we know the Ministry is monitoring the situation. But the other point…is the dark side of the media. [The media] we cannot see, it is not web pages, it is Instagram, it is Facebook, it's Twitter. "
Because of the concealed nature of such sites, it is very difficult to gauge how much trading is going on, he says.
"Always the smuggler is innovative in his techniques, this is their work."
While the IFAW team has a few tricks up its sleeve, it is also working with government now on criminalising ownership of exotic animals so there is another tool to curb the trade – something which came into force in Sharjah last year.
While Elsayed says it is incredibly difficult to quantify the amount of illegal smuggling happening in the region precisely because it is illegal, his feeling is things are getting better.
"There are less reports of wild animals in the street, less confiscated animals, so I can say there is improvement."