Beyond Brrr! Here's what it's like to feel -180°C for the first time
We tried cryotherapy in Dubai and here's what it felt like...
To some, it is a miraculous few minutes. To others, it is tantamount to torture. What is cryotherapy, and why are so many people handing over their cold hard cash for a cold hard experience?
Background
The word can be broken down into the Greek cryo (cold) and therapy (cure), and it has a more storied history than one might expect. According to a journal from Montreal's McGill University Health Center, the Egyptians used cold to treat injuries and inflammation as early as 2,500 BC.
In relatively modern times, Napoleon's surgeon Dominique-Jean Larrey was known to use cold to help with amputations during the retreat from Moscow, presumably as nature's most basic anaesthetic. In 1978, Dr Toshimo Yamaguchi popularized cryotherapy after learning how cold temperatures reduced pain during joint manipulation treatments.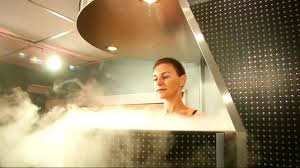 How cold?
The temperature ranges from -140°C to -180°C. You will feel it.
Procedure
Full-body cryotherapy is usually enjoyed (or endured) in one of two ways. Participants have to disrobe as they would for a sauna or full-body massage, and wear a minimal amount of clothing, including socks, slippers and mittens to protect extremities.
The crucial distinction is whether you step into a stand-up "cold sauna" - a pod-like contraption that leaves your head exposed - or a cryotherapy room akin to a meat locker. The benefits of both procedures are arguably identical, but using a small pod is much more cost-effective than freezing an entire room. Most specialists will ask you to brace yourself for three minutes and move around to keep the blood flowing.
Benefits
The benefits extend far beyond using ice to numb nerve endings. Perhaps the most common use of extreme cold in recent medical history has been the "burning" of warts (also referred to as cryosurgery) and treatment of other skin lesions. However, cryotherapy fans claim a vast spectrum of benefits, including:
• Decreased muscle soreness, pain and inflammation
• Decreased fatigue
• Boosted lymph draining and blood circulation
• Immune-system boost
• Increased collagen production for healthier skin
• Metabolism boost and calorie burning
• Cellulite reduction
• Headache relief
Does it work?
Many are quick to dismiss cryotherapy as a (typically) expensive fad, but it has a proven track record for athletes and anyone looking to mitigate muscle and joint inflammation.
There was a time when sitting in an ice bath was the latest, greatest method of recovery after a sports match or gruelling training session. However, a three-minute freeze that only seems to reach your flesh has become preferable to a bone-chilling bath, which leads to a longer warm-up.
We visited Dubai's CRYO, a franchise of a successful U.S. chain of treatment centers, to try out the treatment and find out more from branch manager Alex Toncu.
• How did you get involved with cryotherapy?
"I've been with CRYO for six months. They were looking for an athlete who understands about muscle recovery and joint problems, and since I have a background playing professional volleyball, I had previous experience using ice baths.
"Then I found out it's totally different. Here the cold doesn't penetrate your entire body. With an ice bath you have to wait six to eight hours before working out, but with cryotherapy you can have a treatment then work out right away."
• What exactly happens with the body?
"With cryotherapy, it's as much about your mind as your body. Your mind will think you're in danger, and to protect your vital organs it will bring more blood to your core, closer to your heart - the most important organ. That means your core will stay closer to its normal temperature of 37°C.
"When you're done you'll get outside, your blood vessels will dilate, and your blood will flow back to your muscles. You've been breathing a normal amount of oxygen, so your body gets enriched with that oxygen. It's all about your body's defense of vital organs, and your mind doesn't know this was a one-off so your metabolic rate could be boosted for up to three days."
• Do you have clients that come regularly?
"We have clients who come as regularly as once a day. They're coming for weight-loss and for sure they're working out, which means they can push harder and get rid of the soreness. These people have membership.
"One full-body treatment [lasting three minutes] is AED 350 [$95], and a one-month package for one treatment per day [maximum 30 sessions] will cost you AED 3,500 [$950]. We have other packages you can use within three to six months for five, 10, 25 and 50 sessions."
Who cannot use a "cryo sauna"?
While there are several horror stories about people being locked in cold saunas and starting treatments with wet clothes, cryotherapy poses no risk to most healthy adults. That said, it is imperative to not have heart problems, and to disclose any medicines or recent surgeries.
Some people may get adverse skin reactions. Expect a pile of paperwork where you are expected to tick "no" against a list of pulmonary complaints. Of course, make sure you are not pregnant.
Where can I try it?
Dubai's CRYO Health at Jumeirah Emirates Towers was the first treatment center in the Gulf when it debuted in 2013, and was recently joined by a sister outlet at Abu Dhabi Country Club. The company has partnered with FitRepublik in Dubai Sports City to supply athletes with full-body and localized cryotherapy treatments.
The company also has plans to open venues in Qatar and Kuwait. Treatments can be booked at a range of clinics and health centers across the region.