What do Muslims really feel on hajj? UK pilgrims shed light
Millions of pilgrims have descending upon Makkah for the start of the annual hajj pilgrimage, which begins this Friday
Millions of pilgrims have descending upon Makkah for the start of the annual hajj pilgrimage, which begins this Friday.
Many pilgrims would have spent years saving their earnings in order to make this trip of a lifetime. With a shared dream to cleanse their soul, those attending the pilgrimage will spend the coming days transfixed in prayer and supplication.
Over the past week, pilgrims have been arriving from more than 180 countries around the world and this year, around 1.5 million pilgrims are estimated to participate in the hajj.
The five days of hajj will involve different rituals and lasts five days. The origins of the pilgrimage are thousands of years old and some of the rites include "stoning of the devil" at Mina, where rocks are thrown at the symbolic pillars of Satan.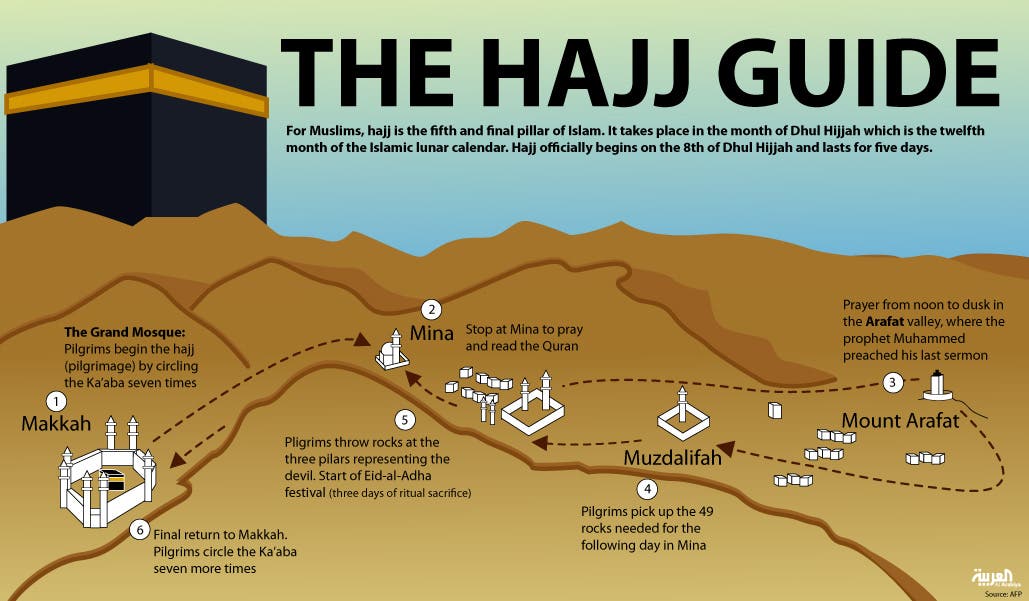 Before one of the largest gatherings on earth commences, many of the pilgrims from around the word have been arriving in Makkah to settle into the holy city this week.
Reyhana Nazir from London, who is performing hajj with her husband, has arrived in Aziziya, a district just outside the grand mosque, located at a convenient 10 minute walk to the tents at Mina. Speaking to Al Arabiya English ahead of the hajj pilgrimage, she stated how she and her fellow group members are preparing for the "spiritually uplifting journey.
"We are spending our final three days here before hajj commences staying with fellow pilgrims from our group, making the most of the time listening to talks, resting and being mentally prepared for the forthcoming five days of hajj."
She adds: "Many of us are studying our guide books called the Manasik, which is a breakdown of the hajj rituals and the spiritual meaning behind each act. Already pilgrims are out and about wearing their Manasik round their necks as a reference point."
Muslims heading to hajj will spend weeks leading up to the event preparing to set aside their preoccupations of daily routines, ensuring they have settled debts, made provisions for dependents and requesting forgiveness from family, friends and associates.
Subera Ahmed, a 31-year old mother of three from the UK, shares her excitement of arriving in Makkah before the big day on Friday.
"I still can't believe I'm going to hajj; I've been on cloud nine ever since my husband confirmed the visa. Time doesn't seem to move - I can't eat, sleep or concentrate on anything. I've started a diary in which I'm noting down loved one's prayer wishes.
"After my hajj, I intend to try my utmost hardest to live the life of a better person, but before I do that I need to ask for forgiveness and clean my heart. So I view my hajj as a spiritual refuel of energy, which should aid and assist in me in living the rest of my life just the way I'm supposed to."
This year, thousands of men and women from the UK are setting off on what has often been described as a "journey of a lifetime." An average of £4,000 ($6,472) per person is spent on hajj packages, including transport services to and within Makkah, as well as food and accommodation.
The annual pilgrimage is one of Islam's five pillars, and is mandatory for every Muslim who can financially and physically undertake the journey.
Save

Save