Saudi Arabia grooves to a new beat as entertainment opens up
Hundreds of men and women, side-by-side, hooted their appreciation and clapped to the beat as New York-based theatrical group iLuminate
With pumping hip hop beats and electrifying dancers, Saudi Arabia has launched what's being hailed as an entertainment revolution for the conservative kingdom, which usually tightly restricts music, dance and theatre.
Hundreds of men and women, side-by-side, hooted their appreciation and clapped to the beat as New York-based theatrical group iLuminate took to the stage in Riyadh on Thursday evening.
In a country without public cinemas or theatres, iLuminate's stage show was a rarity.
That is about to change, according to the kingdom's General Authority for Entertainment, which has lined up WWE wrestling, Arabs Got Talent performances, a food festival, comedy, Monster Jam motor sports and other events in the coming weeks.
It is the latest sign that the sands are shifting in kingdom, where a new generation is gaining growing influence.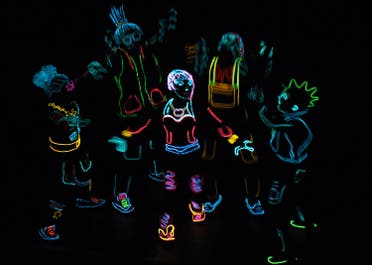 "This signals a new era in Saudi Arabia," said Ahmad Al Hemedy, 27, who watched the iLuminate show with a group of friends.
"I never expected to see something this magnificent in front of my eyes," he said, questioning why this type of entertainment didn't come sooner.
"The show was brilliant!"
The iLuminate dancers performed on a darkened stage in electrified glow-in-the dark suits, telling the stories of urban America against the thumping backdrop of its beats.
Opening up
Conservatives in Saudi Arabia frown upon music and forbids paintings of the human form and many Saudis spend their entertainment dollars in neighboring Bahrain and Dubai.
The kingdom outlaws alcohol, and unrelated men and women are forbidden from mixing. That means "single" men eat in a separate section at restaurants.
But in a sign of flexibility, there was no segregation at Thursday night's show, where men and women sat together inside the "convention hall" at Princess Noura Bint Abdul Rahman University, a campus exclusively for women.
The hall bore a striking resemblance to an impressive theatre, with red seats, balconies, and an atrium lobby where vendors sold nachos, popcorn and doughnuts.
Saudi women lined up for their snacks dressed from head-to-toe in black abaya robes, according to local custom.
Entertainment-starved expatriates were among the youthful audience who spent between 50 and 900 riyals (Dh49-Dh882; $13.3-$240) for tickets.
Salman Ziauddin, 30, of India, said that in his eight years in Saudi Arabia he had never seen such a show and hopes there will be more like it.
The creator of iLuminate, Miral Kotb, told reporters it was an honor to bring "such a different type of theatre and art to this culture" where the audience was so receptive.
"They've been some of our best that we've had, and we've performed these shows worldwide. Because you can feel the love and the energy and excitement that they have" in Saudi Arabia.
Since last year the younger generation has had one of its own at the heights of power in the kingdom, where more than half the population is under 25.
Saudi Vision 2030
Saudi Arabia's Deputy Crown Prince Mohammad Bin Salman is the driving force behind Vision 2030, an economic and social diversification plan which he released in April to wean the kingdom off oil.
Among its wide-ranging goals is development of tourism and entertainment.
"We are well aware that the cultural and entertainment opportunities currently available do not reflect the rising aspirations of our citizens and residents," Vision 2030 acknowledges.
British ambassador Simon Collis, who attended the show, said the kingdom's "new approach" to entertainment is "a very positive development for young people. It will generate income. It will create jobs. People will be happier."
He said Britain has already exchanged ideas with the entertainment authority about how they might be able to work together.
"There's a lot of energy around. It's a time of significant change," he said.
Hundreds of people each night attended six Riyadh performances of iLuminate which now moves to Jeddah.
Ahmad Al Khateeb, who heads the entertainment authority, told reporters his agency wants to develop a one-year timetable of events, so that "instead of thinking where to go and having no options now you will have three, four" on a weekend.
There are 14 different programmes for the remainder of this year.
"Greater things will come, God willing," he said.